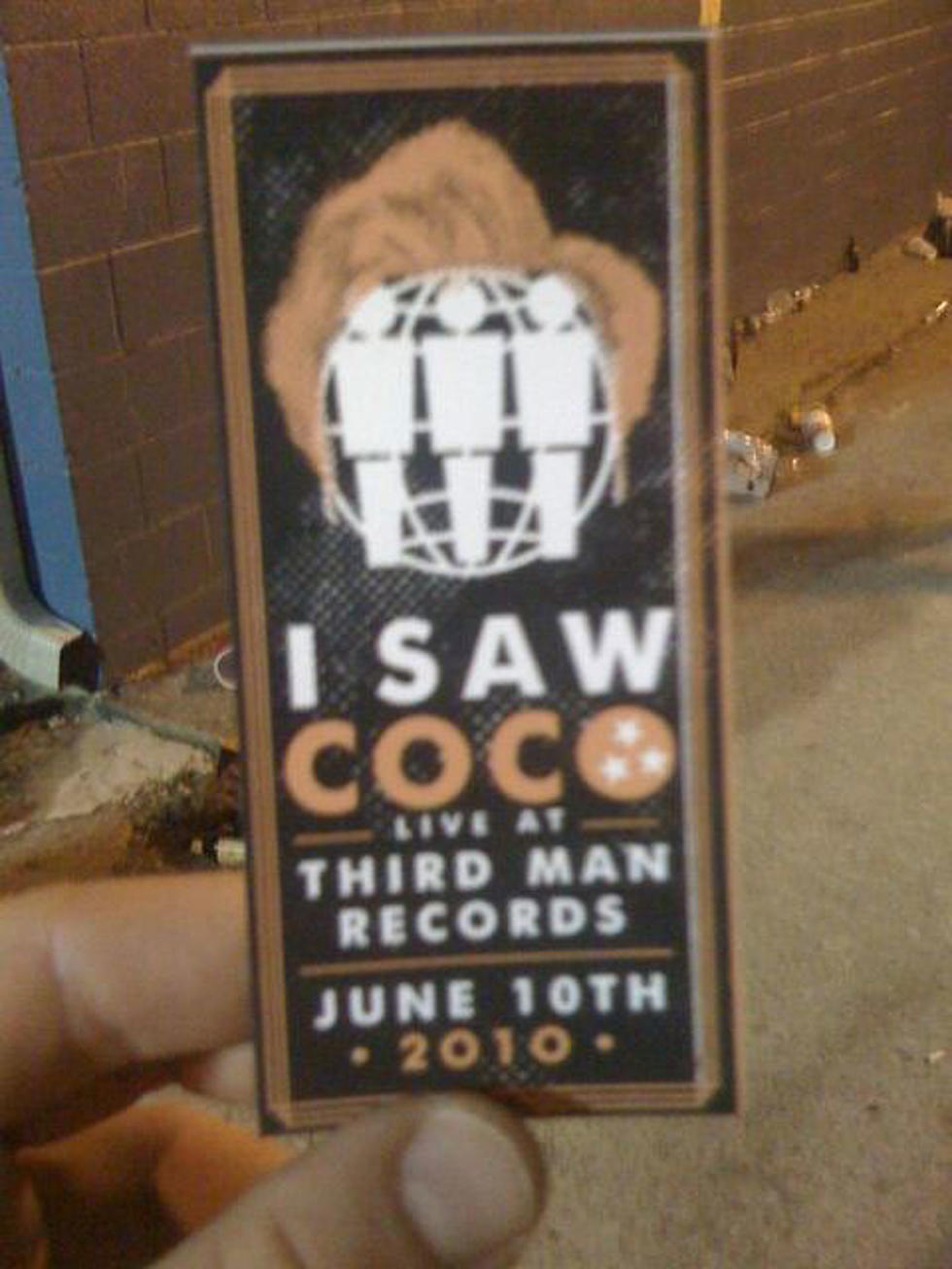 Conan played Third Man Records (show recorded for a live LP)
Conan O'Brien played Third Man Recs in Nashville (via)

Conan O'Brien & Jack White (via Team Coco)

Conan O'Brien and his band, on their way to Bonnaroo, rolled into Nashville on June 10th for a free show at Jack White's Third Man Records.
Conan blazed through a rocking setlist of stuff from our Legally Prohibited show - as well as a few other jams that we've never done! The energy in the room was incredible: The band lit by a dim red light, the hot Nashville air thick with excitement; the room packed to capacity - it was a scene the likes of which I've never experienced. I could totally see this show being something that happened outside under a tent in the South in the 50's. A very, very cool vibe.

And the crowd - the crowd!! They were giving the energy right back to Conan a hundredfold! They danced their asses off, screamed their lungs out, clapped their hands off - in short, gave a lot of body parts to the floor of Third Man (the post show clean up was a little awkward) But the BEST part of the night was that the whole thing was being recorded on a reel to reel tape! Why reel to reel? Because tonight's performance is going to be pressed into a record that people at the show could buy! Say it with me, party people: HOLY CRAP. What that also meant for the show was that halfway through, Conan & the band had to stop for a few minutes so that the reel could be changed! SO COOL. It's just like Elvis or Buddy Holly or something!! In other words: It was Super Cool Old School. As old and as cool a school as they come, y'all. And just when I was sure that jack White couldn't get any cooler... He proves me wrong once again. ;)

Speaking of Jack, when Conan went off the setlist and starting playing a little "Creep" by Radiohead, Jack jumped onstage and put an old timey chiminysweepesque hat on his head! It was completely unplanned, and made us all crack up. Then, for the last song, Jack jumped up and joined Conan for a blow your brain out of your skull version of 20 Flight Rock...[Team Coco]
Part of the set list was Conan's cover of the White Stripes' "Seven Nation Army."
The full set list (which lists the last song as Ronnie Hawkins' "40 Days"), a video from the show (and more from the scene outside of it) are below...

Jack White and Conan O'brien at Third Man Records in Nashville, TN

Conan @ Third Man Records in Nashville, June 10, 2010 (via)

line to get in (via)

Conan leaving Third Man Records

Jack White throwing waters at Third Man