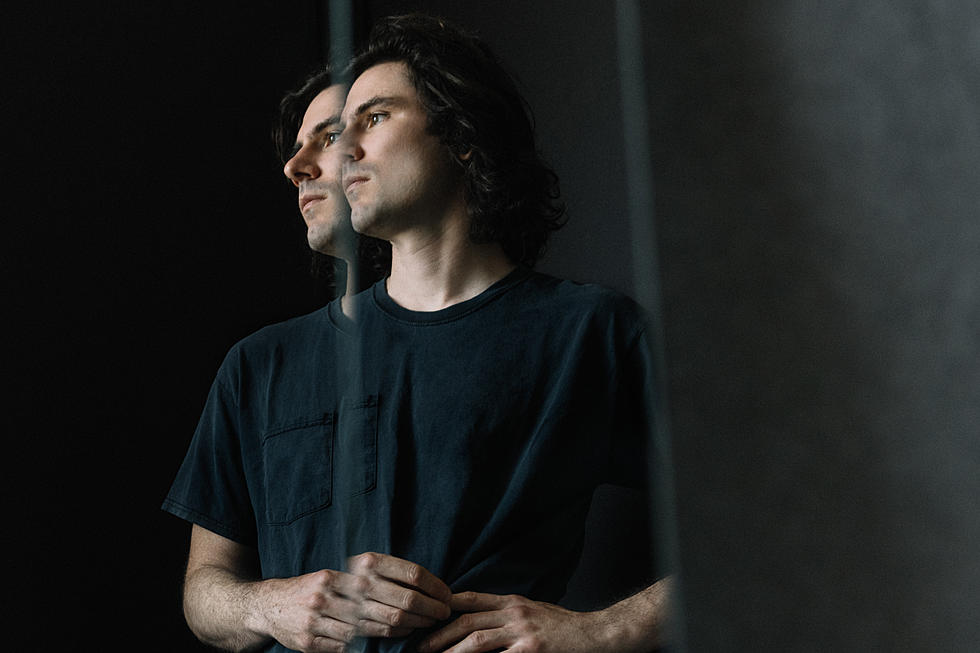 Constant Smiles tells us about the inspirations behind new album 'Kenneth Anger'
photo: Ebru Yildiz
As Constant Smiles, Ben Jones makes swirling, hooky minor chord pop that is pleasingly mopey, but tends to switch up the methodology from album to album. Paragons from 2021 was led with acoustic guitar, but for his second album on Sacred Bones, Kenneth Anger, keyboards are at the forefront, giving things a much different feel. Arpeggiated synths dance around his melancholic melodies, while the driving bass lines feel right out of the '80s goth heyday. It's a perfect fit for Ben's whispery vocals and this excellent batch of grey-skied heartland anthems. Listen to the album, and watch the just-released video for album standout "I'm On Your Side," below.
We asked Ben to tell us more about the album, and he returned with a list featuring a baker's dozen of inspirations, including experimental filmmaker Kenneth Anger, for whom the album is titled; Cassandra Jenkins and Bambara, who both contributed to it; photographer and BV contributor Ebru Yildiz, who shot the cover of the album; plus some modern pop, hip hop and R&B influences, and more. Read Ben's list and commentary below.
Constant Smiles' current tour hits Brooklyn tonight at Union Pool with June McDoom and Katie Von Schleicher, and from there makes its way to Austin for SXSW. All dates are listed below.
CONSTANT SMILES - 13 INFLUENCES BEHIND KENNETH ANGER
1. Kenneth Anger
One of my all-time favorite filmmakers, Kenneth Anger was the inspiration for this record and it's titled in honor of him. While creating it, I'd have one of his films on—sound low—playing guitar or synth while watching. His visuals are just so iconic, surreal and enigmatic, with beautiful sets and costumes infused with an incredible color pallet. I keep coming back to his films, watching them over and over, mesmerized by their intrigue and mystery.
2. The Weeknd - After Hours
I was listening to this record obsessively while making KA. The synth tones are so fat and lush, while the songs are so dark and bleak, with insanely catchy hooks; it really hits all my buttons. The blending of the acoustic guitar on the song "Save Your Tears" was really inspiring. And so many movie references are in there, which is something I also love to do!
3. Cassandra Jenkins
Cassandra is the most incredible and inspiring person I know. She is a genius and was a big help on this record. Her music was endlessly inspirational, and her advice was endlessly helpful. When I couldn't get the rights to an image from Kenneth Anger's Scorpio Rising, she suggested recreating it using myself, photographed by my incredibly talented friend Ebru Yildiz. Cassandra is my favorite person for talking through ideas and working through them. She is so amazing, and I am so grateful to have her in my life.
4. Ebru Yildiz
Ebru is one of my favorite portrait photographers and was the first, most obvious choice after deciding to reshoot the album cover. For me, her work is the gold standard for portraits, with beautiful tones and so much depth.
5. Doja Cat - Planet Her
I must have listened to this record everyday for months when it first came out. This record is so full-force perfect from start to finish. It gets me so amped up. She is just so authentically herself! The production and songwriting is direct and punchy. There isn't a bit of fat on it. The production of each song has exactly the right amount going on. I am obsessed with the song "You Right."
6. Taylor Swift - 1989
I think this is one of the best pop records ever—an almost perfect record in my opinion. I was obsessed with "All You Had To Do Was Stay" and "Clean." I took a lot of pop tricks from this record. Instead of cymbal crashes, she uses synth filter sweeps that create the same effect. I thought this was so cool that I used this trick a few times on the record, especially on "Gold Like Water."
7. Prince - 1999
I mean, what can you say about Prince that hasn't already been said? The master of pop and the creator of an infinite well of inspiration. I had this record on repeat while making KA, which was very fitting because Kenneth's films also evoke a Vangelis/Blade Runner-esque score. I read that Prince was also inspired by that iconic sci-fi movie.
8. Max Martin
The super producer was in my head during the making of KA. Not only did he produce the two main records I was listening to at the time (The Weeknd and Taylor Swift), but he also wrote most of the pop songs that I grew up with as a kid. His structures of big choruses and harmonies and 'Don't bore us get to the chorus' aesthetic are ingrained in me. He is also heavily influenced by Prince. I would just watch interviews with him and try to learn some of his tricks.
9. Hand Habits - Fun House
This record is so good. I was particularly inspired by the use of synths with artful blending of the acoustic guitar. It's so impressive. I was floored by it because I have always had such a hard time trying to do that very thing. I either write a synth song or a guitar song. This record blends them in such a way that everything sounds cohesive. Especially the drums on this record—the blurring of the line between real drums and drum machines is something I just love.
10. Bambara
One of my favorite bands. My buddy, Blaze, is the drummer, and I love him so much. His input is invaluable to me. He really helped me hone in on my choice of songs by talking through them with me and figuring out what was working and what wasn't. He also helped me work out the drums for "Off Again." He is so talented and such a great, sweet person.
11. Cut Copy - Freeze, Melt
I was really into this record while making KA. I love the earthy synth tones and beautiful arpeggios. There is such a tranquilly satisfying synth and drum production on this record. It just feels so meditative yet poppy.
12. Blue Yonder
Lena (my bandmate) has an incredible project and she is such an amazing songwriter. Her help on this record was invaluable and she is such a natural talent that without even hearing the song, it effortlessly flows out of her.
13. I could go on and on with how everyone (Taia, Jai, Johnny, Adam Lipsky, etc) involved with this record influenced it with their amazing projects, so I will have to leave it for another time!
Constant Smiles - 2023 Tour Dates
Fri, March 03 Brooklyn, NY Union Pool - Record Release Show w/ June McDoom, Katie Von Schleicher
Sat, March 04 Boston, MA Lilypad
Sun, March 05 North Adams, MA Belltower Records
Mon, March 06 Wallingford, CT Red Scroll Records
Tue, March 07 Catskill, NY The Avalon Lounge
Wed, March 08 Cleveland, OH Happy Dog
Thu, March 09 Indianapolis, INSquare Cat Records
Fri, March 10 Detroit, MI Outer Limits Lounge
Sat, March 11 Chicago, ILT one Deaf Records
Sun, March 12 Bloomington, IN The Blockhouse
Mon, March 13 Nashville, TN drkmattr
Wed, March 15 Austin, TX SXSW (End of an Ear @ 1:45pm + HOTEL VEGAS @ 7:00pm)
Fri, March 17 Hot Spring, AR Valley of the Vapors Fest @ Cedar Glades Park