Corndawg, Deer Tick, Dawes, Alison Krauss, Those Darlins & more — 2011 tour dates & Middle Brother pics too
John McCauley, Jonny Corndawg, Matt Vasquez @ BV-SXSW

Jonny Corndawg is releasing his album Down on the Bikini Line on August 30. He'll celebrate the release of the album that same day (8/30) at Union Pool. Other bands TBA. John McCauley of Deer Tick provides guitar on the album. Check out the artwork and stream two tracks below.
The Union Pool show is 4 days after Jonny Corndawg plays The Saint in Asbury Park, NJ (8/26) with Jessica Lea Mayfield. Tickets are on sale now. Jessica Lea Mayfield recently contributed a cover of Nirvana's "Lounge Act" to Newermind. Kinda funny that Deer Tick isn't on that album.
As mentioned, Middle Brother (featuring John McCauley of Deer Tick) are not done yet and will play a rare set at Newport Folk Festival in Rhode Island at the end of the month. It is their only scheduled date though. Delta Spirit (whose singer is also in Middle Brother) also play the SOLD OUT fest. Middle Brother, Dawes, Cordawg & Deer Tick played Bowery Ballroom and Music Hall in April, not long after Middle Brother and Deer Tick (and Corndawg) played a set at the Partisan Records/BV day party in Austin that The Old 97's also played. A belated set of pictures from that free show at Barbarella are in this post. More of them below.
Dawes (whose singer and drummer are also in Middle Brother) are currently touring overseas, but will return next week and head out on tour with Alison Krauss & Union Station (featuring Jerry Douglas). That tour hits Beacon Theater on August 2nd (the show is sold out though tickets are still available for the NJ show happening one day later). All dates are listed below.
Jo Schornikow of the John McCauley approved Shivers plays on Sunday (7/24) at Death by Audio as part of the "Permanent Wave's SOUND WAVE to Benefit the International Women's Health Coalition" at the all ages venue. Amy Klein of Titus Andronicus, Ian O'Neil of Deer Tick's previous band, is on the bill too.
More Middle Brother pics, tours of tour dates and stuff below...

--
Middle Brother pictures from BV-SXSW party @ Barbarella...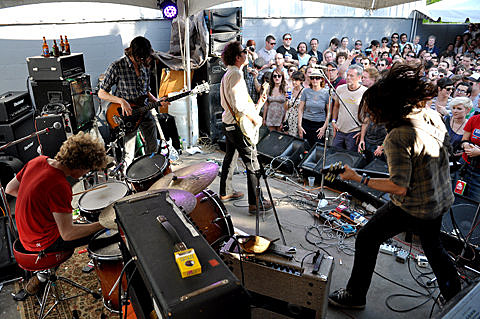 Jonny Corndawg - Down on the Bikini Line

Jonny Corndawg -- 2011 Tour Dates
7/22 Parish Room, House of Blues New Orleans, LA
8/26 The Saint Asbury Park, NJ w/ Jessica Lea Mayfield
8/30 Union Pool Brooklyn, NY
--
Those Darlins -- 2011 Tour Dates
7/21 - Kansas City, MO @ Crossroads !
7/22 - Little Rock, AR @ Sticky Fingerz **
7/23 - Baton Rouge, LA @ Spanish Moon @ **
7/24 - San Antonio, TX @ Jack's @
7/26 - Albuquerque, NM @ Low Spirits
7/27 - Phoenix, AZ @ The Rhythm Room
7/28 - Pioneer Town, CA @ Pappy & Harriet's
7/29 - Los Angeles, CA @ The Echo $%
7/30 - San Francisco, CA @ Bottom of the Hill $%
8/2 - Portland, OR @ Bunk Bar $%
8/3 - Seattle, WA @ Tractor Tavern $%
8/5 - Boise, ID @ Neurolux $%
8/6 - Salt Lake City, UT @ Urban Lounge $%
8/8 - Denver, CO @ Hi-Dive %
8/9 - Lincoln, NE @ Zoo Bar
8/10 - Kansas City, MO @ The Record Bar
8/11 - Davenport, IA @ The Redstone Room
8/12 - Detroit, MI @ Fucking Awesome Fest
8/13 - Ft. Wayne, IN @ Tiger Room
8/20 - Athens, GA @ Georgia Theatre #
8/27 - Wilmington, NC @ Winocafest
9/15 - Carbondale, IL @ Hangar 9
9/16 - St. Louis, MO @ Off Broadway
9/17 - Memphis, TN @ Hi-Tone
9/21 - Athens, OH @ The Union
9/22 - Cincinnati, OH @ Midpoint Music Festival
10/5 - Chicago, IL @ Empty Bottle +
10/6 - Chicago, IL @ Schubas +
10/7 - Minneapolis, MN @ University of Minnesota
10/8 - Ames, IA @ The Maintenance Shop +
10/9 - Urbana, IL @ High Dive +
10/11 - Columbus, OH @ The Basement +
10/12 - Cleveland, OH @ Grog Shop +
10/13 - Ithaca, NY @ Castaways +
10/14 - Brooklyn, NY @ The Bell House
10/15 - Boston, MA @ The Middle East
10/16 - New Haven, CT @ Café 9
! with Old 97s
@ with Brass Bed
$ with White Arrows
% with Motopony
# with the Whigs
+ with Peelander-Z
** with Denney and The Jets
--
Deer Tick -- 2011 Tour Dates
Sat-Jul-23 Keystone, CO River Run Events Plaza
Sun-Jul-24 Telluride, CO Sheridan Opera House
Mon-Jul-25 Aspen, CO Belly Up Aspen
Sat-Aug-06 Edmonton, AB Edmonton Folk Festival
Sun-Aug-07 Edmonton, AB Edmonton Folk Festival
Wed-Aug-10 Wantaugh, NY Mulcahy's Pub and Music Hall (BENEFIT FOR THE TOMMY BRULL FOUNDATION)
Thu-Aug-11 New York, NY Pier 54 w/ DOM
Thu-Aug-25 Wellfleet, MA Beachcomber
Fri-Aug-26 North Hampton, NH Daytrotter Barnstormer Tour
Sat-Aug-27 Albany, NY RESTfest at St. Joe's w/ Titus Andronicus
Sun-Aug-28 Central Valley, NY Daytrotter Barnstormer Tour
--
Dawes -- 2011 Tour Dates
July 19 - London, UK - The Slaughtered Lamb*
July 20 - London, UK - Borderline*
July 27 - Danbury, CT - Ives Concert Park+
July 28 - Boston, MA - Wang Center+
July 29 - Chautauqua, NY - Institution Ampitheatre+
July 30 - Charlottesville, VA - Charlottesville Pavillion+
August 02 - New York, NY - The Beacon Theatre+
August 03 - New Brunswick, NJ - State Theatre+
August 05 - Gilford, NH - Meadowbrook Pavillion+
August 06 - Mashantucket, CT - MGM Grand Theatre+
August 07 - Vienna, VA - Wolf Trap+
August 09 - Bethlehem, PA - Musikfest+
August 10 - Winston-Salem, NC - Ziggy's+
August 11 - Cary, NC - Koka Booth Ampitheatre+
August 12 - Asheville, NC - The Biltmore+
August 13 - Atlanta, GA - Fox Theatre+
August 14 - East Hampton, NY - Music to Know Festival
August 19 - St. Augustine, FL - Augustine Ampitheatre+
August 20 - Ft. Lauderdale, FL - AuRene Theatre+
August 21 - Clearwater, FL - Ruth Eckerd Hall+
August 23 - Houston, TX - Fitzgeralds
August 24 - Austin, TX - La Zona Rosa
September 01 - Santa Monica, CA - Santa Monica Pier (Free Show)
September 02 - Morrison, CO - Red Rocks Amphitheatre+
September 03 - Beaver Creek, CO - Vilar Performing Arts Center+
September 04 - Salt Lake City, UT - Red Butte Gardens+
September 17 - Bristol, VA - Bristol Rhythm & Roots Reunion
September 18 - Bristol, VA - Bristol Rhythm & Roots Reunion
September 20 - Memphis, TN - Minglewood Hall#
September 21 - Nashville, TN - Next Big Nashville#
September 23 - Knoxville, TN - Bijou Theatre#
September 24 - Chattanooga, TN - Track 29#
October 14 - Utopia, TX - Utopia Fest^
October 15 - Baton Rouge, LA - Manship Theatre^
* - with Jonathan Wilson
+ - supporting Alison Krauss & Union Station
# - supporting M. Ward
^ - co headline with Blitzen Trapper