Courtney Barnett expands tour, playing Terminal 5 w/ Speedy Ortiz and Torres (updated dates)
Sarah Frankie Linder
UPDATE: PRESALE PASSWORD HERE.
by Andrew Sacher
photo: Courtney Barnett at SXSW 2015 (more by Sarah Frankie Linder)

Courtney Barnett's tour in support of her great new album will have her in NYC for three sold-out shows at Bowery Ballroom in May, and now she's added more dates which will have her back in NYC for a much larger show this summer
Courtney plays Terminal 5 on July 22 and it's a killer triple bill with support from Speedy Ortiz and Torres. TIckets go on sale Friday (5/1) at noon, and there's a BrooklynVegan presale starting Wednesday (4/29) at noon. Check back here Wednesday morning for the presale password. Updated tour dates are listed below.
UPDATE: PRESALE PASSWORD HERE.
Speedy Ortiz are on tour now in support of their own great new album, having hit NYC over the weekend for a sold-out Bowery Ballroom show (4/25) with Mitski and Krill. The new songs sound killer live, and they worked nicely against other highlights like "Indoor Soccer" from 2012's Sports EP, "American Horror" from last year's Real Hair EP, and "Swim Fan" from the "Taylor Swift" single.
Torres is currently streaming her upcoming album and has other tour dates including headlining NYC shows in May and June.
Updated dates for all three artists, and a few videos/song streams, below...

--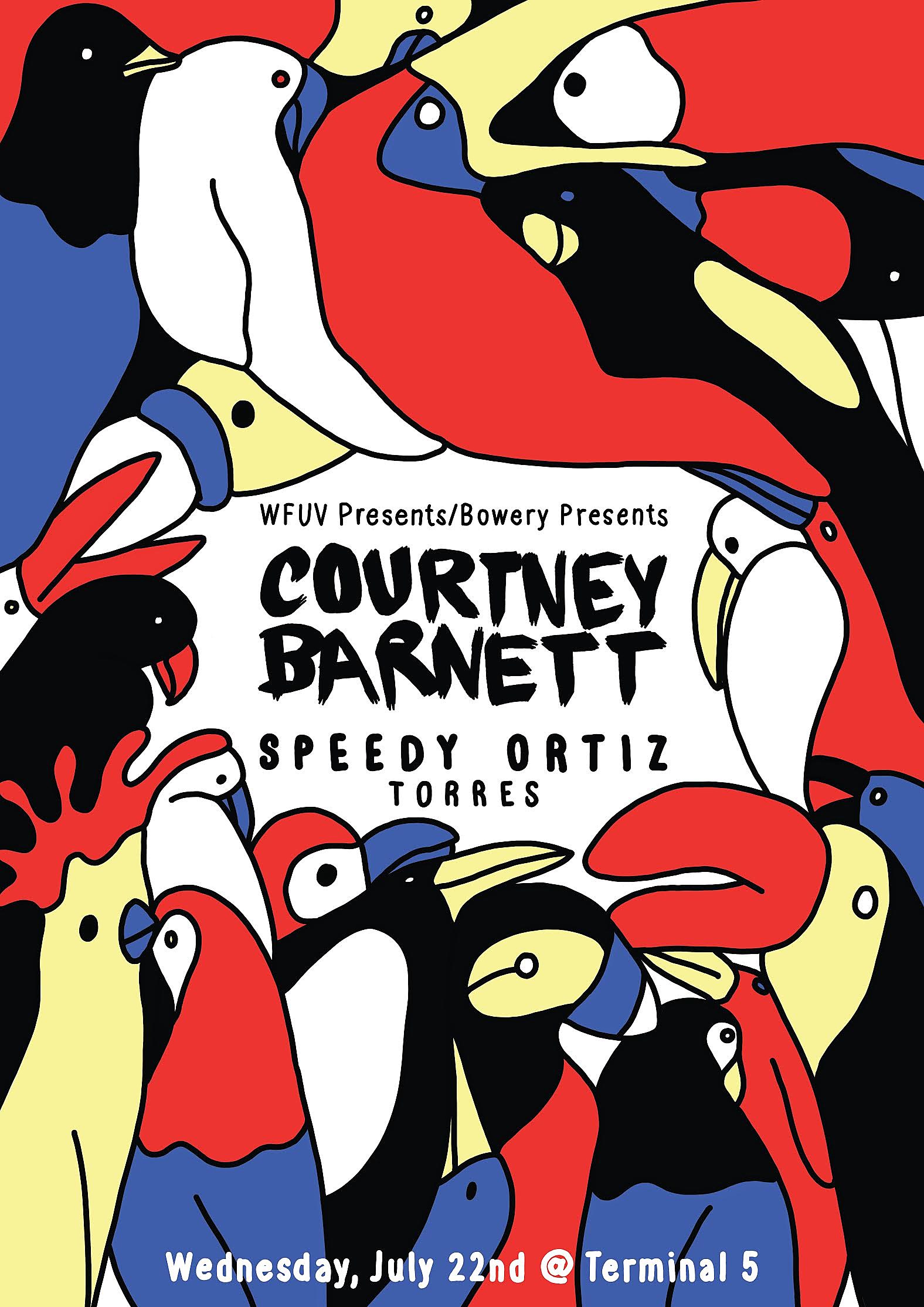 Courtney Barnett -- 2015 Tour Dates
04.30.15 - The Gov - Adelaide, Australia
05.01.15 - The Gov - Adelaide, Australia
05.02.15 - The Bakery - Perth, Australia
05.03.15 - The Bakery - Perth, Australia
05.07.15 - The Metro - Sydney, Australia
05.08.15 - The Metro - Sydney, Australia
05.09.15 - Hifi - Brisbane, Australia
05.14.15 - The Forum - Melbourne, Australia
05.15.15 - The Forum - Melbourne, Australia
05.16.15 - The Forum - Melbourne, Australia
05.18.15 - The Sinclair - Boston, MA (SOLD OUT) *
05.19.15 - Bowery Ballroom - New York, NY (SOLD OUT) *
05.20.15 - Bowery Ballroom - New York, NY (SOLD OUT) *
05.21.15 - Bowery Ballrom - New York, NY (SOLD OUT) *
05.25.15 - Sasquatch Festival - George, WA
05.27.15 - Red Rocks Amphitheater - Morrison, CO **
05.29.15 - Bottle Rock Napa Valley - Napa, CA
05.30.15 - The Roxy Theatre - Los Angeles, CA (SOLD OUT) *
05.31.15 - The Roxy Theatre - Los Angeles, CA (SOLD OUT) *
06.02.15 - Casbah - San Diego, CA (SOLD OUT) *
06.05.15 - The Mohawk - Austin, TX (SOLD OUT) *
06.06.15 - Club Dada - Dallas, TX (SOLD OUT) *
06.07.15 - One Eyed Jacks - New Orleans, LA *
06.09.15 - The Loft - Atlanta, GA *
06.10.15 - Koka Booth Amphitheater - Cary, NC #
06.11.15 - Bonnaroo Music Festival - Manchester, TN
06.13.15 - 9:30 Club - Washington, DC (SOLD OUT) *
06.14.15 - 9:30 Club - Washington, DC (SOLD OUT) *
06.15.15 - Union Transfer - Philadelphia, PA (SOLD OUT) *
06.18.15 - Uptown Theatre - Kansas City, KC ^
06.19.15 - Pabst Theatre - Milwaukee, WI ^
06.20.15 - Rock the Garden Festival - Minneapolis, MN
06.26.15 - Glastonbury Festival - Glastonbury, UK
07.16.15 - 07.19.15 - Pemberton Music Festival - Pemberton, BC
07.19.15 - Pitchfork Music Festival - Chicago, IL
07.22.15 - Terminal 5 - New York, NY %
07.24.15 - 07.25.15 - WayHome Music & Arts Festival - Oro-Medonte, ON
07.25.15 - Newport Folk Fest - Newport, RI
* w/ Chastity Belt & Darren Hanlon
** w/ Spoon + The Decemberists
# w/ The Alabama Shakes
^ w/ Belle & Sebastian
% w/ Speedy Ortiz & Torres
--
Speedy Ortiz -- 2015 Tour Dates
Apr 28 Cattivo (w/ Krill, Two Inch Astronaut) Pittsburgh, PA
Apr 29 Grog Shop (w/ Krill, Two Inch Astronaut) Cleveland, OH
Apr 30 The Empty Bottle (w/ Krill, Two Inch Astronaut) Chicago, IL
May 01 The Frequency (w/ Krill, Two Inch Astronaut) Madison, WI
May 02 7th Street Entry (w/ Krill, Two Inch Astronaut) Minneapolis, MN
May 03 Gabe's Oasis (w/ Krill, Two Inch Astronaut) Iowa City, IA
May 04 Highdive (w/ Krill, Two Inch Astronaut) Champaign, IL
May 06 Black Cat (w/ Krill, Two Inch Astronaut) Washington, DC
May 07 Strange Matter (w/ Krill) Richmond, VA
May 08 Cat's Cradle - Back Room (w/ Krill) Carrboro, NC
May 09 Shaky Knees Festival Atlanta, GA
May 10 The Beacham Orlando, FL
May 12 the crowbar (w/ Krill) Tampa, FL
May 13 Gasa Gasa (w/ Krill) New Orleans, LA
May 14 WALTER'S DOWNTOWN (w/ Alex G) Houston, TX
May 15 Red 7 (w/ Alex G) Austin, TX
May 16 Club Dada (w/ Alex G) Dallas, TX
May 19 Soda Bar San Diego, CA
May 21 The Echo (w/ Alex G) Los Angeles, CA
May 22 Constellation Room (w/ Alex G) Santa Ana, CA
May 23 The Catalyst Atrium (w/ Alex G) Santa Cruz, CA
May 25 Mississippi Studios (w/ Alex G, Broken Water) Portland, OR
May 26 The Cobalt (w/ Alex G) Vancouver, Canada
May 27 Barboza (w/ Alex G, Broken Water) Seattle, WA
May 29 Kilby Court (w/ Alex G, Palehound) Salt Lake City, UT
May 30 Larimer Lounge (w/ Alex G, Palehound) Denver, CO
May 31 The Riot Room (w/ Alex G, Palehound) Kansas City, MO
Jun 01 Rose Music Hall (w/ Alex G, Palehound) Columbia, MO
Jun 02 Firebird (w/ Alex G, Palehound) St Louis, MO
Jun 04 UFO Factory (w/ Alex G, Palehound) Detroit, MI
Jun 05 Horseshoe Tavern (w/ Alex G, Palehound) Toronto, Canada
Jun 06 Le Ritz PDB (w/ Alex G, Palehound) Montreal, Canada
Jul 17 Forecastle Festival Louisville, KY
Jul 22 Terminal 5 (w/ Courtney Barnett, Torres) New York, NY
Aug 02 SappyFest Sackville, Canada
Aug 07 Golden Gate Park Outside Lands San Francisco, CA
--
Torres -- 2015 Tour Dates
Mon 04 May 2015 Haw River Ballroom Saxapahaw, NC, US
Wed 06 May 2015 Stone Fox Nashville, TN, US
Fri 08 May 2015 Club Dada Dallas, TX, US
Sat 09 May 2015 Mohawk Austin, TX, US
Mon 11 May 2015 Pub Rock Scottsdale, AZ, US
Tue 12 May 2015 The Echo Los Angeles, CA, US
Wed 13 May 2015 Bottom of the Hill San Francisco, CA, US
Fri 15 May 2015 Doug Fir Lounge Portland, OR, US
Sat 16 May 2015 Barboza Seattle, WA, US
Sun 17 May 2015 Electric Owl Social Club Vancouver, BC, Canada
Wed 20 May 2015 7th Street Entry Minneapolis, MN, US
Thu 21 May 2015 The Empty Bottle Chicago, IL, US
Fri 22 May 2015 The UFO Factory Detroit, MI, US
Sat 23 May 2015 The Garrison Toronto, ON, Canada
Wed 27 May 2015 Baby's All Right Brooklyn, NY, US
Thu 28 May 2015 -- Sat 30 May 2015 Primavera Sound Festival 2015 Barcelona, Spain
Tue 02 Jun 2015 Le Carmen Paris, France
Wed 03 Jun 2015 Privat Club Berlin, Germany
Thu 04 Jun 2015 Rough Trade East London, UK
Thu 25 Jun 2015 Great Scott Allston, MA, US
Fri 26 Jun 2015 Mercury Lounge New York, NY, US
Sat 27 Jun 2015 Boot & Saddle Philadelphia, PA, US
Sun 28 Jun 2015 DC9 Nightclub Washington, DC, US
Tue 30 Jun 2015 The Pinhook Durham, NC, US
Wed 01 Jul 2015 The Earl East Atlanta, GA, US
Thu 02 Jul 2015 Club Rhythm & Brews Chattanooga, TN, US
Wed 22 Jul 2014 Terminal 5 New York, NY w/ Courtney Barnett, Speedy Ortiz
Fri 04 Sep 2015 -- Sun 06 Sep 2015 End of the Road Festival 2015 Salisbury, UK