Courtney Love says Hole reunion actually might not happen
Gregory R. Cristman
Courtney Love at The Paramount in 2013 (more by Greg Cristman)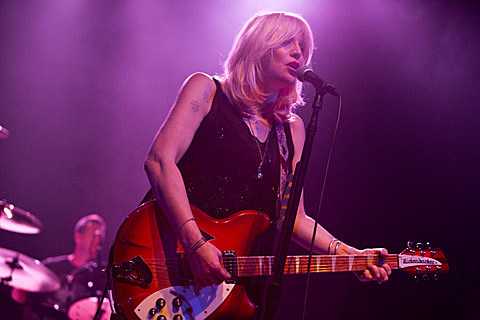 Last week, Courtney Love said in a Quietus interview that she'd be reuniting the mid-'90s Hole lineup of her, Melissa Auf Der Maur, Eric Erlandson and Patty Schemel. However, over the weekend she told The Telegraph that the other band members "are all flipping out with [her]" about the comments. From the article:
She complains she has already been in trouble this week for implying there would be a reunion of the classic line-up of her original band Hole next year. "We may have made out but there is no talk of marriage," she says of tentative meetings with former band mates. "It's very frail, nothing might happen, and now the band are all flipping out with me."
She also talks about the upcoming Rock and Roll Hall of Fame induction ceremony, which happens this Thursday (4/10) at Brooklyn's Barclays Center, and which Nirvana will be inducted at. Her ongoing dispute with Dave Grohl was brought up, and she took a little swipe at his band:
I can't just do a really good rock record and that's the end of it. I can't be Nickelback. And not to be a bitch, I can't be the Foo Fighters.
As you probably know, this past Saturday (4/5) was also the 20th anniversary of Kurt Cobain's death. In honor of that, watch the "Endless, Nameless" portion of Live! Tonight! Sold Out!!, along with a Hole video, below...

---