Craig Finn adds Maxwell's show — updated dates & album info
Craig Finn at Cabinet of Wonders in October (more by Chris Graham)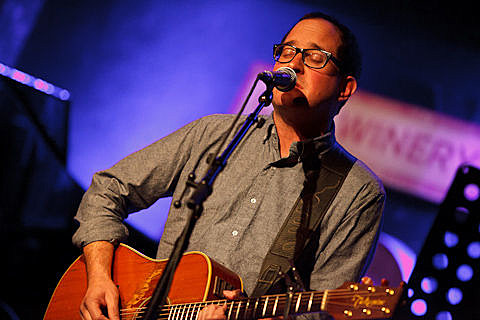 The Hold Steady frontman Craig Finn is releasing his debut solo LP, Cleart Heart Full Eyes, on January 24 via Vagrant. You can stream the single, "Honolulu Blues," below and purchase it on iTunes. The album artwork and tracklist is below too.
When we first announced his solo tour in support of the album, it didn't include any NYC-area dates. He's since added a show on March 1 at Maxwell's. Tickets go on sale Friday (12/16) at noon. Mount Mariah open most of the tour, but no opener has been announced for the Maxwell's show yet.
Clear Heart Full Eyes Tracklist:
1. "Apollo Bay"
2. "When No One's Watching"
3. "No Future"
4. "New Friend Jesus"
5. "Jackson"
6. "Terrified Eyes"
7. "Western Pier"
8. "Honolulu Blues
9. "Rented Room"
10. "Balcony"
11. "Not Much Left Of Us"
--
Craig Finn -- 2011/2012 Tour Dates
* - w/ Mount Moriah
12/10 Austin, TX @ Frank
2/01 - Dallas, TX @ Club Dada*
2/02 - Oklahoma City, OK @ The Conservatory*
2/03 - Omaha, NE @ Slowdown*
2/04 - Minneapolis, MN @ Triple Rock Social Club*
2/06 - Iowa City, IA @ The Mill*
2/07 - Chicago, IL @ Empty Bottle*
2/08 - Detroit, MI @ The Lager House*
2/09 - Columbus, OH @ The Basement*
2/10 - St Louis, MO @ Off Broadway*
2/11 - Kansas City, MO @ Record Bar*
2/13 - Denver, CO @ Larimer Lounge
2/19 - San Diego, CA @ Casbah*
2/20 - Los Angeles, CA @ Troubadour*
2/23 - Portland, OR @ The Doug Fir Lounge*
2/24 - Seattle, WA @ The Crocodile*
3/1 - Hoboken, NJ @ Maxwell's