The Cribs played Santos w/ Alex Winston, Devin (pics, review)
The Cribs at Santos Party House - 6/6/12

The Cribs' North American tour kicked off this week and brought them to NYC for a show at Santos Party House last night (6/6) with Devin and Alex Winston. Devin, who ditched the retro slicked-back hair in favor of a mop top, and is now down to a 3-piece band, kicked off the night with a set of choice cuts from his debut LP, Romancing, which is out now on Frenchkiss. He's definitely toned down the Iggy Pop/David Johansen crazed frontman stuff, instead delivering a tamer set from behind his guitar and mic stand. The band threw some fun cuts like "Too Soon" and "I Don't Think I" into their opening set which was solid, if not a bit calculated.
Up next was Alex Winston, who the crowd really packed in for. Backed by a fairly large band, Alex began her set with King Con album opener "Fire Ant" and immediately proved her live show's come a long way since I first saw her at CMJ 2010. She was just as charismatic back then, but now she's way more consistent and the band is louder and tighter. Alex took total control of the stage, covering all corners of it as she sang, and walking into the crowd at one point too. The highlight of her set (and album) was the Arcade Fire-ish stomp of "Locomotive," but other songs shined as well, like the one slow-burner she included ("Guts") and the super upbeat "Rum Rumspringa." Alex mentioned that she'll return to Santos Party House on July 13 for a show with Mr. Little Jeans and Lovelife. TIckets for that show are on sale now.
When The Cribs finally walked on stage, guitarist Ryan Jarman hunched over his intentionally low mic stand and banged out the chords and first lyric of "Come On, Be A No One" off their recently released In the Belly of the Brazen Bull, before being joined by his brothers on the song's crashing refrain. (Also a non Jarman second guitarist -- David Jones of Nine Black Alps.) Unlike some of The Cribs' fellow UK garage rock revivalists of the early-mid aughts, they never fully took off in America (the show was moved from Irving to the smaller Santos) but right about now, they're probably rocking harder than the lot of them. Ryan jumps around on stage, whether he's doing pogos or split kicks, and if he's singing, he's dragging that awkwardly positioned mic stand wherever he goes. The crowd returns the favor as well, jumping around a bit themselves during arms-raised singalongs and push pits -- which Ryan thanked them for: "Everytime we come to New York, we get a mosh pit! I don't know if that means we rule or you rule... either way, someone rules."
After the first song, the band went into a string of older cuts which the crowd responded to most positively. The new album is one of the band's best in years, though maybe it needs some time to settle in. And by the looks of the crowd last night, it definitely will. Every song, whether it was from their self titled debut, or 2009's Ignore the Ignorant, was met by a singing-along crowd who didn't miss a beat or a word. The enthusiasm was especially high for the cuts from their first album, which Ryan acknowledged. One group of guys in the crowd kept singing the intro guitar riff to "Another Number," until the band finally got to it in their set. Afterwards he expressed appreciation for those fans that support the old school stuff, and took requests from their first album which led to an impromptu performance of "The Watch Trick," which he cut off about halfway through, saying he didn't remember it. Instead, they went into another track from that album, "Direction."
Like they've done in the past, the band played "Be Safe" off 2007's Men's Needs, Women's Needs, Whatever, which includes spoken word verses from Sonic Youth's Lee Ranaldo, with video footage of Lee delivering his parts projected on the screen behind them. They followed this with two of Brazen Bull's most fun tracks, "Chi-Town" and "Glitters Like Gold," before "Men's Needs" and then "City of Bugs" which ended -- like most Cribs shows -- with Ryan scratching his guitar neck against his amp, Gary sliding a drum stick on his bass neck a la Sonic Youth, and Ross kicking over his drum kit.
More pictures and setlists from the show are below.

---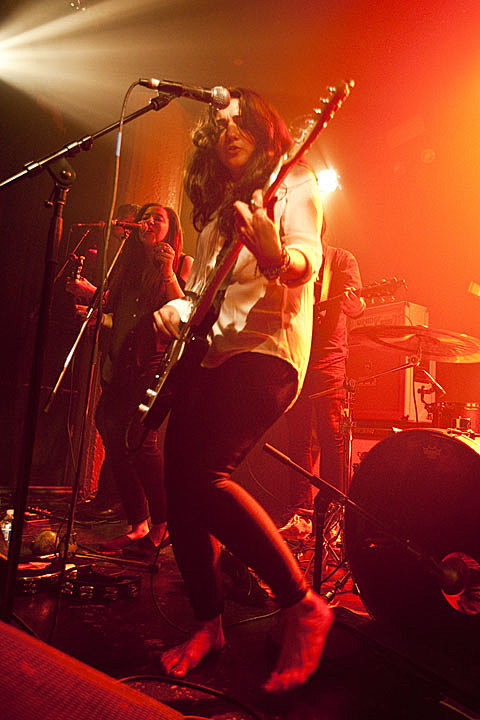 Alex Winston Setlist:
Fire Ant
Rum Rumspringa
Host
Velvet Elvis
Locomotive
Guts
The Fold
The Cribs Setlist:
Come On, Be A No ONe
I'm a Realist
What About Me?
Cheat On Me
Hey Scenesters
Anna
Back to the Bolt Hole
Mirror Kisses
Jaded Youth
To Jackson
Another Number
The Watch Trick (partial)
Direction
Be Safe
Chi-Town
Glitters Like Gold
Men's Needs
City of Bugs