Cro-Mags, Fucked Up, Screaming Females & Pissed Jeans played House of Vans (pics)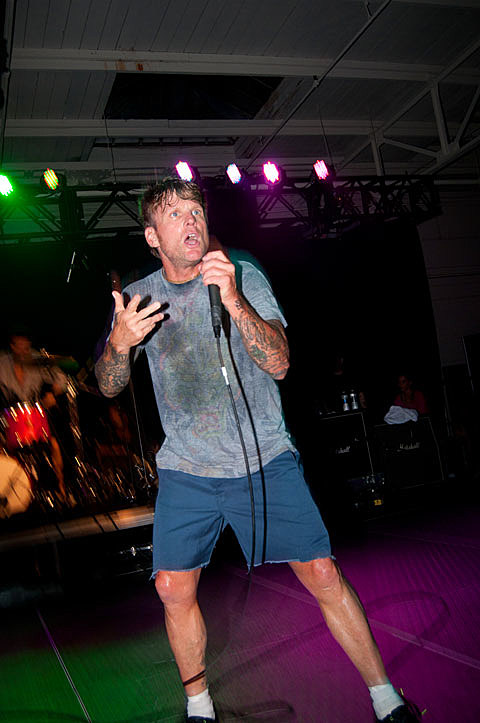 Cro-Mags headlined a hot, sweaty, and rain-drenched House of Vans with a supporting cast of Fucked Up, Screaming Females, and Pissed Jeans on Friday night (7/29). Doors to the venue opened at 7PM as the masses in line (the line touched the neighboring They Might Be Giants line down the block) were getting drenched in the downpour. Those entering were wringing out their shirts in the ultra-humid and wet warehouse.
Pissed Jeans opened the show with authority, pounding out favorites like "False Jesii pt 2" while the "moshing" crowd fell victim to the slick sheen of water on the venue floor; I saw my share of slips in mid-mosh. After a crew mopped the floors (seriously), Screaming Females followed with an energetic set that got the crowds back moving, though nothing comparable to what was to come.
There were a lot of discussion/rumors regarding who would be the headliner for the show, partially due to the crowd looking like they skewed on the Fucked Up side and partially due to the House of Vans site listing "Cro-Mags / Fucked Up" in the top billing spot. Ends up it was Fucked Up who supported. Damian & co riled up the sweat-drenched crowd indoors & outdoors, on stage & off, causing crowdsurfing and singalongs, though clearly confusing the security guards ("I'm OK, dont worry about it"). Excellent set.
Cro-Mags was the main event though, and the band covered material from their classic Age of Quarrel ("Show You No Mercy", 'We Gotta Know") in addition to covers by Bad Brains ("Attitude") while the crowd went apeshit. Stage dives off of the PA, crowdsurfing, floor-punching, and more were all in abundance, as the Cro-Mags gave an energetic set despite the barrier between the band and crowd (unfortunate for a Cro-Mags show in my opinion).
More pictures from show below...

--
Pissed Jeans by Chris La Putt
Screaming Females by Chris La Putt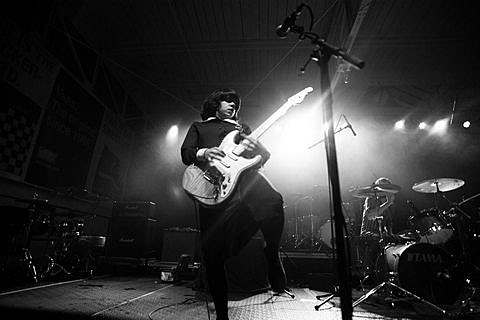 Screaming Females by Harriet Roberts
Fucked Up by Harriet Roberts
Cro-Mags by Harriet Roberts
Cro-Mags by Andrew St. Clair