Crystal Antlers – 2009 Tour Dates
photographer: paul birman
Crystal Antlers @ CMJ 09 (more by Paul Birman)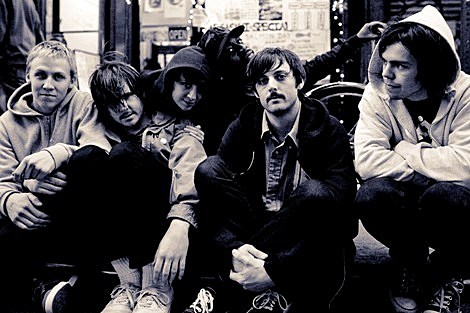 Crystal Antlers are in the middle of their two-night NYC run opening for The Big Pink at Bowery Ballroom (Thursday night) and Music Hall of Williamsburg (Friday). They'll cap it off Friday night by walking across the street to play a second Brooklyn show at Cameo with Soren Well and others.
UPDATE: Crystal Antlers say the Cameo show isn't happening.
The Big Pink tour runs until December 6th in Philly. From there Crystal Antlers team up with Audacity for a bunch more touring before the end of the year. All dates and the Cameo flyer below...


Crystal Antlers - 2009 Tour Dates
Dec 3 - BOWERY BALLROOM (w/ THE BIG PINK) New York City, New York
Dec 4 - MUSIC HALL OF WILLIAMSBURG (w/ THE BIG PINK) Brooklyn, New York
Dec 5 - BLACK CAT (w/ THE BIG PINK) Washington, Washington DC
Dec 6 - JOHNNY BRENDA'S (w/ THE BIG PINK) Philadelphia, Pennsylvania
Dec 7 - THE SUMMIT (W/AUDACITY) Columbus, Ohio
Dec 8 - THE BISHOP (W/AUDACITY) Bloomington, Indiana
Dec 9 - THE PILOT LIGHT (w/ AUDACITY) Knoxville, Tennessee
Dec 10 - THE EARL (w/ ALL THE SAINTS, AUDACITY) Atlanta, Georgia
Dec 11 - CROWBAR (w/ AUDACITY) Tampa, Florida
Dec 12 - BACKBOOTH (w/ AUDACITY) Orlando, Florida
Dec 13 - CAFE ELEVEN (w/ AUDACITY) St. Augustine, Florida
Dec 14 - BOTTLETREE (w/ AUDACITY) Birmingham, Alabama
Dec 16 - SPANISH MOON (w/ AUDACITY) Baton Rouge, Louisiana
Dec 17 - THE MOHAWK (w/ AUDACITY) Austin, Texas
Dec 19 - THE TRUNK SPACE (w/ AUDACITY) Phoenix, Arizona
Dec 20 - THE PIANO SHOP (w/ AUDACITY) San Diego, California