Cut Copy, Memory Tapes, Glasser, Restless People & Punches played the Pool Party (pics, new song & tortilla videos)
photos by Benjamin Lozovsky
"the memory tapes / cut copy show was pretty epic tonight. i was in the air half the time, jumping with the rest of the crowd. so. good." - Chris Casual
"Cut Copy went on about a quarter after 6, opening with "Lights & Music." This is one of their most popular songs and a great opener. The group was fully into it, head banging and jumping to their own music. I love when a band feels what they're doing and you feel it too. You could never tell that they had just flown in from Chicago and had barely slept. Other hits were "Nobody Lost, Nobody Found" and "So Haunted." The sound system was more to be desired - and bassist Tim Hoey's mike was too low for the first few songs - but a small setback.
The band brought a nice surprise when they played 2 new songs off of their untitled upcoming album. "Where I'm Going" was an instant crowd pleaser. It's a blend of 60's beach/psychedelia harmonies and poppy rhythms. Later they played "Blink and You'll Miss the Revolution," and I just have to say wow. You can tell a new song is a success when the audience is dancing uncontrollably. It's much heavier on the drum and bass than their typical stuff, yet still maintains an essence of 80's nuwave. This will definitely be one of the hits off the album.
Cut Copy ended after an hour long set, an encore, and soaking through their shirts. It was a great day, an outstanding show." [guilt free pleasures]
Cut Copy headlined Sunday's Pool Party at Williamsburg Waterfront. Memory Tapes, Glasser, Restless People and Punches (technically the DJs) also played. More pictures and videos (including one of tortillas flying through the air, and one of the new songs) from the day below...

--
Restless People...
Glasser....
Punches...
Memory Tapes...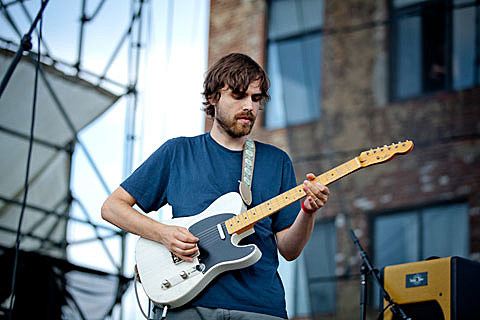 Cut Copy...
Cut Copy - Blink and You'll Miss a Revolution / Hearts on Fire - Live in Williamsburg from Big Ass Lens on Vimeo.
Cloudy with a Chance of Tortillas @ The Jelly Pool Party w/ Cut Copy