Cut Copy played Terminal 5 twice w/ Holy Ghost (pics, setlist)
Cut Copy and a door @ Terminal 5

NY PRESS: Every time you come back to the U.S., the venues seem a bit bigger. The shows at Terminal 5 sold out quickly. What's it like to see that progression?

Cut Copy: We've always found American audiences to be receptive. When we began, we were opening for people and it seemed when we started headlining all those people came back and brought their friends. It happened organically, as it should. It's not like we had a lot of press or hype behind that first record. It felt quite grassroots. We've found throughout the world we have such a loyal fan base. I never thought we would connect with an American audience. I'm not sure how it happened but it's amazing.
No dancey bands should have scheduled shows in NYC on Saturday, if for no other reason than they were probabably upset that they made it all the way to NYC on April 2nd, but couldn't go see LCD Soundsystem at Madison Square Garden, because they had to work. Daedelus and company played a show at Music Hall of Williamsburg that night, and Cut Copy and the DFA-signed Holy Ghost! played their second sold out show in a row that evening at Terminal 5. The other Cut Copy show was one night earlier, and Cut Copy will play the large NYC venue again, but with opener Midnight Magic, on Wednesday (also sold out).
The pictures in this post are from Friday and they continue, shot of Cut Copy's setlist included, and with more tour dates, below...

--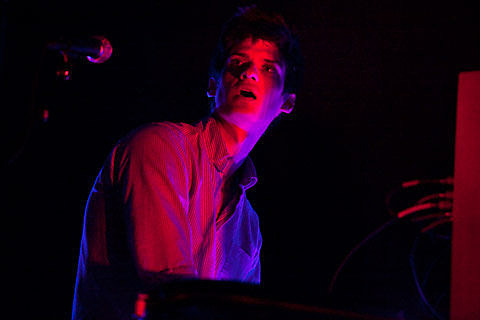 Cut Copy - 2011 Tour Dates
Mon 04/04/11 House of Blues Boston Boston MA *
Tue 04/05/11 Club Soda Montreal PQ *
Wed 04/06/11 Terminal 5 New York NY Midnight Magic
Thu 04/07/11 Sound Academy Toronto ON *
Fri 04/08/11 Riviera Theatre Chicago IL * , DJ Kid Color
Fri 04/08/11 Debonair Social Club Chicago IL DJ Set., Team Bayside High
Sat 04/09/11 First Avenue Minneapolis MN *
Tue 04/12/11 Showbox Sodo Seattle WA *
Fri 04/15/11 Coachella Indio CA
Sat 04/16/11 The Grand Ballroom @ Regency Center San Francisco CA Aaron Axelson DJ Set, *
Sat 04/16/11 The Sutter Room at the Regency San Francisco CA Dj Set
Sun 04/17/11 The Grand Ballroom @ Regency Center San Francisco CA *
Wed 04/20/11 Granada Theater Dallas TX Foals, *
Thu 04/21/11 Stubbs BBQ Austin TX *
Fri 04/22/11 Stubbs BBQ Austin TX *
Sat 04/23/11 Republic New Orleans LA *
Thu 06/02/11 Teatro Chino de Six Flags Mexico Mexico City Mexico
Sat 06/04/11 Indie Rock Fest Aguadilla Puerto Rico
Sun 06/05/11 Free Press Summer Fest Houston TX
Thu 07/07/11 Camp Bisco 10 Mariaville NY
Fri 08/12/11 Marquee Theatre Tempe AZ
* w/ Holy Ghost!