DaM-FunK + Master Blazter announce tour, playing Highline w/ Matthewdavid (dates, Four Tet & other stuff too)
Dam-Funk at Bonnaroo 2011 (more by Graeme Flegenheimer)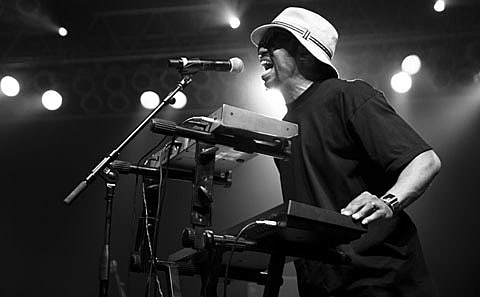 Dam-Funk and his live band Master Blazter are heading out on a North American tour later this month and again in October. The first leg is on the West Coast and includes stops at MusicfestNW, Bumbershoot, and a Bumbershoot after party at Exhibition Hall in Seattle, WA with Flying Lotus and Four Tet.
After a break, Dam-Funk will continue to tour the US and Canada and stop in NYC on October 25 at Highline Ballroom. Matthewdavid, who cancelled his last NYC show is on the bill. Hopefully he'll make it out this time. Tickets for the NYC show are on sale now. All dates are listed below.
In other Dam-Funk news, he recently released a free mix for CLAE Shoes. You can stream that below. Jay-Z's website also posted a video from Dam-Funk's Rocks Off Cruise from May 30. That's available below too.
Speaking of Four Tet, he's got a Fabric mixtape coming out on September 19, Fabriclive59. The mix includes tracks by Manitoba (aka Caribou), Burial, and many others. Its also got three Four Tet tracks and one Four Tet remix. Stream one of those tracks, "Locked," below. Four Tet will go on a short DJ tour to support Fabriclive59 which includes the launch party at Fabric in London with Caribou, Jacques Greene, Lunice, Lone, and others. He's got other upcoming dates too including EMPAC Studio 1 on September 15 in Troy, NY with Jon Hopkins.
Four Tet also contributed a remix of Radiohead's "Separator" to their remix 12" series. Stream that below.
All tour dates, streams and videos below...

--
Dam-Funk Rocks Off Concert Cruise 5/30/11


Dam-Funk -- 2011 Tour Dates
08.26.11: The Terrace ( Pasadena, CA)
08.28.11: Alex's Bar (Long Beach, CA)
08.29.11: Funkmosphere @ Carbon (Culver City, CA)*
08.30.11: The Cellar Door (Visalia, CA)
08.31.11: The New Parish (Oakland, CA)
09.01.11: Humboldt State University @ The Depot (Arcata, CA)
09.04.11: Exhibition Hall w/ Flying Lotus + Four Tet (Seattle, WA)*
09.04.11: Bumbershoot (Seattle, WA)
09.05.11: Wild Buffalo (Bellingham, WA)
09.07.11: HiFi Club (Calgary, Canada)
09.08.11: Bar None (Vancouver, Canada)
09.10.11: Dr. Marten's Store (Portland, OR)*
09.10.11: MusicfestNW (Portland, OR
10.01.11: Crowbar (Tampa, FL)
10.02.11: Club Downunder @ Florida State University (Tallahassee, FL)
10.04.11: One Eyed Jacks (New Orleans, LA)
10.05.11: The Drunken Unicorn (Atlanta, GA)
10.06.11: Mercy Lounge (Nashville, TN)
10.07.11: Lola (St. Louis, MO)
10.08.11: Grinnell College (Grinnell, IA)
10.10.11: Pyramid Cabaret (Winnipeg, Canada)
10.12.11: 7th St. Entry (Minneapolis, MN)
10.13.11: The Empty Bottle (Chicago, IL)
10.14.11: Magic Stick (Detroit, MI)
10.16.11: Shadow Lounge (Pittsburgh, PA)
10.17.11: Grog Shop (Cleveland, OH)
10.19.11: Wrongbar (Toronto, Canada)
10.20.11: Le Belmont (Montreal, Canada)
10.25.11: Highline Ballroom (New York, NY) w/ Matthewdavid
10.28.11: Sonar (Baltimore, MD)
10.29.11: Voyeur (Philadelphia, PA)
10.30.11: Rock N Roll Hotel (Washington, D.C.)
11.03.11: The Casbah (San Diego, CA)
--
Four Tet -- 2011 Tour Dates
August 6th Field Day Festival London, UK
August 7th Big Chill Festival Eastnor, UK
September 3rd FYF Fest Los Angeles, CA
September 4th Bumbershoot After Dark Seattle, WA
September 15th EMPAC Troy, NY
September 22nd Rex Paris, France
September 23rd Fabric London, UK
September 24th Warehouse Project Manchester, UK
September 25th Trouw Amsterdam, Netherlands
September 28th Acetate @ Wire Leeds, UK
October 6th VIA Festival Pittsburgh, PA
October 29th Warehouse Project Manchester, UK
December 9th Warehouse Project Machester, UK
December 11th ATP Minehead, UK