Damon Albarn, St. Vincent, Kelis, Perfect Pussy & more played NPR SXSW showcase (pics +++ Albarn on 'Kimmel' video)
Timothy S. Griffin
Damon, Annie, Kelis, Eagulls and Perfect Pussy at the NPR Showcase - SXSW 2014

"Damon Albarn hasn't played yet, has he?" we ask. The woman on the door shakes her head. Flushed with the thrill of absurd luck, we don't stop to wonder why.

The venue inside is half empty. Damon takes to the stage almost an hour late, around 1.30am, and with his touring band runs us through a raft of wry, meandering art pop tunes. There are shades of Gorillaz when he pulls out the melodica, misguided chugs of rock'n'roll, bittersweet ballads. It doesn't sound great, but his presence is entertaining enough. He's still beautiful, if a little grumpy when the performance gets cut short. He apologises. "We got messed about this evening, I'm sorry," he offers. "It happens sometimes." - [The Music]
Damon Albarn presented much of his solo debut Wednesdaysday night (3/12) in SXSW at Stubb's as part of NPR's official showcase. (It was the same night and on the same street as Tuesday's tragic events, though most attendees were unaware.) St. Vincent played before him and went on a little late -- and maybe played longer than scheduled. Damon didnt go on until 1:20AM ish -- He was supposed to start at 12:30. It was cold. Damon apologized for having to pull some songs from his set list, but mentioned with so many acts and set ups it couldn't be helped. His set up took a while but he sounded great once it eventually got underway.
Albarn also played The Jimmy Kimmel Show (part of his SXSW Week) while in Austin, performing "Mr. Tembo" & "Lonely Press Play." You can watch video of that below.
The whole evening was pretty stacked, as mentioned, with St. Vincent delivering an electrifying performance, plus Kelis serving up Food songs and her first live show in three years. (You can stream audio of her full show below.) Eagulls and the bass-tossin' Perfect Pussy played too.
More pictures from NPR's SXSW showcase, plus Kelis stream and Damon Albarn videos, below...

--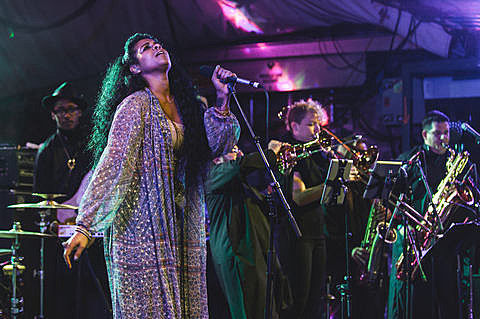 Damon Albarn - Lonely Press Play