Dan Auerbach, Hacienda & Those Darlins (all now in Austin for SXSW) @ Bowery Ballroom, NYC – pics
photos by Toby Tenenbaum
Opening with the baleful, empathetic harmonies of "Trouble Weighs A Ton," Auerbach brought a naked emotion and a touch of pathos not typically found in his Keys' performance. For the most part, Auerbach's solo set didn't deviate too greatly from The Black Keys' brand of heavy blues....
On "When The Night Comes" and "Goin' Home," Auerbach delves into the doleful acoustic style of the blues, generating earnest pleas from the depths of soul. It's a fine contrast to the menacing stomp of songs like "The Prowl" and "I Want Some More" and reveals Auerbach as more than a one trick pony. When Auerbach follows wherever his reverb-heavy guitar takes him, good things usually happen. Even if he didn't turn the reverb on ultra for "Heartbroken In Disrepair," the superlative song resounded mightily. [Earvolution]
That description is from the Those Darlins, Hacienda, and Dan Auerbach (of The Black Keys) show at Bowery Ballroom on March 3rd.

"Dan Auerbach has his first solo album out, but solo is hardly how he presented his music Tuesday night in New York. Backed by San Antonio band Hacienda and Patrick Hallahan of My Morning Jacket chipping in as a second drummer and percussionist, Auerbach was clearly enjoying the give and take he perhaps misses with The Black Keys.....
...Openers Hacienda hung out in the subway tunnel with us before the show for a bit of chat....Those Darlins were indeed. They won us over and we'll be chatting up the band in Austin at South By Southwest." [Palestra Music]
All three bands are at SXSW this week.
Those Darlins' schedule includes the official BrooklynVegan SXSW showcase at Club DeVille tonight, (Wed, March 18th) and the My Old Kentucky Blog/Aquarium Drunkard party happening Peckerheads on Sixth the next afternoon.
San Antonio's Hacienda visits Headhunters and The Parish (both tonight) and Emo's Jr on Thursday (3/20).
Also playing in Austin tonight (3/18) is Dan Auerbach at the Parish with Hacienda. More pictures from Bowery Ballroom below...

Those Darlins...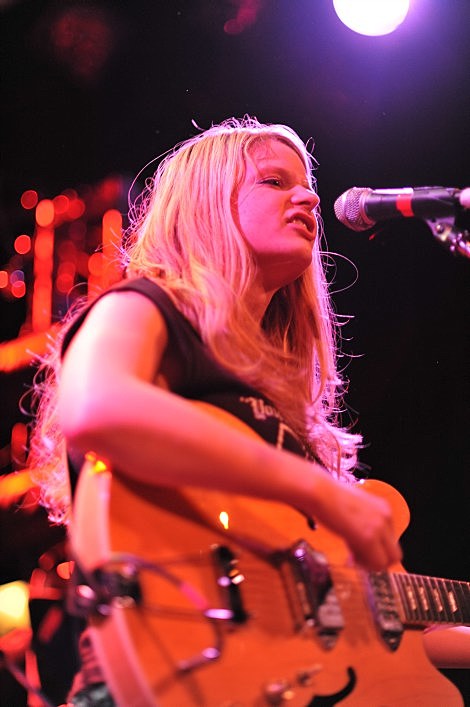 Hacienda...
Dan Auerbach...