Dan Deacon @ McCarren Pool, Brooklyn, NY – pics
On the one hand, it wouldn't have been a Dan Deacon show if he hadn't played on the ground - with the people - with HIS people. On the other hand, maybe Dan was being a little unfair by repeatedly calling everyone hanging out around the perimeter of the pool "the Flickr Zone". I mean, the show was awesome - short, but awesome, BUT, it wasn't that awesome for those who really couldn't get close enough to Dan to know what was going on - especially if they didn't know what to expect, but whatever...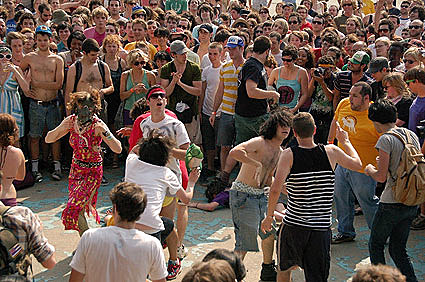 "Everybody wave to the Flickr Zone"
Dan opened the July 8th, 2007 show. He went on at 4pm.
Later that night Dan played Death by Audio - also with OCDJ who played right before Dan at McCarren, and who I unfortunately missed, but will catch at Citysol.