Danielle de Picciotto has a new album out now, new book on the way, touring with Alexander Hacke (dates & new video)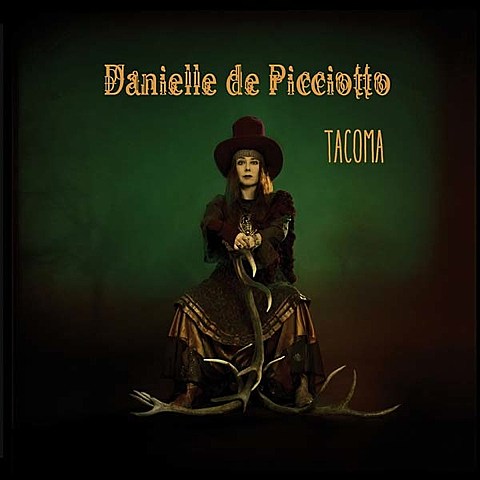 Tacoma, WA-born, Berlin-residing artist Danielle de Picciotto has been releasing music, films and more since the early '90s, and her most recent release is this year's Tacoma album on Moabit Music. That album's newest single is "I Have Love," an eerie avant-garde pop song that fans of newer artists like Julia Holter and Pharmakon should not be sleeping on. Its shaky black-and-white video premieres below. If you like what you hear, you can pick up the album here.
Danielle also has a new graphic diary coming on August 13 titled We Are Gypsies Now. The description reads:
We Are Gypsies Now! is the transcendentally Illustrated and emotionally transparent journal of the adventures and internal struggles of Danielle de Picciotto and Alexander Hacke's first year on the road with no direction home. Experiencing We Are Gypsies Now! is to embark on Danielles deeply personal journey and to possibly heed her call for a more imaginative approach to life in our over-mediated and covertly alienated age.

Switching between diary, autobiography and speculation, We Are Gypsies Now! explores the nomadic option as perhaps the only possible cultural and social response to gentrification and consumerism... Reading this is an inspiration, a wake-up call, and perhaps even a demand to once again embrace the liberating freedom of chance.
Danielle and her husband Alexander Hacke (of Einstürzende Neubauten) will also be touring together in support of the new album and book. The tour includes a NYC show on September 9 at Trans-Pecos with Lary 7 and Victoria Keddie. Ticket info TBA.
All dates are listed, with those videos, below...

---
Danielle de Picciotto -- 2015 Tour Dates
August 1st MEAFORD, Ontario Canada - Electric Eclectics Festival
August 14th DETROIT, Michigan - Trinosophes w/ Chatoyant
August 19th DENVER, Colorado - Mutiny Café
August 21st SEATTLE, Washington - Hollow Earth Radio w/ Hair & Space Museum
August 28th EUGENE, Oregon - Tsunami Books
August 30th PORTLAND, Oregon - Star Theater w/ Lost Lockets
September 2nd SAN FRANCISCO, California - The Hemlock Tavern w/ Dark Materials, Yellow Pages
September 5th LOS ANGELES, California - El Cid w/ Qui, Adam Harding, David Yow
September 9th NEW YORK CITY, NY - Trans Pecos w/ Lary 7, Victoria Keddie
October 3rd LONDON, England - Hackney Attic