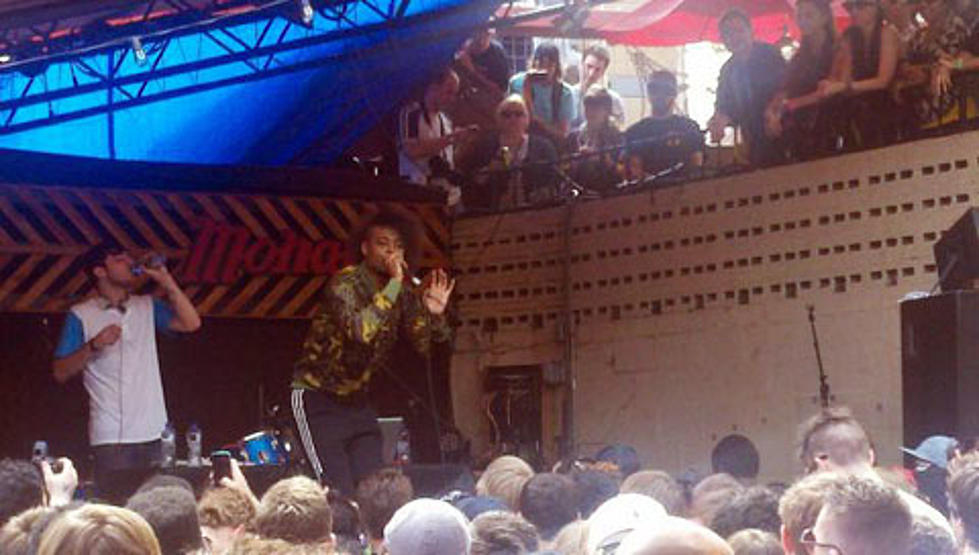 Danny Brown survived a lemon attack, but Donald Glover broke his foot (Childish Gambino tour postponed, but DB in NYC tonight)
Danny Brown @ Mohawk (SXSW) (via Matthew Hickey)

Donald Glover's broken foot

Danny Brown was supposed to play Starland Ballroom in NJ last night (3/21), but that show didn't happen because headliner Childish Gambino (aka Donald Glover) recently fractured his foot. Donald wrote:
"This past Saturday I fractured my foot on stage in Tampa during a performance and was rushed to the emergency room.

The doctors say that if I stay off of my foot for a couple weeks and wear this boot, there's a good chance they can avoid surgery and start performing again soon.

I'm really upset by the timing of this. CAMP tour will go on, but dates will be postponed."
All dates from 3/16-4/3 have been rescheduled and are listed with new dates below. The new NJ date is 4/30, though it's unclear if Danny Brown will still be opening.
Check out Danny's new video for "Radio Song" and the new CG dates below...

--
Danny Brown "Radio Song"

Rescheduled Childish Gambino tour dates
March 16th - Atlanta, GA - rescheduled to June 10th
March 17th - Charlotte, NC - rescheduled to July 27th and venue changed to Time Warner Cable Uptown Amphitheatre -(on sale date to be announced soon!)
March 19th - Asheville, NC - rescheduled to July 28th
March 20th - Richmond, VA - rescheduled to July 29th
March 21st - Sayreville, NJ - rescheduled to April 30th
March 24th - Toronto, ON - rescheduled to July 31st and venue changed to Echo Beach - (on sale date to be announced soon!)
March 25th - Montreal, QC - rescheduled to August 1st
March 27th - Detroit, MI - rescheduled to August 3rd
March 29th - Minneapolis, MN - rescheduled to May 10th
March 30th - Chicago, IL - rescheduled to May 9th
April 2nd - Iowa City - rescheduled to April 16th
April 3rd - Kansas City, MO - rescheduled to July 25th