Danzig / Misfits Reunion NYC Pics | Part 2 | Pics
I promised I would update the Danzig/Misfits post I started Tuesday night, but literally haven't had a second since. So here's the rest of the story that was Danzig @ Club Spirit, NYC - March 1st, 2005.
As previously noted, I was hesitant to spend almost $40 to see Danzig play at club Spirit until I found out about the Doyle-Misfits 'reunion set. I was complaining about club Spirit. I forgot that Spirit is actually the club formerly known as Twilo where I spent many a night in my former, yet post-Danzig-obsessed life. It ended up being a perfectly suitable venue for a rock show (minus the columns). The $40 was worth it and then some.
Danzig played lots of favorites like Mother, Twist of Cain, and How the Gods Kill, with the obvious highlight for everyone involved being the 30 minute Misfits set. Johnny Kelly of Type O Negative performed drummer duties. That was a bonus, since Type O Negative is another one of my favorite all-time bands, and Johnny is just an all around nice guy who will be happy to tell you all about his custom cars if you go catch his Led Zeppelin cover band in various local bars all throughout Brooklyn.
The place went absolutely nuts when Doyle, devil lock and all, took the stage for the Misfits set. New York was waiting for this moment since New Jersey's own The Misfits broke up in 1983 (that's 22 years ago if you're bad in math). I practiced the skill I've honed over the years, which is both enjoying the madness of the pit, while holding a camera and snapping pictures. It's my own version of war journalism. Thanks to neuman for the set list which I've pasted at the end of this post.
How do I rate this show in comparison to all the others I've attended? So far this year I've been blown away by The Arcade Fire at Irving Plaza and Bloc Party at Roxy, but to compare this experience to those would be a disservice to history. I walked away from all three shows feeling like I just experienced the greatest concert ever. And they all were for that moment in time, but this one meant so much more - like visiting a place you hadn't been since childhood when things didn't matter so much. Danzig at Twilo in 2005 with a dash of Type O Negative. Four worlds colliding.
Reuters shares my enthusiasm
The Boston Herald was at the Boston show.
Sorry Canada.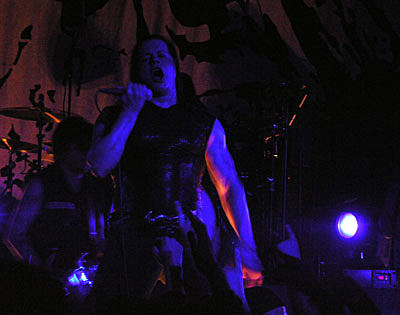 Misfits set list:
20 Eyes
Skulls
Earth AD
Mommy
Die, Die
Hate Breeders
We are 138
Bloodfeast
More excited Bloggers
bloodcurse went to the Philly show
Ghoulius Ceasar wouldn't trade last night for anything
When he came out with Earth A.D., everyone on the floor started bouncing around.
FUCK YEAH DANZIG *** RULED AND IT WAS EVEN BETTER WHEN DOYLE HIT THE **** STAGE I THOUGHT I WAS AT A *** MISFITS CONCERT!!!!!!!!!!!!!!
Tonight might have been the best evening I've ever spent while fully clothed.