Dark Was the Night @ Radio City Music Hall in NYC (Brightest Byrne Bon National Feist Projectors) – pics, review & setlist
Dark Was the Night live finally happened Sunday, May 3rd at Radio City. Right before showtime, there were still tickets available, but the auditorium seemed fairly full as the Dirty Projectors set began. The band sounded great with its newly fleshed out six-piece lineup (though I didn't catch the titles of the first Bitte Orca song). The reverb of the room was almost a special guest of its own and a welcome addition throughout the night. On new single "Stillness Is the Move" singer Amber Coffman really let loose with the dance moves and the added vocal acrobatics the song deserves. David Byrne joined the band on their Dark Was the Night collaborations -- the not-on-the-comp "Ambulance Man" and album opener "Knotty Pine."
Red Hot executive director John Carlin (Red Hot being the AIDS advocacy group that put out Dark Was the Night along with many other benefit comps) came out and said a few words about the performers before My Brightest Diamond/Shara Worden burst into her cover of Nina Simone's "Feeling Good." Worden was backed by Thomas Bartlett (Doveman) on keys, members of the National including the two Dessners brothers (who were obvious fixtures through the night), drummer Bryan Devendorf, plus horns and strings. Worden's massive voice filled the hall, but sadly took the lead for only one song.
The rest of The National guys came on stage for Boxer song "Slow Show," followed by new song "England." Bon Iver's Justin Vernon and band were on stage for backups, and for The National's Dark Was the Night contribution, "So Far Around the Bend," Vernon even picked up a guitar and took a solo. The band closed with another new song, which singer Matt Berninger mumbled the title of a few times (anyone catch it?).
For the next set, TV on the Radio's Dave Sitek took the stage in a sharp looking suit and performed one track, his DwtN Troggs cover "With a Girl Like You." Here it was backed by a fuzzed out bass, horns, keys, and a collection of the night's performers on handclaps and tambourines (Dirty Projectors, Dessners, others).
As John Carlin announced earlier, the first half of the show was to close with David Byrne's three Red Hot compilation contributions. Led by five hand percussionists, Byrne opened with Cole Porter's "Don't Fence Me In." Second, he played "Dreamworld: Marco De Canavesems" with Justin Vernon sitting in on vocals for Brazilian singer Caetano Veloso (who originally collaborated with Bryne on the track). The tune's hyped up bossa nova, with the Dessners on guitars, was one of the night's many highlights. Finally, Byrne sang with Feist (who subbed for the original's Marisa Monte) on the Antonio Carlos Jobim song "Waters of March" ("Aguas de Março"). Even with Byrne starring down at the lyric prompt for nearly the whole song, the jumping melody of that tune was an amazing end to the first set.
continued below...


The second half started with Bon Iver, who opened with their winding Dark Was the Night tune "Brackett, WI" -- with keys again by Bartlett. Bon Iver's "Blood Bank" was next, followed by "Big Red Machine," which Matt from the National sang on. Mere feet apart, the difference couldn't have been starker between Matt Berninger's bay-dredging baritone and Vernon's wispy, winged voice. Bon Iver closed with the impeccable "Flume," accompanied on harmonies by My Brightest Diamond and horns.
Feist performed with just her voice and a guitar for her entire set -- one of the most surprising of the night in that it didn't include any album material. She opened with folk song "The Wagoner's Lad," appropriate especially because of the short clip that screened before her set. Throughout the night, Radio City's video screens showed Red Hot videos from the past (Debbie Harry and Iggy Pop doing Cole Porter's "Well, Did You Evah!" was one). The video before Feist, dubbed "No Alternative Girls," was one of the best, as it followed an early '90s Kim Gordon as she interviewed other women rockers about sexuality in their music. "Wagoner's" lyrics -- "Oh hard is the fortune of all womankind/They're always controlled, they're always confined" -- attempted a segue from those provocateurs (Bikini Kill, Luscious Jackson) to Leslie Feist through folk music. She then covered Little Wings' "Look At What the Light Did Now," duetted with Justin Vernon on "Train Song" (with the rest of Bon Iver on backups, plus what looked like a bass clarinet), and closed with a blues rock cover of Bob Dylan's "Someday Baby." Her riffs on the Modern Times track wouldn't have been out of place on a hard-rock track...maybe a sign of Feist to come.
Finally, as John Carlin promised, Sharon Jones and the Dap Kings were closing the show because no one could really follow them. I think that assertion was right -- their onstage power, especially in that massive room, was something no one all night had come close to. From opener "Not Gonna Cry" to the next song's "false start" into "When I Come Home" the band sounded crisp and totally at home. Sharon Jones mentioned that May 3rd is James Brown's birthday (he would have been 76) and took the opportunity to bust out some signature Brown moves including the Boogaloo, the Camel Walk, and the Tighten Up.
For the encore, all of the acts, including some from the crowd like St Vincent (and I'm sure a few others), got on stage to perform a rendition of the standard "This Land is Your Land" in honor of Pete Seeger...until Sharon Jones came back to funk it up.
No Sufjan, no Grizzly Bear, no Blonde Redhead, no David Byrne + Sharon Jones, and none of the other countless collaborations that could've happened. But like the album, Dark Was the Night live turned out to be a perfectly restrained, artful collection -- a night and album that capture some of the best of what popular music has to offer.
The rest of the photos and the set list below...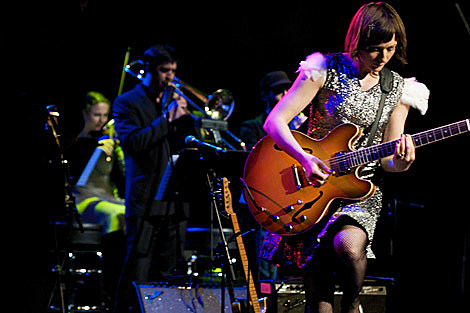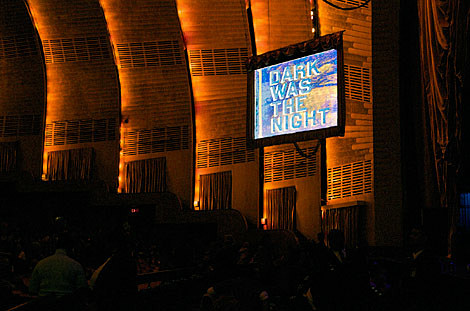 Dark Was The Night @ Radio City Music Hall 5/3/09 - Setlist (started by Happy Genius Heroes)
1. Dirty Projectors - (two new album songs?)
2. Dirty Projectors - "Stillness Is the Move"
3. Dirty Projectors - "Ambulance Man" w/ David Byrne
4. Dirty Projectors - "Knotty Pine" w/ David Byrne
5. My Brightest Diamond - "Feeling Good"
6. The National - "Slow Show"
7. The National - "England"
8. The National - "So Far Around The Bend"
9. The National - "Vanderlaw(?) Crybaby" w/ My Brightest Diamond
10. Dave Sitek - "With A Girl Like You"
11. David Byrne - "Don't Fence Me In"
12. David Byrne - "Dreamworld: Marco de Canavezes" w/ Justin Vernon
13. David Byrne - "Waters Of March" w/ Leslie Feist
14. Bon Iver - "Brackett, WI"
15. Bon Iver - "Blood Bank"
16. Bon Iver - "Big Red Machine" w/ Matt Berninger
17. Bon Iver - "Flume" w/ My Brightest Diamond
18. Feist - "The Wagoner's Lad"
19. Feist - "Look At What the Light Did Now"
20. Feist - "Train Song" w/ Justin Vernon
21. Feist - "Someday Baby"
22. Sharon Jones - "Not Gonna Cry"
23. Sharon Jones - "When I Come Home"
24. Sharon Jones - "Inspiration Information"
25. Sharon Jones - "100 Days, 100 Nights"
Encore
All - "This Land Is Our Land"