Daughn Gibson announces new LP, touring, playing NYC w/ Hiss Golden Messenger (whose LP is out now) — dates/streams
Daughn GIbson at Union Hall in 2012 (more by Fred Pessaro // BBG)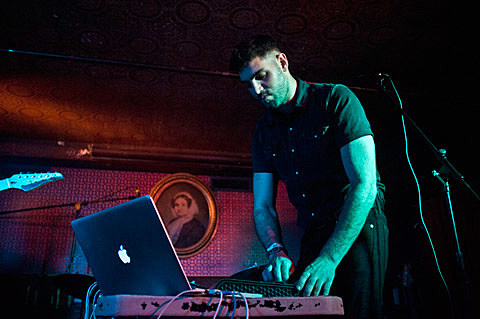 Daughn Gibson released his impressive debut album, All Hell, last year and since signed to Sub Pop, the label that will release his sophomore album, which he's just announced. The new album is called Me Moan, and it will be out on July 9. It features appearances from John Baizley (of Baroness) and Jim Elkington (of Brokeback), and was produced by Daughn himself, along with Benjamin Balcom. The album's first single, "The Sound of Law," doesn't really warrant the same "dubstep Johnny Cash" descriptions that his early singles did, because it's a bit more rocking, but Daughn's baritone croon is still the main attraction. Check it out, along with the album art and tracklist, below.
Daughn will support the new album with a tour that culminates in Brooklyn on August 17 at Glasslands. Support at that show comes from folk collective Hiss Golden Messenger, who recently released the impressive album Haw. You can stream the track, "Sufferer (Love My Conqueror)," from that album, below. Tickets for the Glasslands show are on sale now.
All dates are listed, along with song streams and more, below...

---
Daughn Gibson - "The Sound of Law"

Hiss Golden Messenger - "Sufferer (Love My Conqueror)"

Daughn Gibson - Me Moan

Me Moan Tracklist:
1. The Sound of Law
2. Phantom Rider
3. Mad Ocean
4. The Pisgee Nest
5. You Don't Fade
6. Franco
7. Won't You Climb
8. The Right Signs
9. Kissin on the Blacktop
10. All My Days Off
11. Into the Sea
--
Daughn Gibson -- 2013 Tour Dates
May 24 - Barcelona, ES - Primavera Sound
May 26 - Brussels, BE - AB Box #
May 27 - Amsterdam, NL - Paradiso #
May 28 - London, UK - Birthdays
May 29 - Paris, FR - Point Ephemere
May 30 - Copenhagen, DK - Pumpehuset
Jun. 01 - Porto, PT - Primavera Sound
Jul. 16 - Louisville,KY - Zanzabar
Jul. 18 - Detroit,MI - Magic Stick
Jul. 19 - Chicago, IL - Pitchfork Music Festival
Jul. 21 - Madison,WI - High Noon
Jul. 22 - Minneapolis,MN - Triple Rock ^
Jul. 23 - Fargo,ND - Aquarium
Jul. 25 - Vancouver, BC - Biltmore *
Jul. 26 - Seattle, WA - Capitol Hill Block Party *
Jul. 27 - Olympia,WA - Capital Theater (Backstage) *
Jul. 28 - Portland,OR - Doug Fir
Jul. 30 - San Francisco,CA - Rickshaw Stop **
Aug. 02 - Los Angeles,CA - Echo **
Aug. 03 - San Diego,CA - Casbah **
Aug. 04 - Phoenix,AZ - Rhythm Room **
Aug. 06 - Marfa,TX - El Cosmico (FREE SHOW)
Aug. 08 - Austin,TX - Red 7 ***
Aug. 09 - Houston,TX - Fitzgeralds ***
Aug. 11 - Nashville, TN - Stone Fox ^^
Aug. 12 - Atlanta,GA - Earl ^^
Aug. 13 - Charlotte, NC - Milestone ^^
Aug. 15 - Washington,DC - Black Cat (backstage) ^^
Aug. 16 - Philadelphia,PA - Johnny Brenda's ^^
Aug. 17 - Brooklyn,NY - Glasslands ^^
^ w/ Merchandise
* w/ Cairo Pythian
** w/ William Tyler
*** w/ the Young
^^ w/ Hiss Golden Messenger
# w/ Kurt Vile