Daughn Gibson signed to Sub Pop, touring, playing CMJ (dates & new song sampling Shabazz Palaces & Tiny Vipers)
Daughn Gibson at Union Hall in May (more by Fred Pessaro // BBG)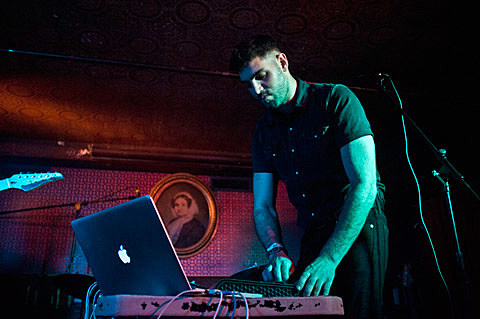 Daughn Gibson surfaced earlier this year with his impressive debut album, All Hell, which mixed Johnny Cash-informed sad country with the singer/songwriter/beatmaker stylings of James Blake, Matthew Dear, and Nicolas Jaar. That album came out in April on Matt of Pissed Jeans' White Denim label. Now, he's just announced that he'll join Pissed Jeans (and you know, Fleet Foxes, Beach House, and a bunch of others) on the label that they call home, Sub Pop.
In honor of his signing, Daughn sampled two of his new labelmates, Shabazz Palaces (who just played NYC with My Morning Jacket) and Tiny Vipers on a new track called "Reach Into The Fire," which you can stream below.
Daughn Gibson is currently on tour with Yeasayer. He won't play at their Central Park Summerstage show (9/12), but Daughn has just added some of his own dates for the fall including CMJ, though no specific CMJ shows have been announced yet. All Daughn Gibson dates are listed below.
Speaking of recent signings to Sub Pop, METZ are kicking off their previously mentioned tour which hits NYC on August 31 at Pianos and September 1 at Death by Audio, and will also be back in NYC for CMJ. Sub Pop band Jaill will also be in NYC soon as part of a tour with Fergus & Geronimo, and as just mentioned, the Sub Pop-signed King Tuff revealed plans for a big tour too, that like Daughn and METZ, will have him in NYC for CMJ.
A list of all Daughn Gibson dates and that song stream are below.

---
Daughn Gibson - "Reach Into The Fire"

"Reach into The Fire" features samples of "An echo from the hosts that profess infinitum" by Shabazz Palaces and "Life on Earth" and "Slow Motion" by Tiny Vipers
Daughn Gibson -- 2012 Tour Dates
08/22 Chicago, IL The Vic *
08/23 Madison, WI Majestic Theatre *
08/24 Minneapolis, MN First Ave *
08/25 Omaha, NE Slowdown *
08/26 Denver, CO Ogden *
08/27 Salt Lake City, UT In The Venue *
08/29 Vancouver, British Columbia Malkin Bowl *
08/30 Seattle, WA The Neptune *
08/31 Portland, OR Crystal Ballroom *
09/01 Oakland, CA Fox Theater *
09/02 Los Angeles, CA FYF FEST
09/05 San Francisco, CA Elbo Room
09/06 Reno, NV The Chapel Tavern
09/07 Portland, OR Music Fest Northwest w/ Pains of Being Pure at Heart
09/11 Allentown, PA The Sportsman's Cafe w/ Merchandise
10/16-20 New York, NY CMJ Music Marathon
10/29 Chicago, IL The Empty Bottle
10/31 St. Louis, MO Apop Records
11/01 Lawrence, KS Replay Lounge
11/03-04 Austin, TX Fun Fun Fun Fest
11/06 Oxfort, MS Lamar Lounge
11/07 Atlanta, GA The Earl w/ Earth