Dave Longstreth, Tyondai Braxton & others DJing Haiti benefit w/ Bjork (who recorded a song w/ Olof Arnalds)
Bjork & Dirty Projectors @ Housing Works (more by Chris La Putt)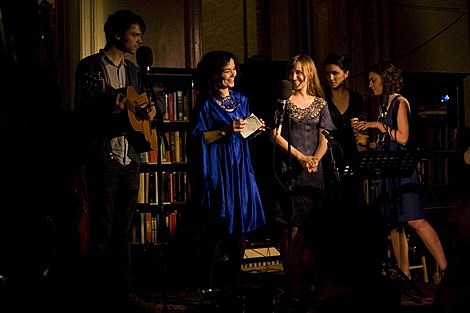 As you can see on the flyer below, cavernous Bushwick DIY spot Above the Auto Parts Store will be the site of a benefit for Haiti with an eclectic lineup of DJs on May 2nd. Dirty Projectors' Dave Longstreth, Battles' Tyondai Braxton, and music writers Alex Ross and Brandon Stosuy will be joined by...Bjork behind the turntables and iPods for "Rites of Spring." Ross predicts "some combination of Thai soul, death metal, Justin Bieber, and, of course, nude Stravinsky." Brandon, who writes for Stereogum, has the genesis of the event, which involves Bjork/Dirty Projectors show at Housing Works last May, laid out at that site: "Tickets go on sale this Tuesday (4/13) at 5PM at Record Grouch/Old Made Vintage, 441 Metropolitan Avenue (@ Meeker) in Brooklyn. Their hours are 1PM-7PM daily. (There will be no online tickets. Paper tickets only.)"
Ólöf Arnalds [who also played that Housing Works benefit with Bjork and Dirty Projectors] was recently featured in NPR's All Things Considered last week. Host Jonathan Richman chatted to the singer songwriter about her new album, and played a snippet of a new song called "Surrender", that features Björk.

Olöf recently finished mixing her second album, Innundir Skinni, at Sundlaugin Studios with Kjartan Sveinsson producing once again. Innundir skinni features more elaborate arrangements and instrumentation than Við og við, with vocals sung both in English and Icelandic. Innundir skinni is set for worldwide release this spring. [Iceland Music]
The NPR show is here. A streaming clip of the song is below with the benefit flyer...

Olof Arnalds & Bjork NEW SONG 2010