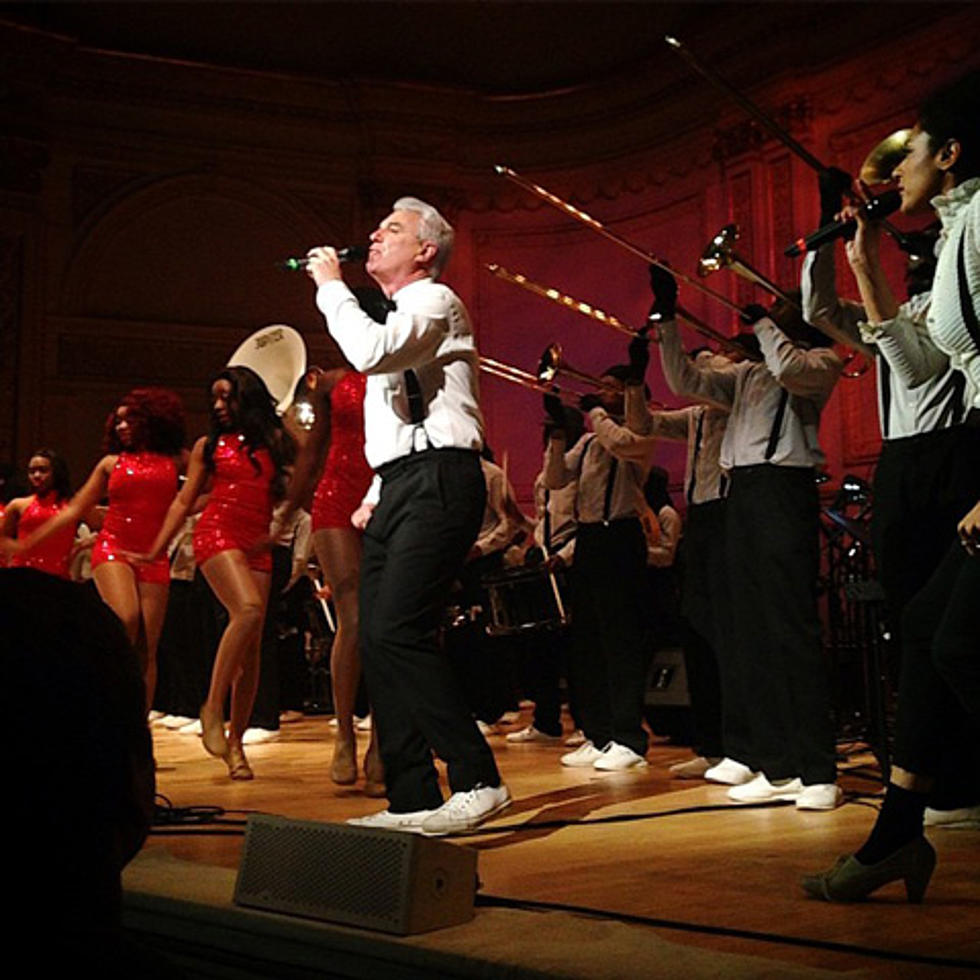 David Byrne covered 'Uptown Funk,' honored at Carnegie Hall tribute w/ Sharon Jones, Amanda Palmer, Steve Earle & more (pics, video, setlist)
David Byrne (via @estee_p)


Alexis Krauss (via @iambrianscottk)


Sharon Jones & Davied (via @sharonjones)

Last night was the David Byrne tribute show at Carnegie Hall which brought out a host of cool musicians to perform songs by Talking Heads and other Byrne songs. This was the 11th annual tribute show at Carnegie, which are produced by City Winery's Michael Dorf and benefit NYC music education programs. The show was over two and a half hours long and ended with the man himself marching down the aisles with a marching band, covering Mark Ronson's "Uptown Funk." If you thought that Carnegie Hall might be the one place you'd never hear that song, you were wrong (video below), and it was a joyous capper to a very fun night.
The night opened with the Little Kids Rock band (one of the charities these shows fund) covering "Stay Up Late" which was appropriate for this School Night and they brought endless enthusiasm to the Little Creatures song. For such dance-friendly music as Byrne's, Carnegie Hall is maybe not the best venue (percussion/low end suffers in that room), but we all made do and there were some great performances. Esperanza Spalding took on another Little Creatures song, "Road to Nowhere," and brought some New Orleans funk and soul to the chorus; Billy Gibbons of ZZ Top gave "Houses in Motion" boogie and twang (not to mention endless cool), and he also added a mean guitar solo to Steve Earle's take on "A Million Miles Away."
Amanda Palmer w/ Alexis Krauss, Glen Hansard, Antibalas
"I didn't think about being eight months pregnant when I agreed to do this song," admitted a very showing Amanda Palmer, adding "The lyrics take on new meaning." Palmer, with help from Jherek Bischoff, took on "Once in a Lifetime" and she brought her cranked-to-11 personality and stage presence to that. She also brought Alexis Krauss of Sleigh Bells for Don't Look Back style cue-carding and Glen Hansard on backing vocals. Krauss did a fine job handing "Life During Wartime" (and talked a little about being a NYC schoolteacher) and Hansard performed a stripped down version of "Girlfriend is Better."
It wasn't until late in the show that the crowd all finally jumped to its feet, thanks to Sharon Jones who delivered a knockout performance of "Psycho Killer." The crowd stayed up for Santigold, backed by her flygirl dancers, who did "Burning Down the House." Then Cee-Lo, maybe a weird choice for this, came out for "Take Me to the River," taking out the Talking Heads jitteriness and putting back some of the smooth Al Green. (In a velvet garb, he also looked a giant Shar-Pei.) Then the marching band (which seems to be Byrne's new obsession) hit. Full performer/setlist rundown and pictures from Carnegie Hall are in this post.
The party kept going later that night at City Winery (where they had rehearsals the night before) which featured Malian band Songhoy Blues whose amazing energy definitely primed the crowd for the fun and very loose set by Antibalas who were the backing band at the tribute show. (The free wine and beer added a lot to the looseness of everyone onstage or off.) They performed a few of the songs that were done earlier in the night, including an extended version of "Crosseyed and Painless," but the highlight was an improvised number by Sharon Jones that was a little like "Land of a Thousand Dances" but in her own style, and she also battled on the congas with Antibalas frontman Amayo. As much fun as the tribute was, that will be the moment I remember from the night. A short instagram video of that, plus more pics, video and the setlist from Carnegie, below.

---
David Byrne / Talking Heads Tribute @ Carnegie Hall performer/setlist
Little Kids Rock - Stay Up Late
Cibo Matto with Special Guest Nels Cline - I Zimbra
Antibalas (House Band) - Crosseyed and Painless
Esperanza Spalding - Road To Nowhere
Jade of Edward Sharpe And The Magnetic Zeros - Here Lies Love
Alexis Krauss of Sleigh Bells - Life During Wartime
Forro in the Dark - Girls on My Mind
Pete Molinari - Heaven
Steve Earle - A Million Miles Away
Thievery Corporation - Heart is a Lonely Hunter
Billy F. Gibbons of ZZ Top - Houses in Motion
Bebel Gilberto - Loco De Amor
Joseph Arthur - This Must Be The Place
Amanda Palmer and Jherek Bischoff - Once In A Lifetime
Glen Hansard - Girlfriend is Better
The Roots Featuring Donn T - Born Under Punches
O.A.R - And She Was
Sharon Jones - Psycho Killer
Santigold - Burning Down the House
Ceelo Green - Take Me To The River
David Byrne & Marching Band - "Uptown Funk"