David Byrne @ Central Park Summerstage, NYC | Pics
David Byrne, The Tosca Strings, and McCullough Sons of Thunder played Central Park Summerstage in NYC on Wednesday June 29th, 2005. Here are the photos.
Watching David play outside in the pouring rain just added to the awesome experience, especially since at least two his songs mentioned rain, and he joked that the rain comes from New Jersey.
People say Clap Your Hands Say Yeah sound like Talking Heads. I decided at times during David's set that Alec Ounsworth does sound like him sometimes, but that David does a much better Talking Heads. He proved that during his renditions of "Psycho Killer," "Road to Nowhere," "What a Day," "Life During Wartime," "This Must be the Place (Naive Melody)." The few minutes that "Naive Melody" live lasted were some of my favorite minutes since being alive. Lots of "hi yo" screaming. (better than last time I saw him play it).
David also sounds like a lot of other things including an amazing opera singer. He also did a Jimi Hendrix cover, played the song he wrote with Thievery Corporation (on their album), and did some stuff off soundtracks. (someone feel free to post the set list or link to a live recording).
I was pumped during the 30 minute god-praising illness-healing set of shout band McCullough Sons of Thunder from Harlem that followed David's 90 minute set. Part of my excitement was in imagining how David was going to integrate his encore with the eccentric horn players. I yelled "fuck you" when the stereotypical Summerstage announcer guy came on after the last McCulllough song and thanked us for coming. Apparently I wasn't the only one let down. The Phantasy Tour message board is full of disgruntled concert goers who claim that McCullough was supposed to be the first opener, but were thrown on last because they got rained out earlier. They played right up to Summerstage's 10:00 curfew.
Summerstage charges $6.00 for a can of beer.
Overall, SO GOOD. I would pay to see it again. Two thumbs up.
Pink Martini played before David. They were great too.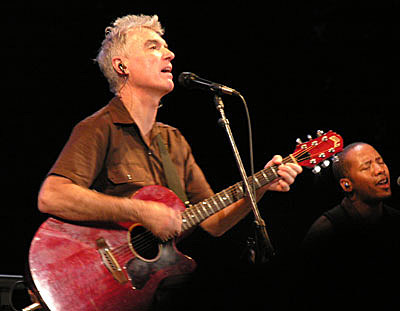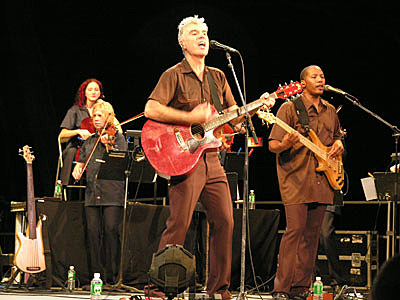 Previously
Reviews from the Hollywood Bowl show a few days earlier
David Byrne Loves PowerPoint
David Byrne Played with The Arcade Fire