David Byrne @ Radio City Music Hall (night 1) – pics & setlist
Byrne was greeted with a returning heroes welcome. I've never heard an ovation as deep and long as that following "Houses In Motion" - it seemed to begin in the back of the large hall and move forward till the room was one extended, hearty bravo that resonated for minutes, stunning even Mr. Byrne.

Byrne was onstage at about 8:20 - no flashy intro, in fact, it seemed he needed to kill some time (allowing concertgoers a few extra minutes to get to their seats, a technical delay?) so he rambled on a bit (in somewhat disjointed Byrne style) explaining the musical makeup of the evening. It was interesting that in speaking about his earlier music, he pointedly made sure not to mention the name of his first band - Talking Heads.

The set smartly opened with the new "Strange Overtones" - immediately hooking the audience, and then proceeded with a blend of mostly old, some new, and a few semi-obscurities (from the lp "My Life In The Bush of Ghosts"). When the 3 dancers came onstage for "I Zimbra", the party really started. Tbe dancers, the choreography, the simple but standard stage uniforms - it was classic theatrical David Byrne - making sure that it was more than just a rock concert - it was a joyous stage show.

At the finale, Byrne, the band, the dancers and an additional chorus line of dozens all flooded the stage - and all wearing tutus! A chorus line of high kicks, followed by bows and waves to the audience, concluded a memorable evening of great musicianship and extraordinary showmanship." [drewo]
David Byrne played the first of two nights in a row at Radio City Music Hall in NYC last night (2/27). The second is tonight (2/28). More pictures and last night's setlist, below...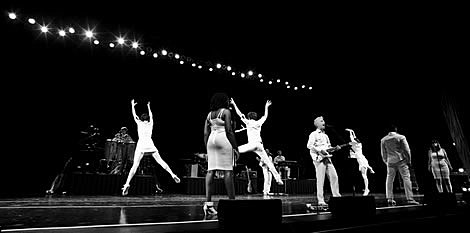 Strange Overtones
I Zimbra
One Fine Day
Help Me Somebody
Houses In Motion
My Big Nurse
My Big Hands (Fall Through The Cracks)
Heaven
Poor Boy
Life Is Long
The River
Crosseyed and Painless
Born Under Punches
Once In A Lifetime
Life During Wartime
I Feel My Stuff

Enc. 1
Take Me To The River
The Great Curve

Enc. 2
Air
Burning Down The House

Enc. 3
Everything That Happens
P.S. despite the rumor, David Bowie and Paul Simon did not join Byrne on stage.