David Byrne recorded w/ The Dirty Projectors & Fatboy Slim, is getting an award, AND his building is opening!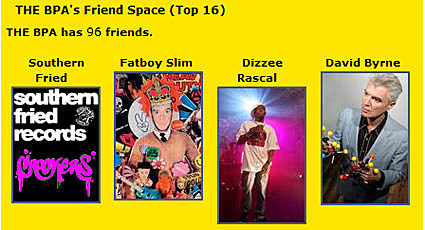 David is also working with The Dirty Projectors
I recorded a couple of songs Sunday and Monday with the band Dirty Projectors for an upcoming Red Hot project. Red Hot puts out compilation albums to benefit AIDS research and I've been on a few of them since they started in 1990. So, who's on this one? Feist, Sufjan Stevens, Grizzly Bear, Sharon Jones, The Decembrists, The National -- jeez, what a lineup!

Anyways, I like what Dave Longstreth and Dirty Projectors are doing, although part of what attracts me to them is something I can't exactly place, can't figure out. Their music has familiar elements, yet often sounds like pop music by someone who has read about the form, but never heard it, and then handed the essential building blocks to make some songs. That's not actually true though, as Dave made plenty of jokes about music while we were working --he has a deep knowledge of tunes and their respective artists. But the band's music remains completely strange and oddly familiar at the same time. I'd been told more than once that we should all work together, and it seems the suggestion was fated to be realized.

For one song, Dave L sent me a demo by email that he had recorded in a Vienna hotel room on tour. I did my best to figure out the chords and the tempo, and record my own version, for which I then wrote the words. We didn't end up using my recorded version; but the words, and my somewhat straightened out version of the melody, came in handy. [David Byrne]
More good news for David Byrne below....


WEBBY AWARDS TO HONOR

DAVID BYRNE AND LORNE MICHAELS

FOR LIFETIME ACHIEVMENT

Byrne and Michaels to Be Saluted Alongside Stephen Colbert, will.i.am, and Michel Gondry at June Webby Ceremonies

New York, NY (May 28, 2008) - The Webby Awards will honor David Byrne and Lorne Michaels for lifetime achievement at Webby ceremonies this June in New York City, organizers announced today.

At The 12th Annual Webby Awards on June 10th, Byrne will be presented with a Webby Lifetime Achievement Award for a visionary career pushing the boundaries of music, art, and technology, for more than three decades. Since co-founding the Talking Heads in the 1970's, Byrne has consistently been at the forefront of multimedia experimentation, from his celebrated PowerPoint art to his popular Internet radio station and blog to his latest endeavor, "Playing the Building" - converting a landmark New York City building into a giant, interactive musical instrument.

Michaels will be honored at The Webby Film and Video Awards on June 9th in recognition of his groundbreaking work with SNL Digital Shorts, which jumpstarted the online video revolution in 2005 with "Lazy Sunday," one of the first videos to become a viral hit on both YouTube and NBC.com. Having reinvented television comedy with Saturday Night Live starting in 1975, Michaels' influence can be seen in the popular formats of today's online comedy, from fake newscasts to political parodies.

"David and Lorne both turned popular culture on its head in the late 1970s and each of them have continued to push the envelope for more than three decades," said David-Michel Davies, executive director of The Webby Awards. "It's an honor to salute these two visionaries for careers that consistently challenge, surprise, and inspire audiences around the world."

Byrne and Michaels will be saluted alongside Webby Award winners in a wide range of categories from Blog to Fashion to Weird, as well as four other Special Achievement honorees - Stephen Colbert (Person of the Year), Michel Gondry (Film and Video Person of the Year) will.i.am (Artist of the Year) and Tim Heidecker and Eric Wareheim, a.k.a "Tim and Eric" (Best Actor).

Hailed as the "Internet's highest honor" by the New York Times, The Webby Awards is presented by the International Academy of Digital Arts and Sciences, a 550-person judging academy whose members include Vinton Cerf, Arianna Huffington, Matt Groening, and Harvey Weinstein.

Byrne and Michaels will be honored at two New York City ceremonies:
The 12th Annual Webby Awards on June 10th featuring Seth Meyers of Saturday Night Live as host; and The Webby Film and Video Awards on June 9th with Judah Friedlander of 30 Rock as emcee. In keeping with Webby tradition, winners will be limited to five-word acceptance speeches. Past speeches include Al Gore ("Please don't recount this vote"), Beastie Boys ("Can anyone fix my computer?"), and Prince ("Everything you think is true").