Dawes & Shovels & Rope played T5 & other shows, playing many more (pics, video, setlist & more tour dates)
Dawes @ T5 - 6/22/13

LA folk rockers Dawes released a new album, Stories Don't End, this year and have been on a tour in support of it which rolled through NYC for a big show at Terminal 5 on Saturday (6/22) with Shovels and Rope. They played a bunch of stuff of their new album, a handful of oldies, and did some covers as well, including Traveling Wilburys' "End of the Line," which Shovels and Rope joined them for during the encore. Pictures, videos, and the setlist from that show are in this post.
Taylor [Goldsmith] explained that Wylie did not sing, and when some people in the audience said that they had seen him sing on stage during a Dawes show, Taylor joked that "we turn off his microphone; don't tell him." So Taylor played guitar and sang with Griffin and Tay adding harmonies for about 70 minutes.
After that show, the guys headed to a loft in Brooklyn for a late-night private Relix party. Videos from both of those shows are below.
Both the Housing Works show and the Relix party were opened by Sarah Lee Guthrie & Johnny Irion, whose new album, Wassaic Way, comes out on August 6 and was produced by Jeff Tweedy and Patrick Sansone of Wilco (who just played a guest-filled covers set over the weekend). Sarah & Johnny have more upcoming dates of their own including shows in Asbury Park on September 5 at The Saint and in NYC on September 17 at Mercury Lounge with The Melodic. Tickets for the Mercury Lounge show are on sale now. All dates are listed below.
Meanwhile, Dawes will be heading upstate for a Rochester show on July 4 for a show with Doug Paisley, and they'll be bringing their tour back to the NYC-area for another show with Shovels and Rope on July 24 at Capitol Theatre. Tickets for that show are still available. Soon after that Cap show, Dawes also play Camden, NJ's XPoNential Music Festival with a genre-appropriate lineup that also includes Phosphorescent, Lord Huron (who also just played NYC), and more. Tickets for that fest are still available.
Shovels & Rope @ T5 - 6/22/13

Shovels and Rope have some shows of their own too. If you really want to, you can catch them at Jones Beach tonight (6/25) and Wednesday (6/26) opening for Dave Matthews Band, but you can also catch them on their headlining tour which goes down in late summer/early fall with support from Texas singer/songwriter Shakey Graves (who just played NYC on Sunday). That tour comes to NYC on September 12 at Webster Hall. Tickets for that show go on sale Friday (6/28) at noon with an AmEx presale starting Wednesday (6/26) at noon.
More pictures from the T5 show, videos, and all lists of tour dates, below...

---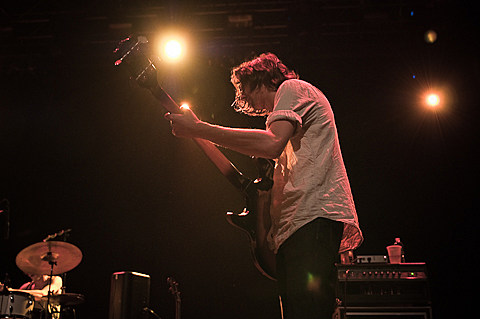 Dawes - "When My Time Comes" at Terminal 5 - 6/22/13

Dawes - "We've Got Tonight" (Bob Seger cover) at Terminal 5 - 6/22/13

Dawes and Shovels & Rope - "The End of the Line" (Traveling Wilburys) at T5 - 6/22/13

Dawes - "Just Beneath the Surface" at Housing Works Bookstore Cafe - 6/24/13

Dawes - "A Little Bit of Everything" at Housing Works Bookstore Cafe - 6/24/13

Dawes - "Million Dollar Bill" at Housing Works Bookstore Cafe - 6/24/13

Dawes at Relix party - 6/24/13

Dawes at Terminal 5 - 6/22/13 Setlist: (via)
From A Window Seat
If I Wanted Someone
Most People
Fire Away
Bear Witness
If You Let Me Be Your Anchor
From the Right Angle
Something in Common
When My Time Comes
Coming Back To A Man
Just Beneath the Surface
Peace in the Valley
We've Got Tonight (Bob Seger cover)
Time Spent in Los Angeles
Someone Will
A Little Bit of Everything
Encore:
Side Effects
End of the Line (Traveling Wilburys cover) (with Shovels & Rope)
--
Dawes -- 2013 Tour Dates
07/04/2013 Rochester, NY / Riverside Park w/ Doug Paisley
07/05/2013 Ottawa, ON / Ottawa Blues Festival
07/06/2013 Toronto, ON / Toronto Urban Roots Festival#
07/10/2013 Minneapolis, MN / First Avenue#
07/12/2013 Louisville, KY / Forecastle Festival
07/12/2013 Madison, WI / Barrymore Theatre#
07/13/2013 Louisville, KY / Forecastle Festival
07/14/2013 Iowa City, IA / Englert Theatre#
07/14/2013 Louisville, KY / Forecastle Festival
07/16/2013 Memphis, TN / Minglewood Hall#
07/17/2013 Little Rock, AR / Revolution Music Room#
07/20/2013 Indianapolis, IN / The Vogue#
07/23/2013 Baltimore, MD / Ram's Head#
07/24/2013 Port Chester, NY / Capitol Theatre#
07/26/2013 Newport, RI / Jane Pickens Theatre
07/27/2013 Newport, RI / Jane Pickens Theatre
07/28/2013 Camden, NJ / XPoNential Music Festival
08/09-11/2013 San Francisco, CA / Outside Lands
08/30-09-01/2013 North Dorset, UK / End of the Road Festival
09/21/2013 Canton, MA / Life Is Good Festival
09/27/2013 Champaign, IL / Pygmalion Music Festival
09/28/2013 / Nashville, TN / Southern Ground Music & Food Festival
09/29/2013 Charleston, WV / Mountain Stage at the Clay Center
10/01/2013 Iowa City, IA / Englert Theatre
10/04-06/2013 Austin, TX / Austin City Limits
10/11-13/2013 Austin, TX / Austin City Limits
10/19-20/2013 Charleston, SC / Southern Ground Music and Food Festival
10/22/2013 Memphis, TN / Minglewood Hall
10/23/2013 Little Rock, AR / Revolution Music Room
10/26-27/2013 Las Vegas, NV / Life Is Beauitful Festival
# - w/ Shovels and Rope
--
Shovels & Rope -- 2013 Tour Dates
06.25 Nikon at Jones Beach Theater Wantagh, NY*
06.26 Nikon at Jones Beach Theater Wantagh, NY*
07.08 Door Community Auditorium Fish Creek, WI
07.09 First Avenue Minneapolis, MN#
07.10 First Avenue Minneapolis, MN##
07.12 Barrymore Theater Madison, WI
07.13 Forecastle Festival Louisville, KY
07.14 The Warehouse at Mt. Victor Bowling Green, KY
07.16 1884 Lounge at Minglewood Hall Memphis, TN
07.17 Stickyz Little Rock, AR
07.19 Off Broadway St. Louis, MO#
07.20 The Vogue Indianapolis, IN#
07.23 Rams Head Baltimore, MD#
07.24 Capitol Theater Port Chester, NY#
07.27 Newport Folk Festival Newport, RI
08.03 Lollapalooza Chicago, IL
08.04 Osheaga Festival Montreal, QC
09.06 Petit Campus Montreal, QC^
09.07 Horseshoe Tavern Toronto, ON^
09.10 Jefferson Theater Charlottesville, VA^
09.12 Webster Hall New York, NY^
09.13 Union Transfer Philadelphia, PA^
09.14 Royale Boston, MA^
09.15 Grand Point North Festival Burlington, VT
09.19 The Ark Ann Arbor, MI^
09.20 A&R Music Bar Columbus, OH^
09.21 Bristol Rhythm & Roots Bristol, TN
09.24 Southgate House Revival Newport, KY^
09.25 Deluxe at Old National Center Indianapolis, IN^
09.26 Metro Chicago, IL^
09.28 Cedar Cultural Center Minneapolis, MN^
10.01 The Bottleneck Lawrence, KS^
10.02 Cain's Ballroom Tulsa, OK^
10.04 Austin City Limits Festival Austin, TX
10.05 Newport Folk presents Way Over Yonder at the Santa Monica Pier Santa Monica, CA
10.05 Austin City Limits Festival Austin, TX
10.06 Austin City Limits Festival Austin, TX
10.08 Wonder Ballroom Portland, OR
10.09 Neptune Seattle, WA
10.11 Austin City Limits Festival Austin, TX
10.12 Austin City Limits Festival Austin, TX
10.13 Austin City Limits Festival Austin, TX
* - w/ Dave Matthews Band
# - w/ Dawes
^ - w/ Shakey Graves
--
Sarah Lee Guthrie & Johnny Irion -- 2013 Tour Dates
6/30 - Clark Art Institute - Williamstown, MA
7/16 - The GRAMMY Museum - Los Angeles, CA
7/19 - Vancouver Folk Festival, Vancouver, CAN
7/ 27 - Hillside Festival - Guelph, ON
9/5 - The Saint - Asbury Park, NJ
9/6 - Fete - Providence, RI
9/7 - Helsinki - Hudson, NY
9/8 - Caffe Lena - Saratoga Springs, NY
9/10 - The Haunt - Ithaca, NY
9/11 - Westcott Theatre - Syracuse, NY
9/12 - Higher Ground - Burlington, VT
9/13 - Cafe Nine - New Haven, CT
9/14 - Iron Horse - Northampton, MA
9/17 - Mercury Lounge - New York City, NY
9/18 - World Café - Philadelphia, PA
9/19 - Club Café - Pittsburgh, PA
9/20 - Isis Theatre - Asheville, NC
9/21 - Glimmer Farm - Asheville, NC
9/25 - One Longfellow Square - Portland, ME
9/26 - The Press Room - Portsmouth, NH
9/27 - Arch Street Tavern - Hartford, CT
10/2 - Sportsmans Tavern - Buffalo, NY
10/3 - Woodlands Tavern - Columbus, OH
10/4 - Schuba's - Chicago, IL
10/5 - Shank Hall - Milwaukee, WI
10/6 - 7th St. Entry - Minneapolis, MN
10/9 - Bishop Bar - Bloomington, IN
10/10 - Off Broadway - St. Louis, MO
10/11 - Mojo's - Columbia, MO