Death from Above 1979 played a record release show at Rough Trade with Low Fat Getting High (pics, setlist)
DFA1979 @ Rough Trade 9/8/2014

Did somebody set the clock back 10 years? It kinda feels like it this week, with both Interpol and Death from Above 1979 releasing new albums. While the former gave us the back-to-basics El Pintor, DFA1979 hit with their first album since their 2004 and it finds them picking up right where they left off. Dancepunk isn't in fashion the way it was when Dubya was president, but you wouldn't have known from last night's record release show at Rough Trade. People were psyched for this very intimate evening, stomping for the band to come back for the encore and keeping a pretty healthy, if gentle, pit going for most of the show.
Sebastien Grainger and Jesse F. Keeler were in good spirits, with Grainger cracking jokes in between songs. They played every song from new LP The Physical World, plus about two thirds of the debut. No surprise: the craziest moment of the night was during the encore of "Romantic Rights." Setlist and pictures -- including ones of openers Low Fat Getting High (who have a new LP too) -- are in this post.
DFA1979 will play The Late Show with David Letterman on Wednesday (9/10) return to NYC this fall when their tour hits Terminal 5 on November 28 with Biblical. Tickets are still available and you can also win a pair.
More pics and DFA1979 setlist from Rough Trade, below...

---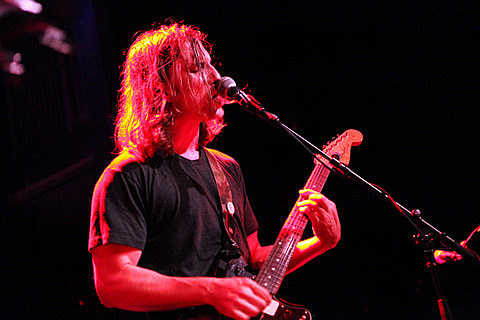 SETLIST: DEATH FROM ABOVE 1979, 9/8/2014
Turn It Out
Right On, Frankenstein!
Virgins
Cheap Talk
You're a Woman, I'm a Machine
Go Home, Get Down
White Is Red
Trainwreck 1979
Crystal Ball
Nothin' Left
Going Steady
Gemini
Little Girl
Government Trash
Always On
Encore:
Cold War
Romantic Rights
The Physical World