Death to All and Gorguts played Irving Plaza (pics, review)
(c) Justina Villanueva - http://
photos by Justina Villanueva; words by Jeff Bergstrom
On Thursday June 28th, 2012, Death / Chuck Schuldiner tribute band Death To All rolled into NYC to lay a beating onto a sold-out, sweaty, wood-swellingly humid Irving Plaza. To call them a tribute band sort of trivializes just how mighty an assemblage Death To All actually is; a tribute band generally consists of fanboys and fangirls trying to make a buck playing someone else's music for roomfuls of mouthbreathers with low entertainment standards. The members of Death to All, however, were actual band members of Death during their ever evolving 18 year history, from 1983 through 2001 when the band disbanded following the sad and probably preventable death of Chuck Schuldiner.
For those not in the know; On May 13th, 1999, on his 32nd birthday, Chuck Schuldiner was diagnosed with a high-grade pontine glioma which is a malignant type of brain cancer that invades the brainstem. After a serious onslaught of radiation therapy, the tumor was neutralized and, after a surgery to remove what was left of the tumor, Schuldiner appeared to have a clean bill of health; and a pile of medical bills totaling over $70,000. Uninsured and unable to cover the costs, the metal community rallied in support of Schuldiner with benefit concerts, auctions, and other fundraisers to raise the appropriate funds. After this experience Schuldiner got himself insurance, but when the cancer came back his insurer wouldn't cover the procedures necessary to saving his life as his cancer was a pre-existing condition. More large scale benefits and auctions took place to come to his aid once again, but he eventually succumbed to pneumonia on December 13th, 2001.
This Death To All Tour was not only set about to pay tribute to Chuck Schuldiner who is hands down THE father of Death metal, but it was also devised with the intention of donating 20% of all ticket sales to the Sweet Relief Musicians Fund whose aim is to provide "financial assistance to all types of career musicians who are struggling to make ends meet while facing illness, disability, or age-related problems." And, man, this show could not have happened on a more historical day as Thursday June 28th, 2012 is the day the Supreme Court upheld President Obama's health care overhaul law. Had this existed in 1999, perhaps Death would be still be cranking out ear splitting masterworks in death metal.
Gorguts

The show kicked off at 8PM on the nose with Canadian death metal gods Gorguts. I first came to know Gorguts back in 1989 or 1990 when I saw a small blurb about them in Metal Maniacs. At the tail end of the blurb was an address from where you could order their demo tape. I sent away for the demo and when I got it it blew my mind. Seeing them last night was a personal triumph as I had never seen them before. The years have not slowed them down one bit. Their blast beats and time changes were super tight and brought me back to the day when bands like Gorguts and Deicide dominated the blast beat death metal scene. They played a phenomenal selection of cuts during their 45-minute set, a particular highlight for me being Stiff and Cold.
After a brief intermission for a gear changeover, the lights dimmed, the projector screen ascended, and the crowd absolutely exploded. I can't imagine a more enthusiastic response even if Chuck had shown up in the flesh. Although we wouldn't be seeing Chuck, we would be seeing some of the other members behind one of death metal's greatest bands. They kicked things off with the song "Zombie Ritual" from their 1987 debut Scream Bloody Gore. This song for me is THE archetypical death metal song; it's got speed, classic half time sections, fast double bass pummeling, throat splitting vocals... the works. For them to open the show with this was a stroke of genius because it not only represents the beginning of Death's career releasing records, but it also represents the very birth of death metal as we know it.
Other highlights included Spiritual Healing's "Within the Mind" and Human's "Lack of comprehension," but the set covered their entire canon. At one point early in the evening Irving Plaza's AC clearly stopped working, creating an atmosphere of unbearable heat, humidity, and misery. The humidity level was so appalling that every surface in the venue with the exception of the lower lobby was covered in moisture; stairs, bars, walls, bouncers... the balcony even looked like it was in a fog. It was as though as steam pipe had ruptured or something. At about 10:45 I couldn't take it anymore and so I joined legions of other fans in the lower lobby to watch the show on a TV. It was very disappointing to have to close out the evening like that, but it got to the point that not only was every floor surface a slip-fall-break-something hazard, but breathing was almost impossible. On the plus side I got to meet and talk to Gorguts' main man Luc Lemay at the merch table. Not only was he one of the nicest people I have ever met, he had a hand shake that could crush a bowling ball.
More steamy pictures from Death to All and Gorguts sets are below.

---
Gorguts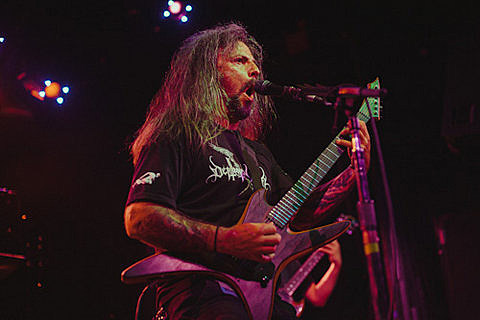 Death to All