Deer Tick played 6 nights at Brooklyn Bowl w/ many guests (night 2 pics & video w/ Sharon Van Etten, Patrick Stickles, Robert Ellis & more)
photos by Amanda Hatfield
Sharon Van Etten / Patrick Stickles with Deer Tick @ Brooklyn Bowl 12/27/2014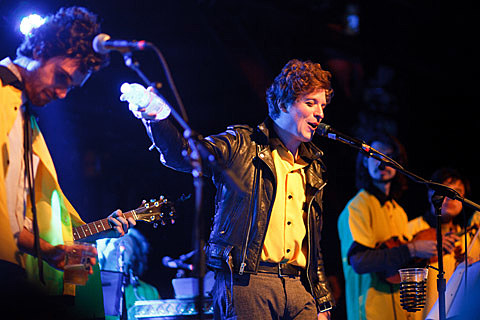 Deer Tick just wrapped up their six-night 10th Anniversary celebration at Brooklyn Bowl that had them covering classic albums in full in addition to sets of their own material.
THE ALBUMS THEY PLAYED
12/26: NRBQ - Tiddlywinks / Deer Tick: War Elephant
12/27: Lou Reed - Transformer
12/28: The Beatles - Meet the Beatles
12/29: Devo - Q: Are We Not Men? A: We Are Devo!
12/30: Elvis Costello - My Aim is True
12/31 fan chosen Deer Tick Set
I was there for the "War Elephant" night. Hearing Deer Tick perform the album that made me fall in love with them was perfection. At least two of the songs on that album they almost never play live which made it even more special.
Another highlight of night one was finding out that happy NRBQ members were in the audience to see Tiddlywinks performed live because they heard about it and bought tickets. Marshall Crenshaw, who guested on about 5 of the NRBQ songs, has since said on his WFUV show that he thinks it was special to see a young crowd experiencing NRBQ's music. Also special was Jana Hunter of Lower Dens opening the show and then returning to the stage to cover Buddy Holly hit "It Doesn't Matter Anymore" with Deer Tick and Marshall Crenshaw who played Buddy Holly in the movie "La Bamba". They played that right before Deer Tick did "War Elephant" which was first released on Jana's label FEOW! Records (the Partisan Records release was a re-release). John thanked Jana for helping put Deer Tick on the map.
Each night featured a different opener and multiple special guests. Here's the final tally:
DEER TICK @ BROOKLYN BOWL -- OPENERS & GUESTS

12/26: Jana Hunter, Marshall Crenshaw, Lux Deluxe, Skye Steele

12/27: Robert Ellis, Sharon Van Etten, Patrick Stickles (Titus Andronicus), Josh Rawson (Felice Brothers)

12/28: Joe Fletcher, Tommy Stinson (The Replacements), Taylor Goldsmith (Dawes), James Felice (Felice Brothers)
+ James Felice, Robert Ellis, Bryan Minto, Chris Marine, Taylor Goldsmith, Tommy Stinson & Joe Fletcher on "Goodnight, Irene."

12/29: The Districts, Vanessa Carlton, Robert Ellis, Alex Collier (The Weeks)

12/30: The Weeks, Smoota, Julian Veronesi (Titus Andronicus), Spencer Swain

12/31 T. Hardy Morris & The Hardknocks, Chris Paddock (emcee), Skye Steele, Stevie Nicks, Vanessa Carlton, John's mom
(Did we miss anyone?)
On night 2 (12/27), which is pictured in this post, Deer Tick performed Lou Reed's Transformer with Sharon Van Etten singing lead on "Perfect Day". Watch the video of that below. Ian Felice did "Walk on the Wild Side" and Titus Andronicus' Patrick Stickles came out for "I'm So Free." Deer Tick guitarist Ian Patrick O'Neil sang most of the lead on the rest of Transformer's songs. The full setlist is also below.
Opening the second night was Robert Ellis, who covered Billy Joel's "Movin' Out" and also joined Deer Tick on guitar during the Transformer set. Ellis then played with the band again the next two nights.
Rolling Stone was at the Beatles night:
With frontman John McCauley serving as John Lennon and guitarist Ian O'Neil taking the McCartney parts, the usually scrappy garage band opened the evening as a harmonizing three-piece pop outfit, running through overlooked Beatles gems like "It Won't Be Long" and "Till There Was You." There were plenty of pleasant surprises along the way, as when Goldsmith came out to sing lead on "Don't Bother Me" ("He's our George tonight," said McCauley), Felice added some unexpected accordion to "Little Child" and Stinson joined the band for a ragged take on "I Wanna Be Your Man."
----
Vanessa Carlton, aka Mrs. John McCauley, performed twice during the run, despite being NINE MONTHS PREGNANT. One of those times was on backup vocals on New Year's Eve when the biggest special guest of all appeared to help Deer Tick play Fleetwood Mac's "Rhiannon". That guest of course was Stevie Nicks, a long time mentor to Vanessa, and the person who officiated her wedding to John.
More pictures, video and the setlist from Deer Tick's 12/27 show, below...

---
Robert Ellis
Deer Tick
SETLIST: Deer Tick @ Brooklyn Bowl 12/27/2014
Lou Reed's Transformer
Vicious
Andy's Chest
Perfect Day (with Sharon Van Etten)
Hangin' 'Round
Walk On The Wild Side (with Ian Felice & Robert Ellis)
Make Up
Satellite of Love
Wagon Wheel
New York Telephone Conversation
I'm So Free (with Patrick Stickles)
Goodnight Ladies
Deer Tick set
Thyme
Easy
Little White Lies
The Dream's in the Ditch
Cake and Eggs
Walkin' Out the Door
Hope Is Big
Make Believe
Clownin' Around
Houston, TX
Piece by Piece and Frame by Frame
The Sad Sun
Mange
Let's All Go to the Bar
---