Deer Tick play a benefit in Wantagh tonight, Pier 54 tomorrow (and other dates)
Deer Tick as Deervana at Brooklyn Bowl in June (more by Jessica Amaya)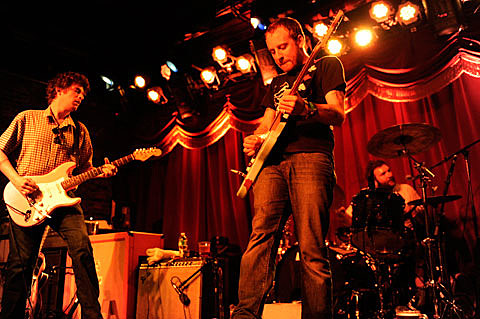 The Tommy Brull Foundation, whose "mission is to raise money to benefit people and organizations dedicated to serving people with physical, mental, and emotional challenges in Nassau and Suffolk counties," are presenting "Shine A Light Music Festival" at Mulcahy's in Wantagh, NY on August 10 (TONIGHT). That's near Jones Beach. Deer Tick headline the show which will also feature performances by Wormburner and Bad Boy Bench.
The "festival" is a non-profit event; all proceeds will be donated to the Camp Anchor Building Fund in memory of Michael Mulhall, Jamie Malone, and Paige Malone. Info on reserving a spot via advance donations are available at Tommy Brull Foundation's website. Doors open at 7 PM.
Deer TIck also play a free show with DOM at Pier 54 TOMORROW (8/11).
Wormburner video and a live Deer Tick video along with all Deer Tick dates below...

--
Deer Tick perform "Dirty Dishes" live at Waterloo Records in Austin, TX

Wormburner - "Peekskill"

Deer Tick -- 2011 Tour Dates
Wed-Aug-10 Wantaugh, NY Mulcahy's Pub and Music Hall (BENEFIT FOR THE TOMMY BRULL FOUNDATION)
Thu-Aug-11 New York, NY Pier 54 w/ DOM
Thu-Aug-25 Wellfleet, MA Beachcomber
Fri-Aug-26 North Hampton, NH Daytrotter Barnstormer Tour
Sat-Aug-27 Albany, NY RESTfest at St. Joe's w/ Titus Andronicus
Sun-Aug-28 Central Valley, NY Daytrotter Barnstormer Tour