Deerhoof – Sasquatch pics & 2009 Tour Dates (ATP & LPR)
photos by Chris Graham
Singer/bassist Satomi Matsuzaki wore a furry tiger mask, took it off, did robotic calisthenics, walked around in circles, and sometimes just stood still and played straight.
The band's set was a stop-start joy. Songs were composed-sounding fragments of different ideas stitched together -- chill-out radio jam, head-bobbing staccatto rock, noisy (but not too loud) time signature experiment: all were conveyed with an exuberant sense of discovery. Totally engaging. [Seattle Times on Deerhoof at Sasquatch 2009]
Deerhoof played WA's Sasquatch Fest on Memorial Day.
The band is now touring Europe through July, but returns for a pair of West Coast dates at the end of that month. Then their scheduled appearance at All Tomorrows Parties NY on September 13th will be accompanied by a string of East Coast shows. One of those will be September 15th at NYC's (Le) Poisson Rouge. No ticket info yet.
Check out a video, and more pictures from their set at Sasquatch, and all tour dates below....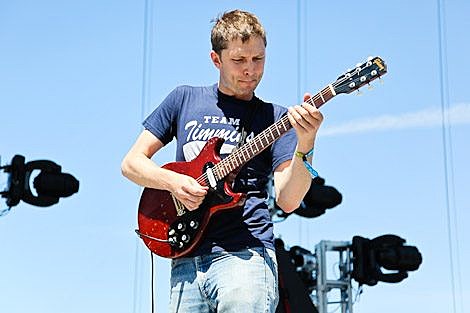 Deerhoof - Fresh Born (Live At Sasquatch 2009)

Deerhoof - 2009 Tour Dates
Jun 04 Le VIP St. Nazaire
Jun 05 L'Astrolabe Orleans
Jun 06 Terra Trema Festival Cherbourg
Jun 26 Le Rock Dans Tous Ses Etats Festival Evreaux
Jun 28 TJ's Woodhouse Club Leeds
Jun 29 The Deaf Institute Manchester
Jul 02 Concorde 2 Brighton
Jul 03 Hyde Park, with Blur London
Jul 04 Furia Festival Cergy
Jul 05 Roskilde Festival Roskilde
Jul 08 Nocturama Festival Sevilla
Jul 10 Whelan's Dublin
Jul 11 Roisin Dubh Galway
Jul 12 The Pavilion Cork
Jul 14 Hafen 2 Offenbach
Jul 15 Schocken Stuttgart
Jul 16 Bahnhof Langendreer Bochum
Jul 17 Dour Festival Dour
Jul 18 Valkhofaffaire Nijmegen
Jul 19 Tivoli/Helling Utrecht
Jul 30 Velvet Jones Santa Barbara *
Jul 31 The Echoplex Los Angeles *
Sep 04 Phoenix Theater Petaluma
Sep 13 All Tomorrows Parties Monticello, New York
Sep 14 Middle East Boston
Sep 15 Le Poisson Rouge New York, NY
Sep 17 TBA Pittsburgh, PA
* w/Avocet