Deerhunter & Eleanor Friedberger played 2 nights @ Webster Hall (pics & review)
Deerhunter @ Webster Hall

Eleanor Friedberger (of Fiery Furnaces) and her band took the stage around 9 PM at Webster Hall last night (8/23) for the second of two shows with Deerhunter, while a cover/remix of The Beatles' "Eleanor Rigby" played through the PA. They played a great opening set. Eleanor's got an awesome voice and she's a killer downstrummer on the guitar. The set was enjoyable throughout, but the undeniable highlight came for me on the last track, "I Won't Fall Apart on You Tonight." The vocal harmonies she did in the chorus with her guitar player meshed so well, and were definitely something I wished I'd heard more of.
At around 10:15 PM, Deerhunter minus Bradford Cox walked out onto the stage at the sold out venue and began filling the room with noise and ambience. While awaiting Bradford's entrance, the band were joined by Colin Mee, an original member of Deerhunter who left in 2007. Bradford then appeared, taking solely to the mic like he did in Deerhunter's earlier days, and they began playing the intro to "Fluorescent Grey" off the EP of the same name, released shortly before Colin's departure from the band. Without a second of silence in between songs, they progressed into the first few tracks on Cryptograms, building the songs around the layers of noise they'd been creating. As the band moved through their set the stage was flooded with languid clouds of fog and absinthe-green lights, silhouetting the members and adding a visual companion to the heavy atmospheres of their music.
After about a half hour, Colin left the stage and Bradford returned to his guitar for the remainder of the set. In a slightly sarcastic manner, Bradford commented on yesterday's earthquake hitting NYC and that he was glad we were all okay, before going into Halcyon Digest's opening track "Earthquake." The band followed that with a couple more tracks off the album, including a distortion-ridden version of "Don't Cry," before going into a few Microcastle cuts. After extending "Nothing Ever Happened" into a trance-like passage, Bradford started screaming the "Horses" section of Patti Smith's "Land" over the mix. They left the stage after ending the climactic "Twilight At Carbon Lake" with a reverberating crunch that continued through their entire break before returning for an encore. The 2-song encore included the Lockett Pundt-fronted "Desire Lines" and "Calvary Scars II," which again ended with hypnotic noise that didn't cease until the lights in Webster Hall were turned back on and the stage crew muted the amps.
More pictures from the Tuesday night show below...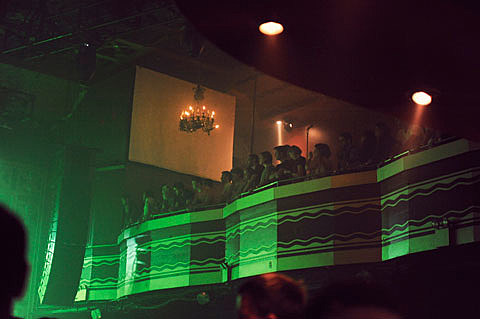 Deerhunter -- 2011 Tour Dates
Thu 08/25/11 Cosmic Charlie's Lexington KY w/ Casino Vs. Japan, Lyonnaise
Sat 08/27/11 LouFest St. Louis MO
Atlas Sound -- 2011 Tour Dates
Fri 10/28/11 Moog Fest Asheville NC