Deerhunter played MHOW & Webster Hall, DJ'd Glasslands (pics, review, setlists & videos)
Deerhunter @ MHOW - 9/17/13

Deerhunter have been on the road for a few months this year, and this week they came to NYC for three sold-out shows: Music Hall of Williamsburg on Tuesday (9/17) followed by two nights at Webster Hall (9/18 & 9/19). When they were last in NYC -- for Governors Ball in June -- they focused their set mainly on this year's Monomania, but for this three-night run they mixed things up well, hitting many favorites from their last four full lengths, and some cuts from the EPs too. We've got a set of pictures from the MHOW show, and the setlists and videos from all three, in this post.
I caught the second Webster Hall show, and it had all the elements you'd expect from a Deerhunter show (killer light show, noise freakouts, and a Bradford Cox speech), but still found ways to take you by surprise. Like supernatural live bands Sonic Youth or Swans, Deerhunter have a way of bringing new life to a song every time, and never really try to replicate the version on their record. Last night, live staple "Don't Cry" was the maybe heaviest I've seen it yet. The sensory overload at the end of "Monomania" was thrilling as ever, but the way it faded into "Twilight at Carbon Lake" was possibly the most satisfying moment of the night. Those masterful transitions -- another being when they worked in the glammy rocker "Neon Junkyard" after the noisy, atmospheric build of "Octet" -- is what keeps them interesting and unpredictable each time.
The MHOW show was opened by Mas Ysa (who also opens for Delorean at Webster Hall and just released a new song that you can stream below) and Lonnie Holley (more on him here). Both Webster Hall shows were opened by Crystal Stilts (who play NYC again on Halloween), and the first night also featured Sleepy Doug Shaw, while the second had Blues Control. After the final show, Bradford Cox headed to Glasslands to DJ the afterparty. Did you check that out? How was it?
More pictures from MHOW, and the setlists and videos, below...

---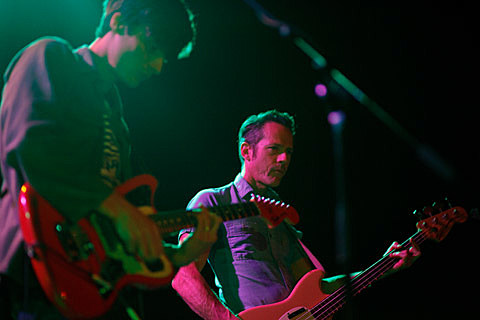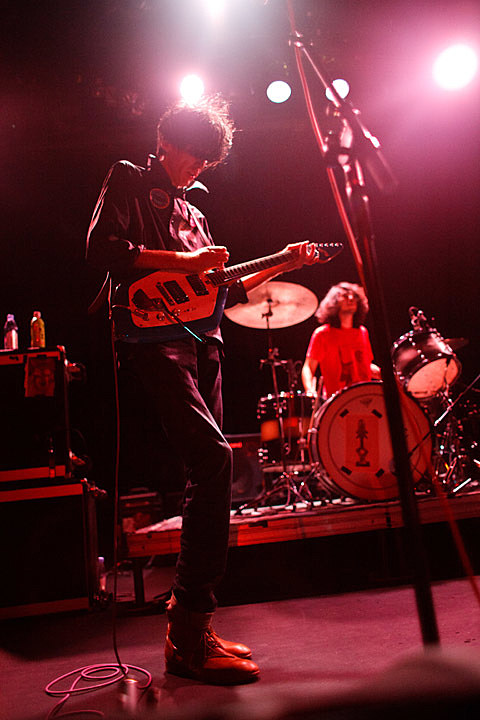 Deerhunter - "Monomania" at Music Hall of Williamsburg - 9/17/13

Deerhunter - "Helicopter" / "Nothing Ever Happened" at Webster Hall - 9/18/13

Deerhunter - "Twilight at Carbon Lake" at Webster Hall - 9/19/13

Deerhunter at Music Hall of Williamsburg - 9/17/13 Setlist: (via)
Earthquake
Neon Junkyard
Don't Cry
Revival
Desire Lines
Blue Agent
The Missing
Hazel St.
Helicopter
T.H.M.
Nothing Ever Happened
Sleepwalking
Back to the Middle
Monomania
Encore:
Cover Me (Slowly)
Agoraphobia
Fluorescent Grey
--
Deerhuneter at Webster Hall - 9/18/13 Setlist: (via)
Sailing
Cryptograms
Lake Somerset
Desire Lines
Dream Captain
Never Stops
Little Kids
T.H.M.
The Missing
Spring Hall Convert
Saved By Old Times
Revival
Helicopter
Nothing Ever Happened
Encore:
Sleepwalking
Back to the Middle
Monomania
--
Deerhunter at Webster Hall - 9/19/13 Setlist:
Octet
Neon Junkyard
Don't Cry
Revival
Like New
Desire Lines
Hazel St.
T.H.M.
Rainwater Cassette Exchange
The Missing
Helicopter
Sleepwalking
Back to the Middle
Monomania
Twilight at Carbon Lake
Encore:
Cover Me (Slowly)
Agoraphobia
He Would Have Laughed