DEERHUNTER playing (almost renovated) SOUND FIX + pics from SXSW
I saw Deerhunter at Emo's in Austin during SXSW (Pitchfork show). It's all starting to blend together now, but I do remember I liked the show, but that it was really loud, but also kind of crazy and fun to watch. I also like the album.
SOUND FIX FIXING SOUND
We haven't heard about any Sound Fix record store in-stores in a while.
So what's going on in the cafe? We're renovating it. Tearing the mother apart. And what can the fine denizens of Williamsburg expect when we are done? A killer venue. Brilliant sound and design. More lighting. And waffles, waffles, waffles. Sound tantalizing enough? Stay tuned
And on Apr 26, 2007 @ 7 PM
The cafe will still not officially be open yet, but we will give everyone a sneak peek at what's ahead when we open for one night to welcome Deerhunter, one of 2007's most popular new bands, for a special in-store performance. The band offers up a ferocious mix of dosed-electronic wash somewhere between My Bloody Valentine and Brian Eno and a neo-punk-garage-indie-wiggle nestled amongst The Faints' snottiness and the Velvet Underground's simplicity and cyclical pulse.
...which means Deerhunter's NYC schedule now looks like this:
Apr 26 - Sound Fix
Apr 26 - Mercury Lounge w/ First Nation & Pterodactyl
Apr 27 - Silent Barn w/ Awesome Color & Telepathe
More pictures and Deerhunter tour dates below.....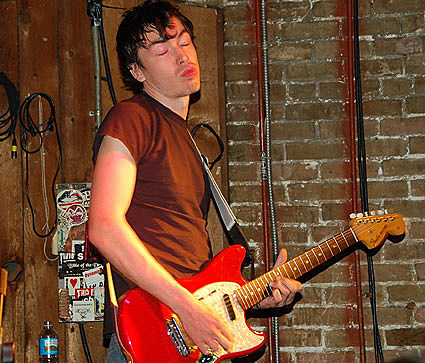 The pictures were taken on March 16, 2007 in Austin, Texas.
Deerhunter - 2007 Tour Dates
Apr 7 - Larimer Lounge w/ The Ponys Denver, Colorado
Apr 8 - Urban Lounge w/ The Ponys Salt Lake City, Utah
Apr 10 - Neumos w/ The Ponys Seattle, Washington
Apr 11 - Richards On Richards w/ The Ponys Vancouver, British Columbia
Apr 12 - Dante's w/ The Ponys Portland, Oregon
Apr 13 - 12 Galaxies w/ The Ponys San Francisco, California
Apr 14 - The Echo w/ The Ponys, Jena Malone Los Angeles, California
Apr 15 - Beauty Bar w/ The Ponys San Diego, California
Apr 16 - Modified Arts w/ The Ponys Phoenix, Arizona
Apr 17 - Zepplins Pub w/ The Ponys El Paso, Texas
Apr 18 - Emo's w/ The Ponys, Finally Punk Austin, Texas
Apr 20 - The Basement w/ The Ponys Nashville, Tennessee
Apr 21 - The Billiken Club w/ The Ponys St. Louis, Missouri
Apr 22 - Dionysus Disco @ Oberlin College Oberlin, Ohio
Apr 23 - Legendary Horseshoe Tavern Toronto, Ontario
Apr 24 - La Sala Rossa w/ Feu Therese, Les Enfants Sauvages Montreal, Quebec
Apr 25 - Middle East Upstairs w/ The Selmanaires Cambridge, Massachusetts
Apr 26 - Mercury Lounge w/ First Nation, Pterodactyl New York, New York
Apr 27 - Silent Barn w/ Awesome Color, Telepathe Brooklyn, New York
Apr 28 - Johnny Brenda's w/ Pterodactyl, The Selmanaires Philadelphia, Oregon
Apr 29 - Rock And Roll Hotel w/ The Apes, Pterodactyl Washington DC, Washington
Apr 30 - Local 506 w/ Six Parts Seven Chapel Hill, North Carolina
May 5 - Drunken Unicorn w/ Jay Reatard, Silver Daggers, Club Of Rome Atlanta, Georgia