DEERVANA & WATERS rocked Brooklyn Bowl (pics, setlist)
Let me start off by saying the Deervana (aka Deer Tick as Nirvana) show at Brooklyn Bowl on Sunday (6/19) was the most fun I had at all of Northside Festival.
WATERS opened the sold out show, which was appropriate. Deer Tick was covering Nirvana and WATERS is the indie-folkie turned '90s-guitar-rocker Van Pierszalowski's new project. WATERS played material off their upcoming debut Out in the Light, which is being released on TBD in September. If the recordings sound as good as the songs did at Brooklyn Bowl, then Out in the Light is definitely an album to look out for. Towards the end of their set, Van said, "Nirvana are one of my favorite bands of all time and In Utero is my favorite album of all time. I'd also like to pay tribute to one of my other favorite bands of all time." WATERS then proceeded to, possibly ironically, cover Hole's "Violet." They ended the set with the one song they've released, "For The One." Catch them at their third and last NYC show on this run, this Tuesday (6/21) at Mercury Lounge before they head back to Oslo, Norway, where the band is based.
About 15 minutes, 9 guitars, and a few beer pitchers later, Deervana walked out on stage and said, "Tonight we are not Deer Tick." They proceeded to pay a more-than-sincere tribute to Nirvana. I very unfortunately never saw Nirvana, though I know Deer Tick honored them in more ways than one. Their set notably left out hits such as "Smells Like Teen Spirit," "Come As You Are," and "Heart Shaped Box," in favor of the less popular, but even more revered live mainstays like "School," "In Bloom," "Aneurysm," "Scentless Apprentice," "Blew," and others. Deervana not only echoed Nirvana in their approach to live setlists, but also in their raw energy and silly stage antics.
Mosh pits broke out to every song (save for "Something in the Way") and the crowd often overpowered Deervana while singing along. Fans crowd surfed, stage dived, grabbed band members, and threw drinks in the air. "It's like playing a party in your friend's garage whose dad is really rich and bought a bowling alley," said Deer Tick/Deervana frontman John McCauley. After only an hour of thrashing around to Nirvana songs, Deervana thanked Fender for "giving them things they could break," and broke into "Curmudgeon" which they ended by kicking over their drums and destroying their guitars, aptly aided by the dropping of bowling balls on the instruments. Despite the fact that Deervana could have played for another hour without losing crowd interest, the conditions on stage made it pretty clear they weren't even doing a one-song encore.
Setlist and more pictures from the show below...

this eventually completely filled in...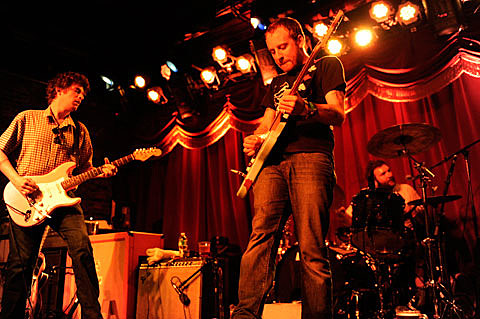 this photo via Teresa Guy

this photo via mintjulip

this photo via Widder Twidder

show souvenier via HerbertHarper

--
Setlist: (possibly slightly out of order)
School
In Bloom
Aneurysm
Blew
Lithium
About A Girl
On A Plain
Been A Son
Serve The Servants
Molly's Lips (Vaselines)
Scentless Apprentice
Something in the Way
Curmudgeon