Defeatist call it quits, announce final shows
by BBG
Defeatist at Shea Stadium (more by BBG)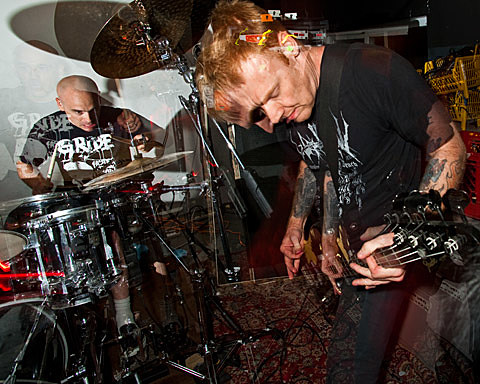 Defeatist have announced that "this turd has been circling the bowl long enough, so we have decided to flush it for good." The trio have a pair of NYC dates left on the calendar before they call it quits. on Saturday, 11/12 they play Acheron with Gaza, Tiger Flowers, & Don't Give A Fuck, and then their final date is on 12/17 at Death By Audio with the great Triac, Psychic Limb, Disciples Of Christ (mems of Magrudergrind), and Backslider. Advance tickets are not available, so make sure you get to the Acheron early to send-off NYC's best grind band right.
Defeatist recently released their final LP Tyranny of Decay. Stream it below in full and order your copy before they (the band and the LP) disappear for good.
Reminder: a pair of bands featuring members of Magrudergrind, Coke Bust & Sick Fix, will hit NYC on 11/19 at Acheron with Masakari and Grudges. Grudges will ALSO play Saint Vitus the night before (11/18) as part of a show with Black Anvil, Bloodiest and Mutilation Rites. Tickets are on sale for the BA show.
Stream that Defeatist, as well as other material from Masakari, Bloodiest and others below.

---