Deicide & Vital Remains @ B.B. King Blues Club in NYC – pics
photographer: paul birman
"When BB King started his NY Blues club... did he really envision Deicide playing there?" - thepenta
First of all, hewhohathaninvertedcrossinhisforehead, aka Deicide vocalist and co-founder Glen Benton, WAS present at BB Kings on July 5th (as you can see), one show on their short jaunt with Vital Remains (Benton has a history of no-show-ing or cancelling his appearance at the last-minute). The NYC show, which featured additional support from Regain the Hearth Condemned and Martyrd, followed the band's appearance at Philadelphia's Hostile City Death Fest which impacted on the 4th, with Absu headlining the following night.
Deicide has a few more dates lined up throughout September (check 'em below), and is currently working on new material for release at their new home, Century Media Records. According to a recent interview with Express Night Out, the material is almost finished, requiring Glen Benton to add his vocals and bass tracks for completion.
Vital Remains, which featured ex-bandmate Tim Yeung for the show, have another NY area show, having scheduled a show at the Crazy Donkey on Long Island on August 8th.
All tour dates and more pictures, below...


Regain the Hearth Condemned....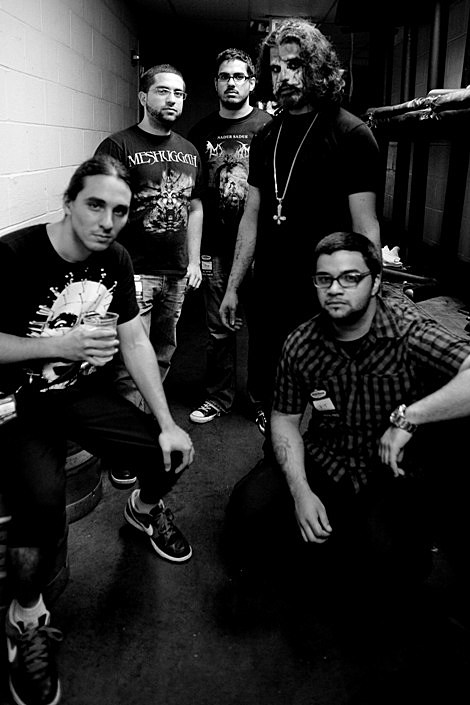 Glen Benton of Deicide

Deicide - "Lunatic of God's Creation", "Kill The Christian", "Sacrificial Suicide" Live at JAXX 7/2/09

DEICIDE - 2009 TOUR DATES
Aug 1 2009 LA RESPUESTA San Juan
Aug 23 2009 BROTHER BILL'S FESTIVAL Cheyenne, Wyoming
Sep 23 2009 MEZCAL METALFEST Granada
VITAL REMAINS - 2009 TOUR DATES
Jul 31 2009 Bulldog Cafe Louisville, Kentucky
Aug 1 2009 Central Illinoise Metal Fest @ The Canopy Club Urbana, Illinois
Aug 2 2009 Triple Rock Minneapolis, Minnesota
Aug 3 2009 The Riot Room Kansas City, Missouri
Aug 4 2009 Metal Shaker Chicago, Illinois
Aug 5 2009 Peabodys Cleveland, Ohio
Aug 6 2009 The Montage Rochester, New York
Aug 7 2009 The Raven Worcester, Massachusetts
Aug 8 2009 Crazy Donkey Long Island, New York
Aug 9 2009 tba VA Beach, Virginia