Deiphago playing shows this weekend, including NYC and Satan's Unholy Abomination Fest II (dates, fest line-up)
Deiphago at Maryland Deathfest in May (more by Fred Pessaro)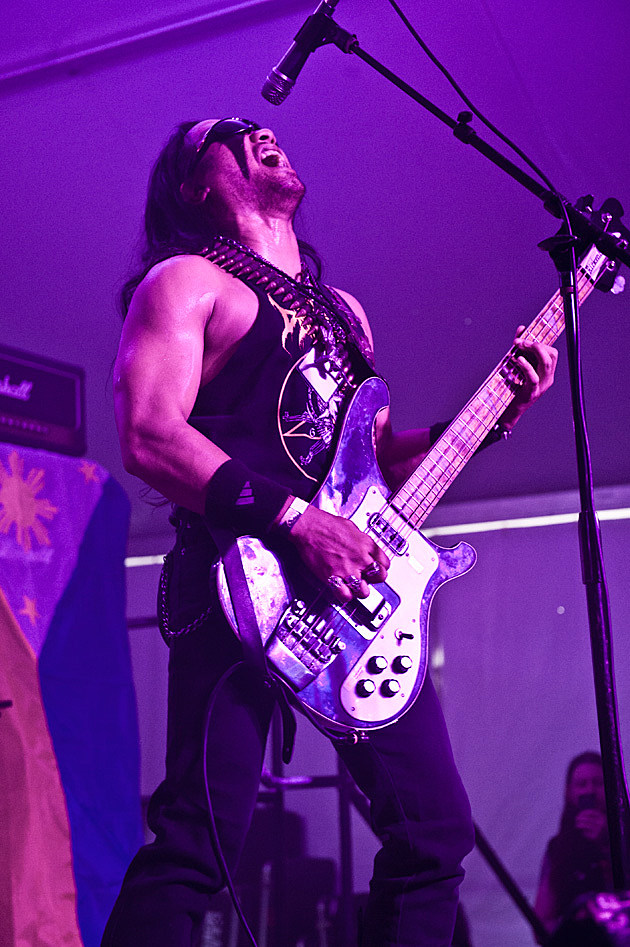 Filipino three-man black/death horde Deiphago are coming to terrorize the east coast for a few days this week, starting with a date in New Jersey before landing at Union Pool on Friday 12/13 with Obeisance and Inverted Trifixion. No advance tickets for this show, so grab 'em out the door before steeling yourself for some brutality. Deiphago was last this way in May when they stormed Maryland Deathfest, and Saint Vitus in Brooklyn a few days later. Did you go?
The evil trifecta of Deiphago, Obeisance and Inverted Trifixion will also be sharing the stage at Satan's Unholy Abomination Fest II in Hyattsville, MD, a two-day event with Disma, Engorge, Mausoleum, Sathanas, Hellgoat, Satanik Goat Ritual and many more. Details are available at the fest's Facebook page.
Dates and Satan's Unholy Abomination Fest lineup are listed below...
Deiphago - 2013 Tour Dates
12/12 Philadelphia, PA Khyber Pass Pub w/Ashencult, Pissgrave, Angelcrust
12/13 New York, NY Union Poolw/Obeisance, Inverted Trifixion
12/14 Hyattsville, MD Satan's Unholy Abomination Fest II
12/15 Clifton, NJ Black XXXMAS VIII w/Abazagorath, Engorge, Mausoleum, Goat Felch, Deathgod Messiah, Mortum
Satan's Unholy Abomination Fest II line-up
Friday
Sathanas
Lesch-Nvhan
Hellgoat
Satanik Goat Ritual
Ritual Decay
Maximum Oversatan
Extermination Angel
Saturday
Disma
Deiphago
Obeisance
Engorge
Manticore
Mausoleum
Kurnugia
Inverted Trifixion
Ominous Resurrection
Summoning Hate
Witch King
Process of Suffocation
Damnatum
Oakmoon