Delta Spirit, Darker My Love & the Fling @ Webster Hall (pics)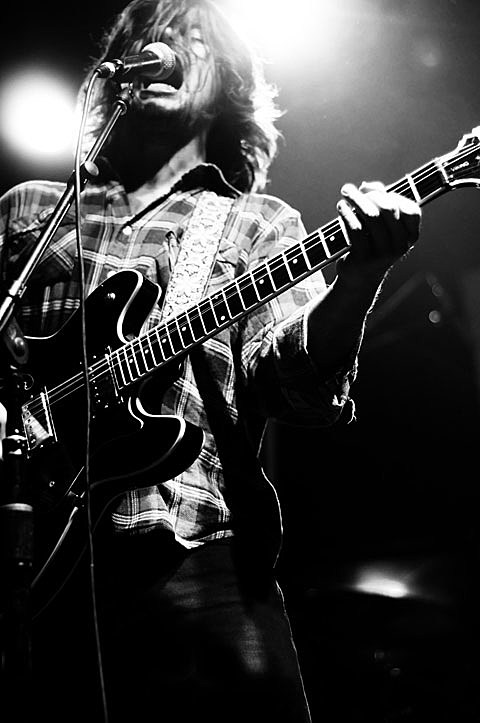 Long Beach natives The Fling opened the show around 8 p.m., playing a short but sweet 30 minute set. They were followed by Darker My Love (also California natives) who took the stage at 8:45 p.m. Darker My Love took small breaks in between songs to announce that there was no use in crying over spilled beer on their amp, and to thank Delta Spirit for playing the show with them. Their 9 song set included songs off their most recent album Alive as You Are, which was released this past summer.
By 10 p.m. the members of Delta Spirit started appearing on stage. The venue was packed wall-to-wall with a rambunctious, shouting audience. The band played off the crowd's energy and brought plenty of their own. Between dancing around the stage, encouraging sing alongs, copious amounts of hand clapping and a very enthusiastic fan up on stage, Delta Spirit kept the floor shaking throughout the entire set, which included a Pink Floyd cover and songs off their albums Ode to Sunshine and History From Below. Their just released five song EP entiltled The Waits Room was available as limited edition vinyl at the merch table.
Singer Matt Vasquez, who got some practice playing to the large Webster Hall crowd when he opened solo for Deer Tick on 8/13, expressed his gratitude and excitement about playing for the New York audience. Before playing "Bushwick Blues", he announced it was "for Bushwick" and dedicated "St. Francis" to non-native New Yorkers. Towards the end of the set, the enthusiasm that the audience felt became visible, with every person in attendance vigorously dancing and clapping along with the band. By 11 p.m. Delta Spirit had left the stage, but not a single person in the crowd was ready to leave and when fans demanded more music, they obliged with a two song encore consisting of "Motivation" and "People Turn Around".
More pictures from the show below...