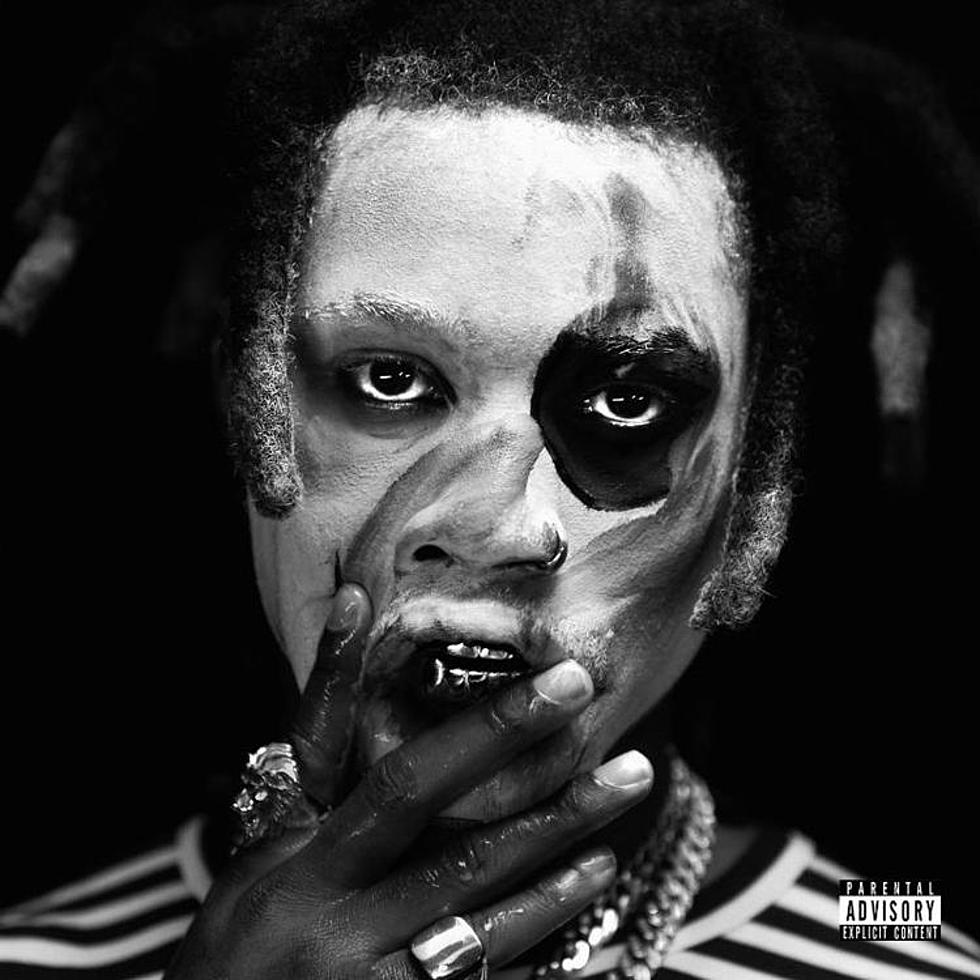 Denzel Curry details new album 'TA13OO,' shares "Clout Cobain," touring
Florida rapper Denzel Curry put out his first release for Loma Vista, the 13 EP, last year, and he mentioned at the time that it would be followed by a new full length called Taboo. Now typeset as TA13OO, Denzel's new album is set to come out as three different "acts" (Light on 7/25, Gray on 7/26 and Dark on 7/27) between July 25 and July 27. It features previous singles "Sumo" (on Light) and "Percs" (on Dark), plus the just-released "Clout Cobain" (on Gray). The first two singles saw Denzel offering booming, fired-up delivery, but "Clout Cobain" is a little softer and more melodic (but it's Denzel Curry, so still in an eerie way). Watch the new "Clout Cobain" video, along with the two prervious singles, below.
Denzel also unveiled the artwork (above) and the tracklist (below), which reveals features from JPEGMAFIA, J.I.D., GoldLink, Twelve'len, Billie Eilish, Nyyjerya, and ZillaKami.
Denzel toured with A$AP Ferg earlier this year and he was supposed to play the final run of dates in April, but those dates were rescheduled for this month and no longer include Denzel Curry (IDK and Buddy are opening the tour). Denzel has now announced extensive headlining tours for both North America and Europe, including a few festival appearances like Afropunk Brooklyn, Las Vegas' Life Is Beautiful festival, and A Day To Remember's Self Help Festival in Detroit with Turnstile, Knocked Loose, Limp Bizkit, and more. All dates are listed below.
Tracklists
Act I. Light
1. TABOO | TA13OO
2. BLACK BALOONS | 13LACK 13ALLOONZ (TWELVE'LEN & GOLDLINK | TWELVE'LEN + GOLDL1NK)
3. CASH MANIAC | CAZH MAN1AC [NYYJERIA | NYYJER1A]
4. SUMO | ZUMO
Act II. Gray
5. SUPER SAIYAN SUPERMAN | ZUPER ZA1YAN ZUPERMAN
6. SWITCH IT UP | ZWITCH 1T UP
7. MAD I GOT IT | MAD 1 GOT 1T
8. SIRENS | Z1RENZ [J.I.D | J1D]
9. CLOUT COBAIN | CLOUT CO13A1N
Act III. Dark
10. THE BLACKEST BALLOON | THE 13LACKEZT 13ALLOON
11. PERCS | PERCZ
12. VENGEANCE | VENGEANCE [ZILLAKAMI & JPEGMAFIA | Z1LLAKAMI + JPEGMAF1A]
13. BLACK METAL TERRORIST | 13MT
Denzel Curry -- 2018 Tour Dates
8/26 - Brooklyn, NY @ Afropunk Festival
9/7 - Israel, Lehavot HaBashan @ Meteor Festival
9/8 - France, Bordeaux @ Climax Festival
9/21 - Las Vegas, NV @ Life Is Beautiful
9/22 - San Francisco, CA @ Regency
924 - Portland, OR @ Hawthorne
9/25 - Seattle, WA @ Neumos
9/26 - Vancouver, BC @ Fortune
9/28 - Salt Lake City, UT @ Complex
929 - Detroit, MI @ Self Help Festival
10/1 - Denver, CO @ Cervantes
10/3 - Minneapolis, MN @ First Avenue
10/4 - Chicago, IL @ Bottom Lounge
10/5 - Toronto, ON @ Adelaide
10/7 - Montreal, QC @ L'Astral
10/10 - Boston, MA @ Paradise
10/11 - College Park, MD @ MilkBoy
10/12 - Charlotte, NC @ Underground
10/13 - Atlanta, GA @ Masquerade
10/15 - Tampa, FL @ Orpheum
10/16 - Orlando, FL @ Celine
10/18 - Dallas, TX @ Trees
10/19 - San Antonio, TX @ Aztec Theatre
10/20 - Houston, TX @ Warehouse Live Studio
10/21 - Austin, TX @ Emo's
10/23 - Albuquerque, NM @ Launchpad
11/24 - Kiev, Ukraine @ Atlas
11/25 - Moscow, Russia @ Red Club
11/26 - Helsinki, Finland @ Tavastia Club
11/28 - Paris, France @ Le Trabendo
11/29 - Antwerp Belgium @ Trix
11/30 - Amsterdam, Netherlands @ Melkweg
12/2 - Munich, Germany @ Muffathalle
12/3 - Warsaw, Poland @ Progresja Music Zone
12/4 - Berlin, Germany @ Kesselhaus
12/6 - Hamburg, Germany @ Uebel & Gefahrlich
12/8 - Stockholm, Sweden @ Debaser Strand
12/9 - Copenhagen, Denmark @ Vega Small Hall
12/10 - Cologne, Germany @ Kantine
12/12 - Manchester, UK @ Academy 3
12/14 - Birmingham, UK @ o2 Institute 3
12/15 - Bristol, UK @ Thekla
12/16 - London, UK @ Koko
12/18 - Dublin, Ireland @ Academy