Despise You, Magrudergrind, Defeatist, Backslider & The Communion played Shea Stadium (pics)
by BBG
Despise You

"He couldn't get through an entire set without fucking up once," Despise You's Chris Elder quipped while looking at Phil Vera before the final song of the Despise You set at Shea Stadium last night (9/11). It was a minor speedbump in an otherwise excellent set from the band and a stark contrast from Phil Vera's appearance with Crom in NYC in 2008. At that show, the protagonist and his cohorts were so obliterated, they barely got through a single song. Both were beyond entertaining albeit in entirely different ways. Ancient history aside, Despise You made recent history with their first-ever NYC appearance at Shea Stadium, blasting through a mix of classics and material from their recent split with Agoraphobic Nosebleed.
Sunday night's bill was completely dedicated to speed-arts in varying levels of popularity and venom. Despise you's tour-mates Magrudergrind and Defeatist represent the two ends of the grind spectrum, with the former being the most talked about and the latter being one of the most underrated. Both bands delivered excellent sets with the room at 1/2 - 2/3 capacity by the time Defeatist opened the show, and a moshing, crowd-surfing crowd by the time Magrudergrind hit the stage for their set (greeted, appropriately, by side one of Mobb Deep's The Infamous LP). Backslider and The Communion filled out the remainder of the bill.
Defeatist recently released a new song from their Tyranny of Decay LP, but now you can stream the ENTIRE LP below. Order a copy.
More pictures from the show and all Despise You/Magrudergrind tour dates are also below...

--

Defeatist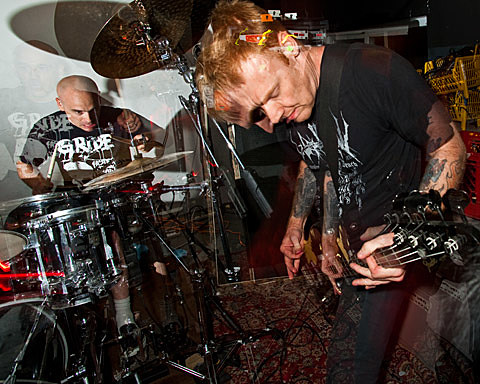 The Communion
Backslider
Magrudergrind
Despise You