Devotchka playing the BV Friday day party after KEXP @ the Ace Hotel & before a real circus tent (win tix)
Devotchka at Bowery Electric (more by Toby Tenenbaum)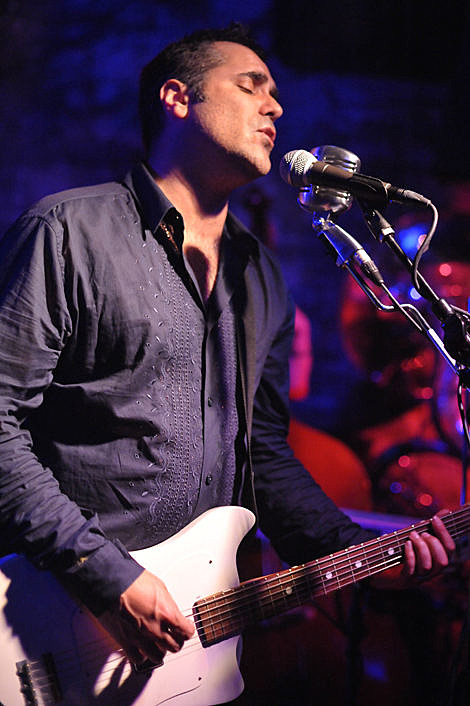 Devotchka can appreciate the finer things in life, like a good old-fashioned surprise appearance. And much like they did at Bowery Electric in April, Devotchka have another special appearance in store for us NYC'ers, as we are proud to announce that Devotchka will be our "special guest" for Friday's Brooklyn Vegan day party at Public Assembly (10/22)! They go on at 5:15pm. The show is totally FREE to get into and will also feature appearances from Asobi Seksu, Dom, Ty Segall, Times New Viking, Shrag (who we added to the 3:15 slot), and many many notable others.
One thing that Public Assembly doesn't have is a 100% honest-to goodness circus tent (believe us, we tried). So if that is a requirement of shows that you frequent, then you can catch Devotchka at their Saturday night CMJ show where they can be found under the big-top at Damrosch Park. Angus & Julia Stone are also on board to support the band, and tickets are still available. Want to win a pair? I also have a pairs available for giveaway. Details on how to win are at the bottom of this post.
The circus show is the first "Sideshow," a "new live music-meets-the-circus series pairing fave musicians with formidable circus talent within the realm of an authentic one ring Big Top". Sounds pretty cool.
Devotchka can also be heard and seen via KEXP who is broadcasting CMJ performances from the Ace Hotel in NYC. "You are invited! This broadcast is free, open to the public and first come, first served (so get there early if you want a spot!). KEXP DJs John Richards and Cheryl Waters will be DJing live, between sets." And those Friday sets are:
KEXP Friday, 10/22:
* 7am PST / 10am EST Glasser
* 9am PST / 12pm EST Devotchka
* 10:30am PST / 1:30pm EST Colin Meloy
* 12pm PST / 3pm EST Cults
* 1:30pm PST / 4:30 pm EST The Extra Lens (John Darnielle of the Mountain Goats & Franklin Bruno from Nothing Painted Blue
Yes, Colin Meloy! His only CMJ activity while he's in town for a non-music reason. It's also the only other chance to experience Extra Lens during CMJ if you missed them Thursday night at Mercury Lounge with John Vanderslice... who is also playing the BrooklynVegan day party on Friday. If you can't be at Ace Hotel, listen live on KEXP.
Some video of the circus venue and Devotchka, and details on how to win those tickets are below...

--
CIRCUS | Welcome to the Circus | PBS

Devotchka- The Clockwise Witness (in HD)

NOW WITH DEVOTCHKA

=============
To win a pair of tickets to Devotchka in the circus tent, e-mail BVCONTESTS@HOTMAIL.COM (subject: Devotchka under the big top!). Include your first and last name in the email. One winner will be awarded a pair of tickets for the show and contacted. Good luck!