Diamond Youth releasing debut LP on Topshelf (new song stream ++ BV-presented tour w/ Superheaven & Rozwell Kid)
photo by Derek Bahn

Baltimore's Diamond Youth already have a few solid EPs out, including 2013's Orange and 2014's Shake, and they're now ready to release their first full length. It's called Nothing Matters and will be out on May 19 via Topshelf (pre-order). Like a handful of their previous tracks, new single "Thought I Had It Right" sounds like Queens of the Stone Age going power pop, and it suits them here as well as it does on the best tracks on their EPs. Check it out -- the song premieres below.
Diamond Youth also have a BrooklynVegan-presented tour coming up with headliners Superheaven and openers Rozwell Kid. It hits NYC on May 15 at The Studio at Webster Hall, and tickets for that show are still available. Diamond Youth were also added to NJ's Skate & Surf (day after Webster), which their tourmates play as well.
Since we last spoke, Soda Bomb were added to that NYC show too. You already heard two songs from their new album, and you can now stream the whole thing at Noisey.
Diamond Youth's full tour schedule, the new song, and album artwork, below...

---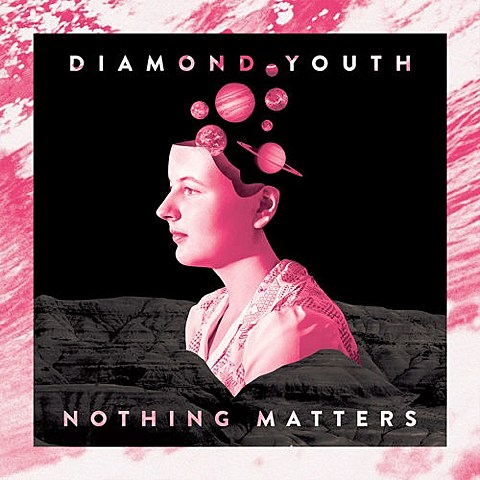 Superheaven / Diamond Youth / Rozwell Kid -- 2015 Tour Dates
Fri May 15 - New York, NY - The Studio at Webster Hall
Sat May 16 - Asbury Park, NJ - Skate And Surf​
Sun May 17 - Pittsburgh, PA - The Smiling Moose
Tues May 19 - Syracuse, NY - Saint Claire Theater
Weds May 20 - Toronto, ON - Hard Luck Bar
Thurs May 21 - Lakewood, OH - Mahall's
Fri May 22 - Chicago, IL - The Beat Kitchen
Sat May 23 - Howell, MI - Bled Fest​ ​
Sun May 24 - St. Louis, MO - The Demo
Tues May 26 - Denver, CO - Hi Dive
Weds May 27 - Salt Lake City, UT - The Loading Dock
Thurs May 28 - Reno, NV - The Holland Project
Fri May 29 - Berkley, CA - 924 Gilman St
Sat May 30 - Echo Park, CA - The Echo
Sun May 31 - Anaheim, CA - Chain Reaction
Tues June 2 - San Diego, CA - Voodoo Room
Weds June 3 - Phoenix, AZ - Rebel Lounge
Thurs June 4 - El Paso, TX - Mesa Music Hall
Fri June 5 - Austin, TX - Mohawk
Sat June 6 - Dallas, TX - Sons Of Hermann Hall
Mon June 8 - Atlanta, GA - Purgatory
Tues June 9 - Tampa, FL - Epic Problem
Weds June 10 - Margate, FL - O'Malley's
Thurs June 11 - Orlando, FL - Backbooth
Fri June 12 - Jacksonville, FL - Burro Bar
Sat June 13 - Charlotte, NC - Casbah
Sun June 14 - Richmond, VA - Strange Matter
Tues June 16 - Howell, NJ - Game Changer
Weds June 17 - North Haven, CT - UANC
Thurs June 18 - Washington, DC - DC9
Fri June 19 - Amityville, NY - Amityville Music Hall
Sat June 20 - Boston, MA - Middle East (upstairs)
Sun June 21 - Philadelphia, PA - The Barbary (Ours Is Chrome release show)