Die Antwoord are playing NYC w/ M.I.A. (and others)
"Damn, I love Die Antwoord. It's like we've taken all the Disney Princesses at Stereotypes R Us, pulled off their wigs, forced their little legs together, and rammed them down the throats of the American purveyors of pop culture dreck, the soulless marketers who make millions every year by selling ersatz imperial myths to the rest of the world.
Okay, perhaps Die Antwoord aren't achieving quite that level of utter cultural domination, but allow me our little victories. The sight of Americans taking Yo-Landi and Ninja seriously is so delicious, I can almost forgive some of the excesses of the music. There's a 20 minute interview with Die Antwoord on Boing Boing, around their debut at the Coachella music festival in California, and it's a marvellous exercise in satire." [CHRIS ROPER | JOHANNESBURG, SOUTH AFRICA]
That video, along with the updated lineup of HARD NYC @ Governers Island below....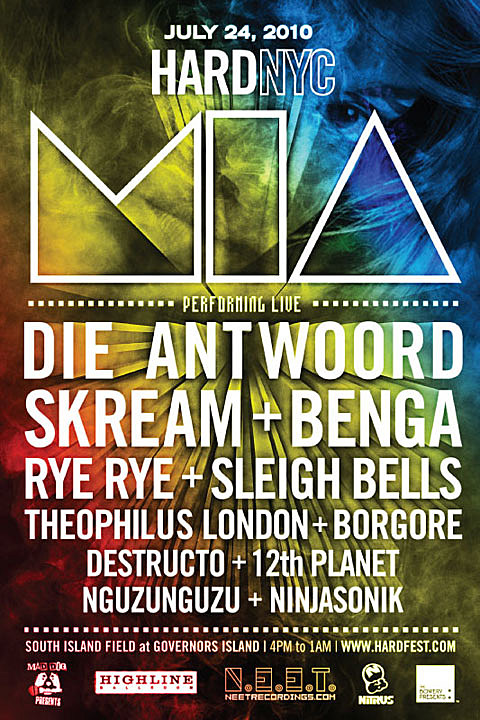 M.I.A., Die Antwoord, Skream + Benga, Rye Rye, Sleigh Bells, Theophilus London, Blaqstarr, 12th Planet, Destructo, Nguzunguzu, Borgore, and Ninjasonik are all now on the "Hard" bill! Tickets are on sale.
"Ninja and Yo-Landi of Die Antwoord sat down with me for an interview just after the South African "rap-rave" band's first-ever US performance at the Coachella music festival. The duo spoke about their explosive, internet-fueled burst to fame, and about the origins of their "car crash music" (it's disturbing, but you can't look away) by way of District 9 and an anarchic internet and music subculture in post-Apartheid South Africa.
I'm told this is the only interview Die Antwoord granted during their US visit. Our conversation originally streamed live as part of the Los Angeles Times / Brand X magazine Coachella Oasis Webcast." [Xeni Jardin]