Die Antwoord steal the show while topless girl dances (video), M.I.A. spits on a photographer (pics), rain, lasers & more… (HARD NYC in review – part 1)
photos by Alexander Stein
Yo-Landi Vi$$er

"the show last night [ridiculous] and awesome and bad, and magic--mia [sucked] so bad, she must must have done [it] on purpose. she's got some tricks and some ideas, but [I] think she just got so cagey when die anterwoord blew her out of the water that she pulled this weird ass rockstar theatrics and sabotaged herself and the sound system, along with throwing a big fuck you to the crowd that actually came to see her. [I] mean at some point before she went on, they cut the Dj off and there was this whole sound from the backstage VIP area, and the crowd got [to] listen to it for a few minutes in silence, and it was like "that's were the party is at, suckers". I don't know if she drinks or not, but the bit about having a shot of [tequila] in her seemed by far the realest part of the night. The best was the rain over the lazers, but she didn't even know how to make that to work for her, so it seemed like Nature taking pity on her." [Anonymous]
That review refers to Saturday night's HARD FEST on Governors Island which we'll be covering in multiple parts.
This post contains Alexander's pictures of the final three main-stage acts (M.I.A. who spit down on Alexander while Alex captured the saliva on film, Die Antwoord who made at least one female member of the ecstasy-filled crowd go wild, and Sleigh Bells who also sounded great), and two videos (topless girl and lasers/rain), below...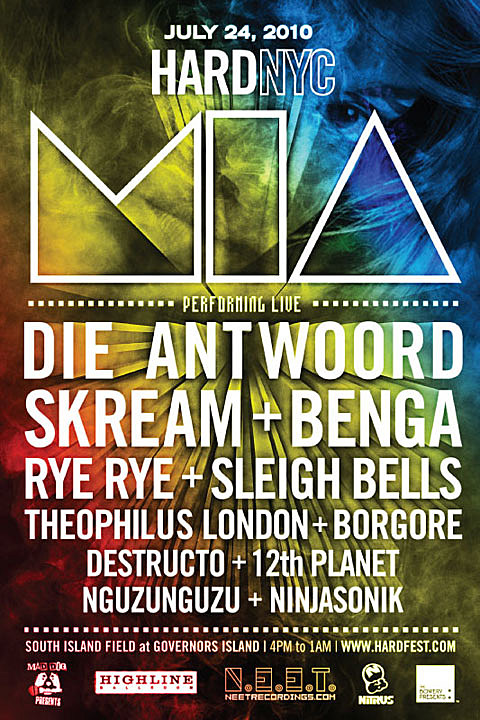 Sleigh Bells...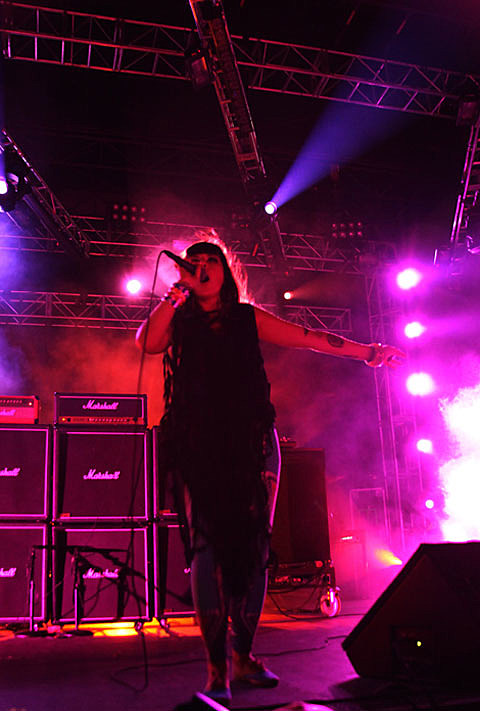 Die Antwoord (the beginning of their set)...
MIA...
more pictures coming
-
Topless woman dances on man's shoulders during Die Antwoord and blocks people's view of the show, but is quickly forgiven by many when they realize she isn't wearing a shirt (barely NSFW) *
* excuse poor quality (shot w/ iPhone), choose full screen for bigger version
Rain pours down on everyone during M.I.A.'s set at Governors Island, but the rain is quickly forgiven when everyone realizes that cool rainwater feels better than sticky sweat, and that it looks really cool with the lasers

to be continued...
UPDATE: Pictures continue HERE
--
Die Antwoord plays another show tonight/Sunday at Music Hall of Williamsburg (sold out)