Dinosaur Jr. and many guests celebrated 'You're Living All Over Me' at Terminal 5 (pics, videos, setlist)
J. Mascis / Frank Black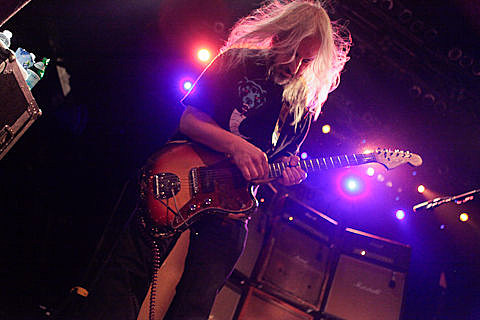 Throughout the 90s and the first half of the 2000s, Dinosaur Jr. was one of the last rock groups you would have expected to get the old band back together, go on tour, and record new music--not to mention new music that's every bit as good as anything the original lineup made in the 80s. When J Mascis unceremoniously kicked out Lou Barlow, his high school friend and longtime bandmate, in 1989, it seemed like a mercy killing of the original lineup, which had devolved into a psychodramatic mess, marred by lack of communication and irreconcilable personality difference between Mascis and Barlow. ("It makes me sick that I spent six or seven years putting my heart and soul into that band," Barlow told Cut zine in 1990. "They're sleazebag snob pigs like no one I have met in my entire life. J's always been an asshole.") Mascis and Murph, and then just Mascis, went on to record a string of major-label records throughout the 90s that, though inconsistent, contain some of Dinosaur Jr.'s best and most well-known songs.
When Mascis killed Dinosaur Jr. in 1997, it seemed inconceivable that, a decade later, Mascis, Barlow and Murph would reunite. Time heals all wounds, I guess. It's perhaps less surprising that the band would be able to ably reprise their sprawling, melodic, blitzkrieg guitar-rock sound. Three records in to the latter-day reign of Dinosaur Jr., the band sounds as good as they ever have.
On Saturday at Terminal 5, Dinosaur Jr. celebrated the 25th anniversary of the release of You're Living All Over Me, their second album and the one that made nonchalance cool, made the extended guitar solo cool (again), and wedded melodic tendencies with noise and feedback in a theretofore unheard of fashion in the indie rock underground. The band opened their set with "Thumb," from 1991's Green Mind, with Suzanne Thorp of Mercury Rev guesting on flute, before Mascis matter-of-factly announced that now they'd be playing You're Living All Over Me in full.
A sleepy-looking Lee Ranaldo came out to share vocals with J on "Little Fury Things." Guests, some announced ahead of time, would be a recurring theme throughout the night, but not until later. Dinosaur Jr. ripped through the songs on their best album as if it were 1987 all over again. "Sludgefeast" was a punishing onslaught of guitar and staccato, gunfire drums, with Mascis's high lonesome whine cutting through the gain and distortion. "Tarpit" set off joyous dancing, propelled by Barlow's chunky bass chords and a deafening roar from Mascis's Jazzmaster that threatened to draw blood from the ears.
Watching Barlow and Mascis play on stage, it's not hard to extrapolate the personality differences that created their rift. Barlow, with his black Rickenbacker slung low, literally bounces from one foot to the other when playing, the joy at doing just this very thing--playing to an audience--so evident. He smiles, he cracks jokes, he acts as if he's living through the music. Mascis, on the other hand, with his laconic, slowhands style and deadpan announcements ("All right. Thanks a lot. That was side one."), plays as if the music lives through him. He's the hermetic savant tuned in to a frequency no one else can hear.
Barlow brought out a ukulele for "Poledo," the "awkward end to the amazing record," in his words. The cavernous space of Terminal 5 made the strident desolation of the song even more acute.
The second half of the show is the stuff legendary bootlegs are made of. A succession of guests filed onstage to help Dinosaur Jr. play their songs, or to transform them into other bands entirely. The first was Frank Black, who sang and played guitar on "Almost Fare," from this year's I Bet On Sky. Next, the band plus Black covered one of Black's songs--"Tame," from The Pixies' Doolittle. Black roared the chorus, tossed a painting into the first rows of the crowd, and exited. Kurt Vile, whose band opened the show, and Al Cisneros from Sleep were next. Cisneros took over bass duties from Barlow for a couple of songs, including the doom metal glazer "Alone" from 1997's Hand It Over. Harvey Milk's Kyle Spence took the drums for that one.
Smiths and Modest Mouse guitarist Johnny Marr and Broken Social Scene guru Kevin Drew emerged to play "The Wagon" with J, Lou and Murph. Then they covered Smiths track "The Boy With the Thorn In His Side," the words to which J was, uh, a little unsure of. Melvins drummer Dale Crover relieved Murph behind the kit for a skin-searing rendition of "Training Ground," a song by Mascis and Barlow's pre-Dinosaur hardcore band, Deep Wound. Don Fleming of Gumball and Dante Ferrando of Iron Cross helped the band cover "Crucified," and Kim Gordon gave a tempestuous performance on "Don't", Barlow's song from Bug that directly addresses the fractured relationship between him and Mascis. Gordon screamed, bellowed and cooed the song's one lyric ("Why don't you like me?") over and over again, dropping to her knees and falling to the stage like she was having an exorcism. It was intense. If Sonic Youth is over, she should start a hardcore band.
The encore began with a cover of the Stooges classic, "T.V. Eye," with Tommy Stinson on bass and Fred Armisen (whose show, Portlandia, will feature an appearance from J Mascis in its upcoming third season) on drums. Dinosaur Jr. closed with two classics: "Start Choppin" and "Freak Scene," the song that invented the slacker generation. It was a poignant, circle-closing moment. "Because when I need a friend," J sang, "it's still you," we all responded. The night was an amazing tribute to a great band, 25 years removed from their (so-far) signature achievement and, improbably, still going strong.
More pictures, some videos, and the setlist from the show (which also counted John Petkovic of Death of Samantha as a guest), below...

---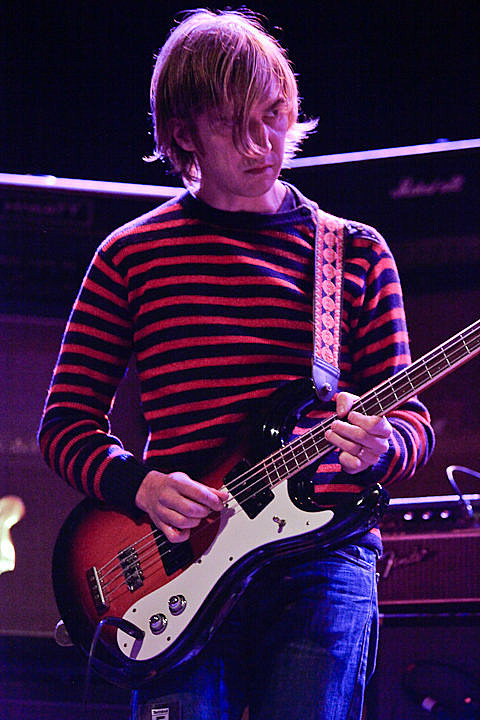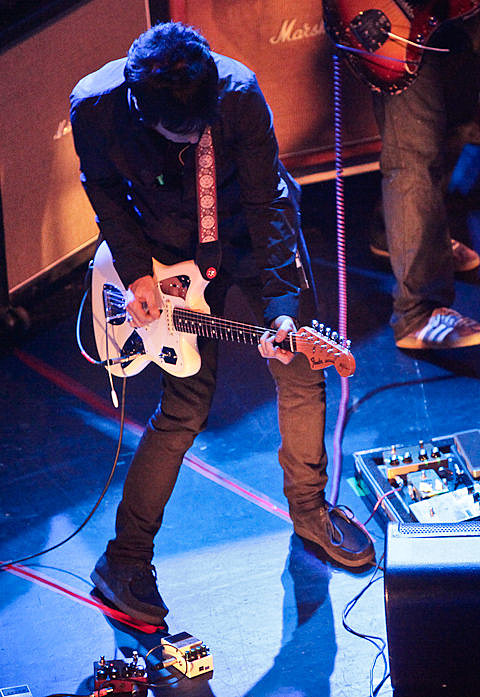 Dinosaur Jr. - "Little Fury Things" w/ Lee Ranaldo at Terminal 5 - 12/1/12

DInosaur Jr. - "Kracked"/"Sludgefeast" at Terminal 5 - 12/1/12

Frank Black and Dinosaur Jr. - "Tame" (Pixies song) at Terminal 5 - 12/1/12

Dinosaur Jr. at Terminal 5 - 12/1/12 Setlist:
Thumb (with Suzanne Thorpe of Mercury Rev)
'You're Living All Over Me' in its entirety
Little Fury Things (with Lee Ranaldo)
Kracked
Sludgefeast
The Lung
Raisans
Tarpit
In a Jar
Lose
Poledo
Second Set
Almost Fare (with Frank Black)
Tame (Pixies cover) (with Frank Black)
Alone (with Kurt Vile, Al Cisneros, Kyle Spence)
Don't Pretend You Didn't Know
Watch the Corners
The Wagon (with Kevin Drew, Dale Crover, Johnny Marr)
The Boy With The Thorn In His Side (The Smiths cover) (with Johnny Marr, Kevin Drew, Dale Crover)
Training Ground (Deep Wound song) (with Dale Crover)
Gargoyle
Crucified (Iron Cross cover) (with Don Fleming)
Don't (with Kim Gordon)
Encore:
T.V. Eye (The Stooges cover) (with Tommy Stinson, Fred Armisen)
Start Choppin (with Kevin Drew, Tommy Stinson)
Freak Scene (with Kevin Drew, Tommy Stinson)