Dinosaur Jr. played Terminal 5 w/ Sonic Youth (pics, setlist), playing Bowery Ballroom & MHOW (2010 tour dates)
words & photos by Andrew Frisicano
Dinosaur Jr. went on promptly at 8:40pm and played a set that paired old and new with equal intensity. Farm single "Over It" stood strong along earlier tracks, like the enthusiastically offered You're Living All Over Me classics. Wedged toward the front half of the stage, their towering Marshall stacks were a nice stylistic if not totally practical touch to toughen up their softie-rock anthems. The band closed with good tidings - Lou announced that their next NYC appearances would be at Bowery Ballroom on January 16th and Music Hall of Williamsburg January 17th.
Sonic Youth played in front of artistic backdrops that lit gunpowder trails in brilliant colors. The songs came almost entirely from The Eternal, with brief Daydream Nation, Sister and EVOL interruptions. The new record has a kind of thorough consistency without any outright duds or sure singles, and live it was a similar experience. The total dissection of The Eternal wasn't totally unexpected, but it was a little uneventful (my soft spot for Rather Ripped was left untickled). When "Cross The Breeze" came as the first encore's second song, the crowd applauded in recognition for its intro that slow-built into a rapid climax.
Besides the front row, which seemed packed with younger fans ("I am SO HAPPY" one screamed several times when the band took the stage), those on the outskirts of the totally packed Terminal 5 carried an expression of casual interest. But not for a lack of trying from the band. The theatrics were there - when Daydream's "Silver Rocket" came on, Thurston flew unchained to the floor while beating and prodding his guitar - as were the shout-outs. Thurston gave it up to NYC a few times in the night. He sent the crowd off with the line "See you on the streets."
More pictures and the SY setlist are below....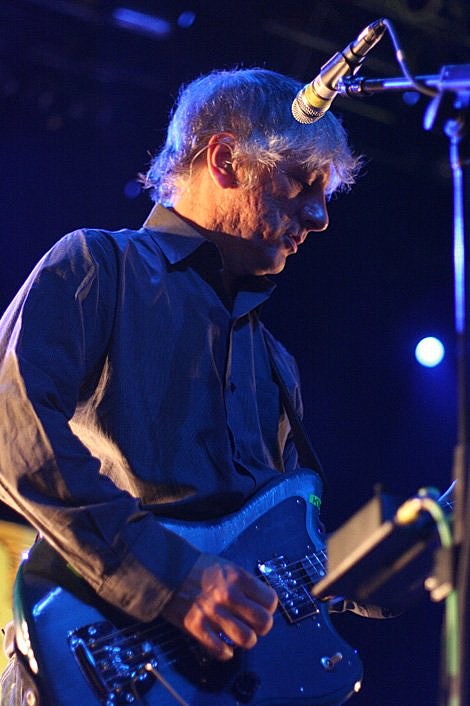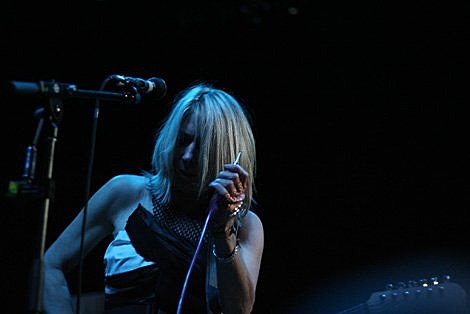 Sonic Youth Nov. 21 2009 at Terminal 5 setlist
No Way
Sacred Trickster
Calming The Snake
Stereo Sanctity
Anti-Orgasm
Walkin Blue
Shadow Of A Doubt
Antenna
Malibu Gas Station
Leaky Lifeboat (for Gregory Corso)
Poison Arrow
Silver Rocket
Massage The History
The Sprawl
'Cross The Breeze
Dinosaur Jr - 2009/2010 Tour Dates
Dec 3 - The Hippo - J Mascis & The Fog Plymouth
Dec 5 - ATP Nightmare Before Christmas - J Mascis & The Fog and Witch Somerset
Dec 7 - Moho Live - J Mascis & The Fog Manchester
Dec 9 - The Garage - J Mascis & The Fog London
Dec 10 - Leicester University - J Mascis & The Fog Leicester
Dec 11 - 10 years of ATP - J Mascis & The Fog Somerset
Jan 16 - Bowery Ballroom in NYC
Jan 17 - Music Hall of Williamsburg in NYC
Jan 19 - Castaways Ithaca, New York
Jan 20 - The Ale House Kingston, Ontario
Jan 21 - Phoenix Concert Theatre Toronto
Jan 22 - Capital Music Hall Ottawa
Jan 23 - Club Soda Montreal, Quebec
Feb 10 - Sala Heineken Madrid
Feb 11 - Sala Apolo Barcelona
Feb 12 - Sala Assig Palma (Mallorca)
Mar 4 - Corner Hotel Melbourne
Mar 6 - Golden Plains Festival Meredith, Victoria
Mar 7 - Lost Weekend Festival Brisbane
Mar 10 - Great Northern Hotel Byron Bay
Mar 11 - Metro Theatre Sydney
Mar 12 - Rosemount Hotel Perth
Mar 13 - Fowlers Live Adelaide
Mar 14 - Moorilla Hobart, Tasmania