Dirty Beaches played Mercury Lounge solo (pics), playing Glasslands tonight with a band
Dirty Beaches @ Mercury Lounge - 5/12/2011

Dirty Beaches - solo performer Alex Zhang Hungtai - played an early show at Mercury Lounge on Thursday (before the John Vanderslice/Damien Jurado show). It was one of two that he has in NYC this week (the second being tonight, 5/13, at Glasslands). For the short set, Alex kept it simple: himself, his loops, a microphone and a guitar. Dressed in a leather jacket, white t-shirt and jeans, he has the retro greaser image down (even his mic looks like it was pulled it from an old dictaphone). At times he'd drop the mic to burst into riffs, though that (the guitar, played with a broken string the entire set) seemed to be mostly an afterthought. The essence of the performance was the moody production and his own theatricality. It struck a Lynchian tone in both the imagery of the lyrics (archetypical Americana) and the sound (which combines punks and kitsch; the sample of Francoise Hardy's "Voila" in "Lord Knows Best" sounds like it was pulled from a Twin Peaks jukebox). As a performer, he's enigmatic and entertaining because he's alone, with no one else to detract from the illusion.
As for the Glasslands show in Brooklyn, I will be joined by Philadelphia's Lantern as my back up band. They are good buddies of mine and both show will be dramatically different. If you wish to catch the usual DB material, come to mercury lounge. If you like DB and want to hear what I sound like when I jam with other people as a full band, this your chance.
Near the end of the set on Thursday, he covered the song "El Dorado" by the band Matress. Alex blogged about that group too...
Had the pleasure of finally meeting Rex tonight in Portland, AKA Mattress, AKA Reservations. Who was a huge influence on the conception of early Dirty Beaches back in 2006 after I saw him perform at Cagibi in Montreal all alone on a stage, crooning. Armed with tape machine back up tracks, pedals, and other machinery, he rocks the mic like a shadow dancer in the night. Incredible voice.
A video of that track, and more pictures from Mercury Lounge, below...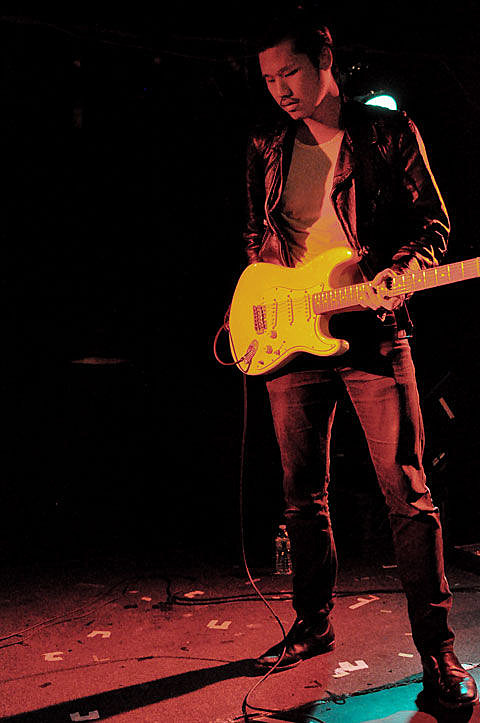 Dirty Beaches -- 2011 Tour Dates
05/13 Brooklyn, NY, Glasslands
05/14 Boston, MA, Slaughterhouse Gallery
05/16 Montreal, QC, Casa Del Popolo
05/18 Pittsburgh, PA, Brillobox
05/19 Chicago, IL, Schubas
05/20 Champaign, IL, Mike N Molly's
05/21 Milwaukee, WI, Cactus Club
05/22 Minneapolis, MN, 7th Street Entry
07/01 New York, NY, South Street Seaport w/ Lower Dens