Dirty Projectors, Magnolia Electric Co & Crystal Antlers @ the Williamsburg Waterfront – pics & setlist
"This is the first outdoor New York show we've played where it hasn't rained," said Dirty Projectors' Dave Longstreth (or something like it) of the sunshine and light clouds that soared over his band, and both of Sunday's openers, Magnolia Electric Co. and Crystal Antlers (who replaced White Denim on the bill). (it rained during Dirty Projectors' Sumerstage show in June and their lightning-backed Seaport gig last year.)
It was the second Jelly NYC Pool Party at the Williamsburg Waterfront aka East River State Park where activities include dodgeball, basketball, and drinking beer in a roped off area (but not slip n slide). The view of Manhattan, Empire State Building included, along with the breeze from the water make it a great place for spending the day outdoors. The live music makes it even better.
After the inaugural Waterfront event on July 12th, the July 19th show was more of a laid back affair -- a vibe carried by the organ-driven sound of Jason Molina and Magnolia Electric Co., who went on around 4:30pm. The band from Indiana made it clear they were very happy to be there and having a great time. After their set you could catch them behind their own merch table until the end of the show.
From the opening notes of "Two Doves" at 6:15, Dirty Projectors' set got off to a slow start (that opener being one of the most low energy songs on either of their last two albums). The band continued with new-album material before launching into a mid-set stretch of older songs. I was wondering how they'd rearrange the older material, it turns out they didn't. The band played the Rise Above and before material with their two new touring members (singer Haley Dekle and bassist Nat Baldwin) off the stage. The combination of "Fucked for Life," "Gimme Gimme Gimme," "Thirsty & Miserable" and "Rise Above" injected some much-needed energy into the crowd. In my opinion, the tension and drama in those is unmatched by anything on the (still good) new record. From there, single "Stillness Is the Move" solicited cries of excitement and applause. That song led a straight shot through the Dirty Projectors' poppiest numbers, closing with a two song encore and Dark Was the Night track "Knotty Pine" (though without David Byrne there to sing his part like he did at Radio City and Bonnaroo).
I was a bit farther back, but upfront Chris had a different view of something I missed... (of someone who wasn't content yelling his marriage pleas from the crowd).
"It was a blur. During the Dirty Projector's set a man managed to get into the photographer's pit and attempted to rush the stage. He climbed onto one of the speakers in front of the stage nearly toppling it over before security managed to pull him off and escort him out of the pit."
Crystal Antlers opened the show, but I personally got there too late to see them. Chris did get pictures though. More of them, along with an attempt at the DP setlist, below...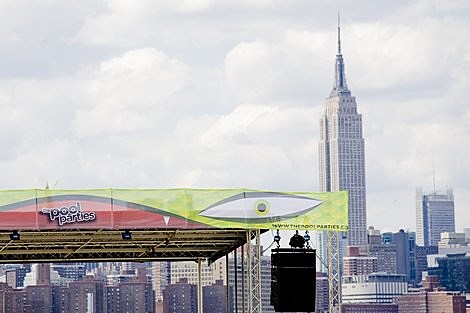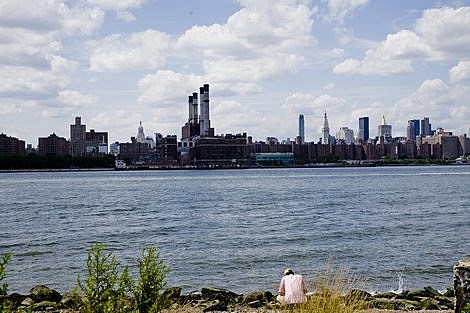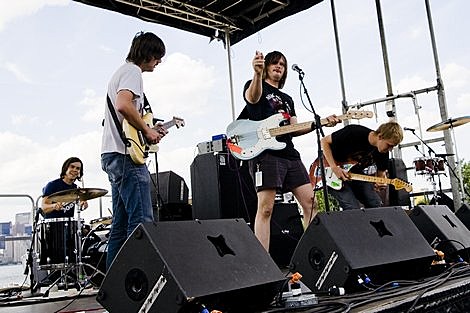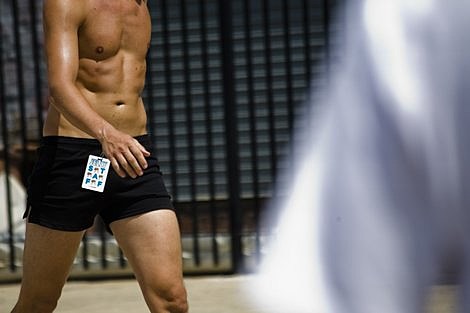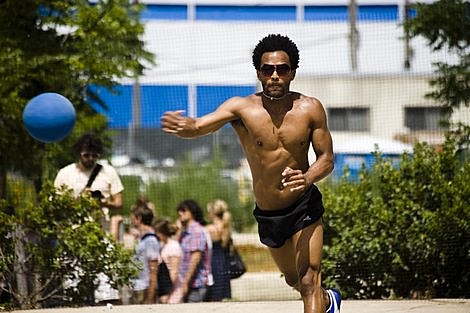 Magnolia Electric Company
New York City Council Member David Yassky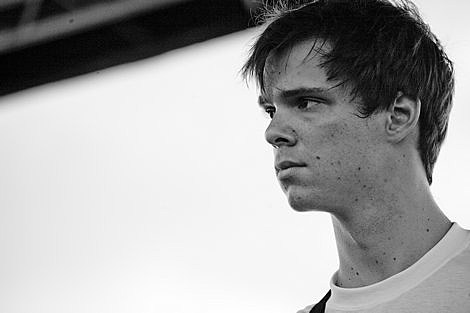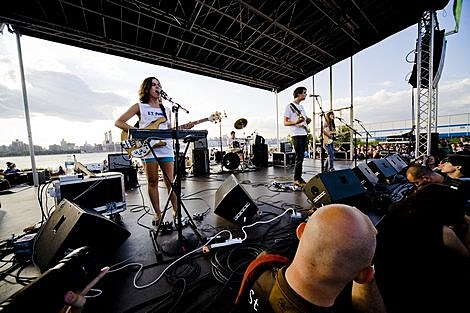 Dirty Projectors setlist? (from 7/8, which I'm pretty sure is the same)
Two Doves
Cannibal Resource
Remade Horizon
Ascending Melody
No Intention
Fucked for Life
Gimme Gimme
Thirsty and Miserable
Rise Above
Stillness is the Move
Useful Chamber
Temecula Sunrise
Fluorescent Half Dome
Knotty Pine